American Institute of Architects
315 SW 4th Ave, 223-8757
Prophetic Dream: Birds and Monsters, a three-dimensional, abstract installation by Agata Fic. Through Feb 24
Augen Gallery
817 SW 2nd Ave, 224-8182
* Recent paintings from Naomi Shigeta and prints from the late German printmaker Horst Janssen. Through Feb 24



Boxcar Berthas
1000 NW 17th, 24809231
3 Sides 2 Every Boxcar, an exhibit of artwork by Obscura, Photo Bill, and North Bank Fred that illuminates the hobo life. Through Feb 27
Butters Gallery
520 NW Davis St, 248-9378
* Orthosentic, an installation of sculpture by Portland artist Gilles Foisy in his first solo exhibit at the gallery. Summer 2000, new photographs by international art provocateur Jock Sturges. Through Feb 24



Elizabeth Leach Gallery
207 SW Pine St, 224-0521
* Emporda, recent oil paintings from Wade Hoefer and West Coast Presence, a selection of works from Californian artists, including Richard Diebenkorn. Through Feb 24



Froelick Gallery
817 SW 2nd Ave, 222-1142
* Slough, a display of prints by Japanese artist Ritsuko Ozeki hangs along side Contemporary Tokyo Prints, which features a group of artists. Through Feb 24



Gallery 114
1100 NW Glisan, 243-3356
Passage, a sculptural installation by internationally known artist Venae Rodriguez. Through Feb 24
Gallery Schmallery
2132 SE Division, 239-3735
Conduit, paintings and drawings by James Gudat that meld elements of the subconscious with the natural world. Through Feb 27
Groundswell Gallery
1800 NE Alberta, 331-1420
Artist George Perrou presents work steeped in surrealism, including lush color photographs and whimsical acrylic paintings. Opens Feb 22
Indus Books
1808 NE Alberta, 281-2476
Indian born artist Raina Imig presents water color mandalas. Imig draws on a variety of art traditions to reinvent and celebrate the universal symbol of the cosmos. Opens Feb 22
Infusion Gallery
2929 NE Alberta, 335-7085
Hand-tinted photographs by John Maher. Opens Feb 22
L & B Viewing Room
1714 NW Overton 2 Flr, 241-4144
* Text as Image, a show of new work by Katherine Kuehn and Barbara Tetenbaum that examines the "power of the written word as both image and image-maker." Through Mar 2



Laura Russo Gallery
805 NW 21st Ave, 226-2754
Timeline, recent acrylic paintings from Angelita Surmon, monoprints by Chris Gander, and Mute Songbirds, works on paper by Orleonok Pitkin. Through Feb 24
Lewis & Clark College Gallery of Contemporary Art
0615 SW Palatine Hill Rd, 768-7687
Art in the Power to Dream, slide lecture from New York collaborative artist Tim Rollins. Council Chamber, Templeton Student Center, Feb 22, 7:30, $5.
Mark Woolley Gallery
120 NW 9th Ave, Suite 210, 224-5475
* Joseph Biel and Richard Kraft present a collaborative grid of 50 oil paintings that draw on a text + image relationship. Stuart Cornell displays recent oil and mixed media paintings on wood. Through Feb 24



Nil Contemporary Art
328 NW Broadway #114, 221-3182
* New photographs by Jen Murphy born from a strong conceptual impulse. The prints offer subtle imagery that investigates space, our surroundings, and how they affect our desires. Through Feb 28



Onda Gallery
2215 NE Alberta St, 493-1909
* Nature Dance, mixed media paintings on paper by Nona Glazer and oil paintings on canvas by Julie Nuthals. Opens Feb 22



PDX
604 NW 12th Ave, 222-0063
* A new batch of surreal narratives from Portland painter Eric Stotik. PDX also unveils the Window Project, an installation of small, carved, wood sculptures by Hilary Pfeifer. Through Mar 3



Plain Jane
2936 NE Alberta St, 528-9691
* The gallery celebrates a one year anniversary with an exhibit featuring paintings by Fiona McGuigan. The Conflict of Emotion depicts the female figure in respect to women's place in society. McGuigan offers narratives that explore aspects of motherhood and womanhood. Opens Feb 22



Pulliam Deffenbaugh
522 NW 12th Ave, 228-6665
* Land, new paintings from Anne Siems that combine faces, dresses, flora, and fauna to comprise her version of the pastoral landscape. In the rear gallery Erinn Kennedy presents a series of minimalist panels and Mark Takamichi Miller exhibits large scale canvases. Through Feb 24

Sponsored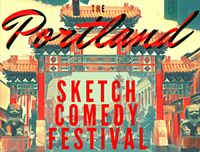 Sketch comedy troupes from all over N. America descend on The Siren Theater for 3 glorious nights.