German Photography: Influence of the Bechers
German photographers Bernd and Hilla Becher are responsible for one of the three dominant photography trends of the day (along with Greg Crewdson's staged dramatics and William Eggleston's color snapshots). The Becher style is deadpan, emotionless portraits of generic vacancy, and has been pursued relentlessly by their own students, many of whom have become veritable art world powerhouses in their own right. Pulliam Deffenbaugh, 929 NW Flanders, 228-6665, Through Oct. 29
Sponsored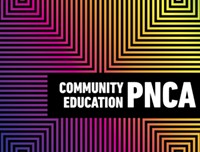 Online art and design classes at the Pacific Northwest College of Art now open for registration!
Nucleo
TJ Norris, he of the late Soundvision Gallery, presents a new installation at Chambers combining new color photographs and a sound installation. Chambers, 207 SW Pine, #102, Through Nov. 26
Station to Station
Portland has the Portland Grid Project—a loose gang of photographers who have been documenting the city for years, one tiny square inch of the map at a time. Newspace presents an alternate project of similar sensibilities: Portland artist Lisa Gidley's series of 443 photographs, each taken within one square block of every single subway station in New York City! Newspace, 1632 SE 10th, 963-1935, Through Oct. 30
Masao Yamamoto
Yamamoto's small, jewel-like, aged photographs of moths, fireworks, cherry blossoms, and telephone wires encapsulate the idea of fragility and ephemerality in carefully arranged free-verse clusters. PDX, 925 NW Flanders St., 222-0063, Through Oct. 29
Mike Rathbun and Diane Jacobs
Rathbun's skeletal wood constructions refer to the ocean and geography, as well as his upbringing with a brother and father in the Baptist ministry. Jacobs, after shaving her head a dozen years ago, uses human hair in her funny and borderline-gross set of ponytails and mullets growing out of the wall. Marylhurst Art Gym, 17600 Pacific Hwy., 699-6243, Through Oct. 23
Sponsored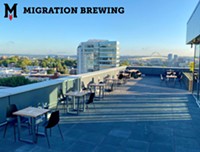 This 9th floor patio boasts stunning views of the city, three mountains, and Portland's West Hills.