PowerPointillism
US Bank Meeting Room, Central Library, 801 SW 10th
Wed Feb 5, Thurs Feb 6, 7 pm
I am as excited for this event as I was to hear that WrestleMania 19 was going to be in Seattle this year, but sadly, 40,000 tickets sold out for that show while I was trying to save my pennies for the cost of admission. So, while PowerPointillism might not feature the sheer brutality of Kurt Angle vs. Brock Lesnar, it's free; it's at the public library; and it pairs off two of the most interesting artists working in Portland today. (Trivia note--this WrestleMania will be the first ever to have a main event in which both wrestlers use their real names, which is more than you can say for Bradlee Simmons, aka Andrew Dickson. But we'll get to him soon enough).
One of the most exciting features of the Portland art scene I've seen so far is the Lecture Series, a sporadic, hush-hush happening that takes place at a vaguely secretive downtown location (lectureseries.org). PBR flows freely at these lectures, which feature a unique brand of "outsider intellectualism," as emcee and co-organizer Amos Latteier calls it. I've seen young artists taxidermy birds there, lecture on the advent of American highways, and explain the concept of biocollecting at these lectures, but they are set in a warehouse-party atmosphere, which is a little disorienting.
Much of the spirit in the Lecture Series will manifest itself when Latteier presents a PowerPointallist "Report on Pigeon Aerial Photography." I once regretted calling Amos a science nerd in print, but after learning that he has built a "chainsaw powered walking machine, a 500-lb potato battery, and several hovercrafts," I have to affectionately reiterate the moniker. Last November, at Pacific Switchboard's group show Hug Me, Latteier wowed the audience with his part fashionista/part typological photographs of his pet pigeons. As amazing as the photos were, I couldn't imagine what he was up to when he said he was working on attaching small cameras to the birds and letting them become photographers. We'll have a chance to find out what that's all about next week, as well as to learn about the history of pigeon aerial photography, which was used for military reconnaissance at the turn of the last century. If anybody out there knows of an art project cooler than training pigeons to take photographs in flight, please let me know, because I haven't heard of it yet.
Bradlee Simmons is also going to be on hand to deliver a PowerPoint presentation, and my hunch is that Bradlee is going to be an obnoxious prick. The good news is that he's an entirely fictional character devised and portrayed by local filmmaker Andrew Dickson. Dickson's two best-known videos, autographhss.com and Hunter Dawson, are mockumentary-style character studies that would make Christopher Guest proud. In autographhss.com, he and Bill Bailey play two dumb-and-dumber schlubs who couldn't organize a BLT sandwich. The video follows their dream of internet riches as they loiter in the parking lot of the Nike Campus for primo 'graphs, and bully a pre-teen girl into donating her HTML services. It was Dickson's short masterpiece Hunter Dawson that made me a believer, though (I mentioned this video in a review of Dim Sum and inaccurately gave full credit to Steve MacDougall, who shot and edited the video). Dickson entirely changed his looks, his speech, and his gait to hilariously portray an Orange County transplant eager to break into reality television--Hunter Dawson is his blanket audition tape. (A typical Hunterism: "When you get Hunter Dawson, you get intensity, you get perseverance, and if you don't like it, you can get off the island.") At PowerPointillism, Dickson is appearing as Bradlee Simmons, as his approach shifts from Spinal Tap to Andy Kaufman. Here's what the press release promises: "Bradlee is a recent Bay Area transplant eager to meet folks in town and spread the word about his work to stamp out the rampant geographic prejudice he has found here in Portland. His presentation will include an iBook slide show of his new hometown, highlighting his latest fascination--Fred Meyer." Dickson's characters are overbearing on the small screen--I imagine it can get downright explosive to have them preaching to a live audience. The hell with WrestleMania--I wouldn't miss this show for anything. CHAS BOWIE
Sponsored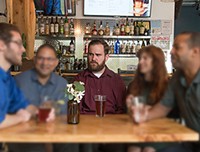 Adults aged 18-35 with good hearing will be paid for their time. Located at the Portland VA Medical Center