Wine for Everyone
Go ahead: Feel a little less bad for having wine as one of your most-used emojis. According to data released earlier this year, millennials drank 42 percent of all wine last year, outpacing baby boomers and Gen Xers.
The youngest millennials turned 21 last year, while the oldest of these 79 million Americans is now 38, at least by the parameters set by the Wine Market Council. (While the age range of Gen Y isn't definite, most demographers set the outer limits at 34.) Cumulatively, millennial drinking accounted for 159.6 million cases of wine in 2015. Rosé all day, indeed.
Oregon is benefitting from the surge in younger wine drinkers, who are more likely to buy a Willamette Valley pinot noir than a Napa Valley merlot, according to the Wine Market Council. Locally, there's a new crop of millennial winemakers pushing against tradition, supplying the funky natural wines and new varietals this generation of drinkers demands.
"[Baby boomers] go to the same restaurant every Friday, drive the same kind of car, go to the same place to get their clothes," says Thomas Monroe, 37, co-founder of Southeast Wine Collective with Kate Norris, 34. "Our generation has, I would say, a bit more ADD in the way they view things."
In Portland's urban wineries and nearby vineyards, there's a new culture emerging among winemakers: experimenting with fermentation styles, using gonzo art labels, going hard on social media, and playing with new and underutilized varietals. The new generation of wine is not stuffy; it's a little bizarre, and it's made with the artisanally-obsessed millennial in mind. (Not that Generation Y's ascendance has been all positive—see last year's national release of "White Girl Rosé," the odiously named label from Instagram tool the Fat Jew.)
A non-exhaustive list of millennial-fronted wineries in the Portland area includes: Holden Wine Company, Jasper Sisco, Hazelfern, ORE Winery, Fausse Piste, Day Wines, Loop de Loop, Statera Cellars, and Fossil & Fawn. This is nothing to say of the twentysomethings just getting started at older, established labels, making change from within.
Even as they go into their 30s with (hopefully) a bit more disposable income, millennials also aren't showing any tendencies toward becoming collectors in pursuit of the prestige vintage to tuck away in a cellar.
"My parent's generation has trophy wines," Monroe says. "They'll plunk down $100 without thinking about it. Part of what we do at the Southeast Wine Collective are wines by tap and growlers, specifically to have something that anybody who is gainfully employed and has an interest in wine can have access to."
Instead of being hoarded, bottles are purchased for about $20 tops to drink in the near future with friends—at a rate of 3.1 glasses per sitting, according to the wine council study.
"We make our wines a little more approachable early on, for that reason," says Jesse Skiles, 32, who started his inner-Southeast Portland winery, Fausse Piste, at age 23. "We use less sulfur, and more or less time in barrel depending on year. Being approachable right off the bat; for me that's a big part of it."
Skiles has been pushing the boundary with viognier since the start, producing tart, complex whites that are just about as far from a buttery chardonnay as can be. This year, Skiles says he used Grenache grapes four ways: a rosé, a light alcohol wine, a traditional robust red, and a carbonic wine, where the whole grapes are fermented without oxygen before being pressed.
"People who are younger, millennials in particular, aren't afraid to try new things," Skiles says. "I look at the other makers I'm friends with and we're all doing weird things."
While urban wineries are bastions for millennial winemakers (Monroe says ages at the Southeast Wine Collective, which pools equipment and other resources, range from about 30 to 44), there are still some who start with their own vineyard.
Bryan and Laura Laing, who are 35 and 33 respectively, bought their property in Newberg in 2014 and got to planting—upcoming vintages will include Gamay and Trousseau Noir grapes. Like many getting started, Laing has kept his day job as a Vice President of Client Services at marketing company IDL Worldwide, commuting daily from Newberg to the Pearl.
The Laings use that marketing background and social media savvy to clock their precise audience—and what they're looking for. Hazelfern's wines sell for about the same price as most locally made bottles: $16 to $44, and mostly women (about 60 percent) ages 28 to 40 are the ones buying, based on Bryan's metrics.
Every young winemaker says the same thing: Attention to farming, honoring the place, and the story of the wine are what matter big time to Gen Y. It always comes back to the new and catchy—this month Hazelfern released what may be the first ever "winter rosé," a rosé with more texture and acid, given more time to age in a barrel.
"Millennials are trying to create a social experience, and are more interested in the story behind the wine than someone telling them what to drink," Bryan Laing says. "I don't have data on this, but I sense that (Napa) is going to struggle more with millennials. When you look at what Oregon's doing, we have these innovative approaches."
Irreverence is also critical to the new school: Hazelfern's wines are stored in barrels with names like "Tupac," "Smashing Pumpkins," and "Mariah Carey"; Jasper Sisco has a bottle of natural wine called Electric Renaissance as a shout-out to Belle and Sebastian; and Fausse Piste means "wrong track" in French.
Fossil & Fawn isn't afraid to put in writing that their 2015 White Label of Pinot Gris came from "the frustration that most pinot gris in Oregon is insipid plonk (yeah, we said it)." The resulting wine is pink with a deeply wild and fermented backbite, thanks to the use of both pressed white and skin-on red pinot gris grapes.
"Sometimes we feel like we don't know what we're doing, but that's typical of younger wine makers," says Jenny Mosbacher, 31, co-founder of Fossil & Fawn. "There's a stark delineation of who likes it and not. People our parents' age, in their 60s, do not understand the wine."
Mosbacher and her partner Jim Fischer, 34, already joke about regretting using the formerly ubiquitous and trendy ampersand in 2011. The pair, who make their wines from Fischer's father's vineyard outside Salem, go out of their way to tinker with technique—and their image. Fossil & Fawn's labels are vaguely ominous pencil drawings—of a train pulling up a track, or on a recent release called Do Nothing, a skeleton hand reaching toward the bottleneck.
"People say you shouldn't judge a book by its cover... bullshit, I'm not drinking the book," Mosbacher says. "It all goes in: the quality of labels, the fit and finish of the wine. You tell your brand in the label... and our label is a little weird."
Mosbacher says she considers herself part of a third or maybe even fourth wave of Oregon winemakers—and thinks the state may be at peak pinot. Thanks to global warming and increasingly warmer summers, makers "are learning to no longer be synonymous with pinot noir."
"Every generation is going to have its own way of doing and making—Oregon has a lot of story to be written at this point," she says. "We've got a lot more experimenting left to do."
Sponsored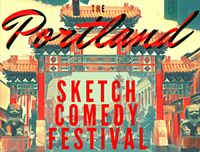 Sketch comedy troupes from all over N. America descend on The Siren Theater for 3 glorious nights.