Wine for Everyone
There's this folktale: a French village, perhaps in the Loire or Languedoc, that has a little café. There's no wine list here; you simply order "vin." And when the vin arrives (in a Duralex glass, no doubt), it's really quite good, especially on realizing that it costs 75c, or something equally ridiculous. It's no myth, though. France, as well as Spain, Portugal, and other European wine-producing regions, have a knack for producing inexpensive yet enjoyable wines.
Sponsored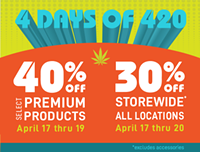 30-40% off Premier Dispensaries April 17-20
Flower, pre-rolls, edibles, carts and more.
These 4 Days of 420 are for you.
But here in the Pacific Northwest? That kind of bargain remains elusive. Not that our winemakers are greedy—they have to deal with things such as lower yields, a cooler climate, and higher costs (e.g., most of the harvest is hand picked). Still, there are folks dedicated to budget wines that you want to drink. Our $15 cutoff is arbitrary—a dollar or two more buys into admirable wines from Grochau and Cloudline, for example. (Pro tip: All the wines did better after spending time opened up, so go ahead—find a clean jug and decant the bottle.)
Evolution Big Time Red, (NV)
This nonvintage wine is from Sokol Blosser's second label, and it's a red blend of Sangiovese, Montepulciano, and Syrah with a splash of white. It could be a lumbering beast—there are deep flavors of dark cherry and black currants—but it's smooth and bright with reasonable tannins. An easy drinker, it's happy alongside grilled meats, pizza, red sauces, and stews. There's also a white: Lucky No. 9, a blend of more varietals than there's room to list here. It's off-dry with tropical notes, best with spicy dishes. $15 from evolutionwine.com; $12.99 on sale at Fred Meyer
---
Wine by Joe, Pinot Blanc, 2015
The Joe is Joe Dobbes, whose winery also makes $100 Pinot Noir. The Pinot Blanc is a white varietal particularly loved in Alsace, Germany, and Austria. In Oregon, the two come together to create a wine that is citrusy, flinty, and somewhat lush. This is a wine you want to pair with steelhead, oysters, or poultry. $14 from dobbesfamilyestate.com
---
Lorelle, Pinot Noir, 2014
It's a remarkable pinot for the price. It's light and bright, with sparkling cherry flavors filling the mouth, though it's more than simple fruit juice: Mid-palate there are subtle mineral notes. And that high acidity? That gives it structure and balance. $14.99 from New Seasons
---
Brooks Amycas, 2015
They biodynamically farm this: cow horns stuffed with manure and buried in the ground. Things like that. A white blend of Pinot Blanc, Riesling, Pinot Gris, Gewurztraminer, and Muscat. Crisp and refreshing, it's a lively jumble of tropical fruit, with hint of sweetness. It's easy to drink, but refined and balanced for this price point. Share 'round the holiday table, or save for spicier foods. There's a Brooks Riesling from Willamette Valley (2015), which is also a must-have for a cent under $15. $13.99 from Whole Foods
---
Corvidae Rook, Merlot, 2014
Put your nose in the glass and inhale: There's nothing fancy going on, just the plain aroma of fruit. The taste is more complex, though—a big blob of raspberry fruit rolls into the throat with deep and textured flavor. Good acid and mild tannins help tame the fruit. Imagine a nice house wine that's a match for any hearty burger. $12.99 from New Seasons
---
Acrobat, Pinot Gris, 2015
You're home from work, desperate for a glass. A light supper of creamy pasta. (Or maybe it's whitefish this time?) Netflix night. Heading to a house party. You need an everyday wine for everyday situations. This is it. It's uncomplicated, but refreshing. Packed with pear and citrus, there's a nice, crisp finish. You should have a fridge full of this stuff. $14.39 ($11.79 sale price) from Fred Meyer
---
Barnard Griffin, Rosé of Sangiovese, 2015
Sangiovese in Washington? This is the grape behind Italian classics such as Chianti and Brunello di Montalcino. But here it is, in a rosé that's savory, crisp, giving off flavors of strawberry, cranberry, and pomegranate. And yes, rosé is made to be drunk year-round. Sophisticated types in French stripes and thick-framed glasses will have this on their table. $8.99 from Trader Joe's
---
Kung Fu Girl, Riesling, 2015
Did you know the man behind this label, Charles Smith, used to manage the Danish band, the Raveonettes? Did you also know this is one of the labels he recently sold in a $120 million deal? If you don't, no matter. What's important is that this is the best-priced Riesling available on the planet. There are tasting notes—tangy citrus fruit, lychee, long mineral finish—but the bottom line is, it is delicious. $11.99 from Whole Foods
---
A to Z, Chardonnay, 2014
Fear not, Chardonnay skeptics. No heavily oaked fruit to pound the senses here. Fleet-footed, bright, and direct, it's an amalgam of ripe citrus, honey, and butter with a hint of toast, all balanced by mineral-saturated acid. It will function as an aperitif, but put it together with seared tuna or a rich tomato sauce for full effect. $15 from atozwineworks.com