Portland Happy Hours
Cassidy's | 1331 SW Washington
Unlike other downtown spots that claim to be open "late," the posted hours at Cassidy's promise service until 2 am, every damn night. When it's after midnight and you're feeling good (not great) and you need a burger and a $5.50 well drink—and want to be swaddled in dark wood and frosted glass and an orange-lit sign above the bar that says PRESCRIPTIONS—Cassidy's is the neon beacon pulling you by the liver. And by the way, just because that fat, juicy burger ($9) comes with fries doesn't mean you don't deserve some Brussels sprouts (in a slow-burning lemon preserve vinaigrette, $9) or a hearty mac 'n' cheese ($9), too. THOMAS ROSS
Happy Hour: daily 4-6 pm & 10 pm-2 am, $5.50 wine, wells, & drafts, $5-14 menu
---
The bar at the Ace Hotel is so sleek and composed that it makes other downtown bars look downright mangy. The happy hour burger ($8) is a beautiful example of bread and meat, featuring mayo, pickled green tomatoes, iceberg lettuce, American cheese, and of course, a fried egg. Wash that down with a refreshing Bourbon Renewal ($7) that, along with the signature liquor, also includes lemon, cassis, and bitters, or for vodka lovers, a Pacific Standard ($7) that features lemon, ginger, honey, and soda. JOE STRECKERT
Sponsored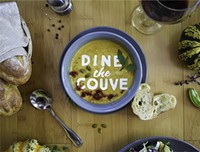 Experience the bounty of northwest flavor with special menus at Clark County restaurants all month.
Happy Hour: daily 3-6 pm & 10 pm-close, reduced prices on signature cocktails, wine, & beer, $3-8 menu
---
The Driftwood Room at the Hotel deLuxe isn't cheap, but it's one of the comfiest, loveliest places in town to drink, and the happy hour menu's heavy on full-fat delights and fizzy champagne cocktails. The mac 'n' cheese ($7) is a filling bowl of cheese-slathered, al dente corkscrew pasta, and the fries ($5) are fully customizable with aioli, parmesan, and garlic. Best of all, you can take your drinks into the deLuxe's lobby, with sink-on-in armchairs and great lighting for reading. MEGAN BURBANK
Happy Hour: daily 4-6 pm, 9:30 pm-close, reduced-price cocktails, beer, & wine, $5-12 menu
---
Put on your fancy pants if you're headed to Headwaters' happy hour, where you can pair eavesdropping with the surprisingly refreshing Labor of Love ($7)—Ketel One Botanical Grapefruit and Rose vodka, red wine, and super spice bitters—which comes in a glass that's filled to the brim with shards of ice. That's, like, four sips max. I'm mad about it, but the bottom line is: I wanted more. I also ordered the delectable Khachapuri flatbread ($10), which is essentially a sweet and savory pizza with herbed feta, mozzarella, fig vincotto, and a perfectly runny baked egg. CIARA DOLAN
Happy Hour: Mon-Fri 2-6 pm, Sat & Sun 3-6 pm, daily 10 pm-close, reduced-price sake & cocktails on tap, $8 house wines, $4-6 drafts, $3-10 menu
---
Imperial | 410 SW Broadway
The after-work crowd mobs this happy hour, so it's best to hit Imperial—located inside the boutique Hotel Lucia—early. Like, 2 pm early. But piece together a few bits from the happy hour menu—such as some generously salted but perfectly golden French fries ($3), a kale and vegetable salad with a pleasantly subtle goat-cheese dressing ($5), and a Ninkasi Helles Belles Lager ($5)—and you've got a decent late lunch. ERIK HENRIKSEN
Happy Hour: Mon-Fri 2-6 pm, Sat-Sun 3-6 pm, $3-28 menu
---
Jake's would be a great place to hang out with your grandpa, and I mean that in a good way. Portland's venerable seafood restaurant offers a solid array of ocean-based happy hour options. The garlic steamed mussels ($8) are delightful little protein pellets soaked in a sauce of wine, garlic, and butter—sauce that I then soaked up with bread, because I have no shame. More traditional bar fare like three-cheese mac ($5) is good, but not nearly on the level of the excellent mussels. JS
Happy Hour: daily 3-6 pm, Sun-Thurs 9 pm-close, Fri-Sat 10 pm-close, wine specials, $3.50 minimum beverage purchase per person, $3-8 menu
---
While this sister outpost of Jake's Famous Crawfish opened in 1994—more than 100 years after the storied original—it still firmly grips an old-school clubby atmosphere, with a broad wooden bar, tiled floor, and the requisite Pacific Northwest taxidermy. Fortunately, the bar here is much more spacious than its cozy counterpart, and a seat at the rail is usually assured even during a busy happy hour. The food is cheap, predictable, and almost instantaneously arrives, so grab a $4 pint and start gorging. NED LANNAMANN
Happy Hour: Mon-Fri 3-6 pm & 9 pm-close, Sat 1-6 pm & 9 pm-close, Sun 3 pm-close, $4 beer, $6 wine, $3-9 menu
---
Lechon | 113 SW Naito
Do you need a happy hour that comes with a gigantic tank of live jellyfish? Lechon has that. And while the cocktail list at this South American-styled restaurant is limited, the Lechon margarita is a refreshing after-work delight, especially for lovers of cucumber. The food menu is much more ample, with various snacks, fries, salads, and seafood. The fluffy gaucho bread (slather on that chimichurri sauce!) is a particularly great value at $4. WM. STEVEN HUMPHREY
Happy Hour: Mon-Fri 4:30-5:30 pm; Sat-Sun 3-5 pm, $5 beer & wells, $6 wine & cocktails, $4-8 menu
---
Criminally overlooked, Little Bird features one of the classiest happy hour experiences in Portland. I am DOWN with it—especially their much-loved Double Brie burger at the affordable price of $7. Surrounded by onions, pickles, and spiced ketchup, the contents are embedded in a soft artisan bun that easily carries this thick 'n' hefty, perfectly cooked patty. And because I'm fancy, I like to pair it with the best Old Fashioned Fumé ($9 at happy hour) this city has to offer. Truly, this drink is as beautiful as Ryan Gosling's more handsome brother. WSH
Happy Hour: Mon-Fri 2:30 pm-5 (6 pm in bar), daily 10 pm-close (all night Sun in bar), reduced-price cocktails, wine, & beer, $2-20 menu
---
I'm devoted to Mother's Bar & Bistro. It's a place where I—on a random day—found myself sandwiched between Portland City Commissioner Jo Ann Hardesty and a four-top of seniors gossiping about "Matthew." Who do you eavesdrop on in that situation, Portland? I don't even know. Now in its new location (three blocks from its old one), they only hold happy hour in their lounge, so it can get a little tight. But bring your friends anyway to share something from the perfectly underwhelming $4 food menu that is nevertheless $4. The true star of the Mother's happy hour is a generous house-infused cocktail like the Pear Ginger Cosmo—pear purée, cranberry, lime juice, and house-infused ginger vodka served straight up—or the Lavender Silk, which combines lavender-infused vodka, lemon juice, and honey in a champagne float. SUZETTE SMITH
Happy Hour: Mon-Fri 3-7 pm, lounge only, $5 draft beer, select reduced wines, $7 cocktails, $4 menu
---
As part of Hotel Modera, Nel Centro features quick service, big glass windows, and the no-eye-contact anonymity legally required of all hotel bars. It's got a stronger beer lineup than most, and a decent menu with vegetarian options, from the not particularly tempting (mesclun greens with croutons and herbs, $6) to the very solid (forest mushroom & gorgonzola pizza, $7). The bar fills up fast right at 5 pm, even though the place is easy to forget as soon as you leave—it's the kind of vague space where a TV silently plays ESPN even as the menu insists its $4 french fries are "pommes frites." EH
Happy Hour: daily 4-6 pm, $5 beer & cider, $6 wells & wines, $5-9 menu
---
I'm a big fan of the Original for pancake-y brunching and big-burger lunching. As for their happy hour? Well, their comfort food steez doesn't always translate well to after-work drinks and bites. For example, donut burger sliders ($5) are just too whimsical for me. And while their poutine ($6), ladled with gravy and cheese curds, doesn't exactly sing, their meatloaf sliders ($5, topped with crispy onion rings) are a yummy cardiac arrest. Happy hour drinks are limited to a couple of wines, alcoholic milkshakes and floats, and a "daily punch"—mine was a rum and pineapple, which was okay. Their happy hour seems like an afterthought, so maybe stick to lunching/brunching instead. WSH
Happy Hour: Mon-Fri 4-6 pm, $6 punch, $7 wines, $4 floats, $6 shakes, $3-8 menu
---
While this high-flying restaurant bar on the 30th floor of Big Pink may appear too classy for your station in life, trust me, it's not. The view is amazing, the bartenders are tip-top, and the drink specials include an array of beer, wine, and fruity cocktails that pair perfectly with the cheesy live piano music. The crab and avocado roll may not win any awards, but it's a completely serviceable snack while you stare across the city, trying to locate your house. WSH
Happy Hour: Mon-Sat 4-7 pm, 9 pm-close, Sun noon-11 pm, $5-10 drink specials, $6-13 menu
---
Located in the historic Ladd Carriage House, Raven and Rose (and its appropriately named bar, the Rookery) makes good use of its unusual architecture. The highlight of the happy hour menu is easily the stuffed Yorkshire pudding ($6), a British meat pillow of beef and pastry I wanted to indecorously eat two of at once. The charcuterie plate ($16) is a constantly rotating assortment of meats and cheeses. On the drink side, you can't go wrong with a $9 Moscow Mule or that New Orleans favorite, the Sazerac ($9). JS
Happy Hour: Tues-Fri 4-6 pm, reduced prices on beer, wine, & cocktails, $4-22 menu
---
Saucebox | 214 SW Broadway
On its happy hour menu, Saucebox offers traditional and non-traditional Asian-inspired snacks categorized by price: three, four, five, seven, and eight dollars. For $3, I'd recommend the taro chips with furikake and sea salt, or the edamame. There are $4 snacks like the togarashi fries or tapioca dumplings, or Brussels sprouts for $5. If you've got a bigger appetite, try the tofu or chicken pad Thai ($7), or one of the three burgers ($7 & $8) on the menu. Just make sure you get a drink. On my visit the waitress described their cocktail o' the day ($6) as a "lime popsicle cocktail," and it was a mojito I wanted to last forever. JENNI MOORE
Happy Hour: daily 4:30-6:30 pm, $5 beer, $6 cocktail specials, $6 wine & sake, $2-6 menu
---
Shift Drinks has the magnanimous all-day approach to happy hour, and there's plenty of room for groups, couples, and dreamy singles. Since this is a steamy bar where sexy people meet, I can see why their extremely fuckwithable $5 mom's grilled cheese with tomato soup comes without onions. The "better" option comes with carmelized onions and costs the same, because maybe you came to Shift to drink $7 Old Fashioneds and kiss. They've also recently partnered with North Portland's StormBreaker Brewery on a special "ShiftBeer," a single-hop pale ale, which they promise will "always be $3 a pint." SUZETTE SMITH
Happy Hour: Mon-Fri 4 pm-2:30 am, Sat & Sun 5 pm-2:30 am, $3 microbrew, $7 wine, $5-7 cocktails, $3-6 menu
---
Swine | 808 SW Taylor
The sister bar of Swank Restaurant is open and airy, and the vibe is an interesting combo of Old West primitive-chic and Scandinavian/Lutheran austerity. On the drinks side of things, make use of Swine's extensive whiskey list with the frothy, luminescent Lion's Tail ($8), made with Henry McKenna bourbon and lime. The food menu features the sticky-sweet root-beer-glazed pork ribs ($11) which come with spicy collard greens. Or get the super-tasty fried chicken sliders ($9), served with pickles on fluffy, pre-segmented dinner rolls. NL
Happy Hour: daily 3-6:30 pm, Sun-Thurs 9:30-close, $8 select cocktails, wells & wine, $5 beers, $2-12 menu
---
While mid-day seating is limited to the bar, the space is ample and includes a couple of tables and a standing counter. If a $3 mug of beer doesn't do the trick, the Worcestershire, horseradish, and sriracha-spiked Tasty Mary ($8) will help you string last night into tonight, and if you're still feeling woozy, try the steakhouse sandwich ($10). The $3 fries are great, too, with a side of luxury beef fat, AKA "wagyu tallow." Fans of Tasty n Etc. also know not to sleep on the hushpuppies ($5). TR
Happy Hour: daily 2-5:30 pm, $3 beer, $8 wine & cocktails, $1.50-20 menu
---
At 5:30 pm on a Monday, Virginia Café hosts a bustling, popular happy hour. The service is gruff but lovable, and you need to meet the $2.50 drink minimum to qualify for happy hour food prices (but you can easily do that in soda). This is a pretty good place for first dates due to the large, dark booths, and most of the happy hour fare (such as popcorn shrimp with fries for $7.50) is good for sharing. SS
Happy Hour: daily 4-7 pm, $1 off beer & wine, $4-7.50 menu

Sponsored

This 9th floor patio boasts stunning views of the city, three mountains, and Portland's West Hills.