There's always been a romantic quality to the little glass building in the southwest corner of Director Park. Though the inside was never as calm and whimsical as it seemed (bad acoustics, awkward floor-to-ceiling doors), the cloudy damp of Portland's winters always made me wish the building could cease its grind as a burger box full of trapped teenage minimum-wage workers and exist in its stripped-down fishbowl form as a place to be out of wind and weather during the scant sunny hours of the day. I wasn't alone in dreaming of this. In the glass building, recently vacated by Elephants in the Park, a group of artists will spend the next three months installing a botanical garden that they call Portland Tropical Gardens (PTG).
On the night the space opened, there was little build-up or fanfare. PTG Director Ralph Pugay gave an opening address. Shawn Creeden, lead horticultist (a made-up word that, yes, looks very similar to "horticulturist"), spoke to the assembled crowd, introducing some of the plants on display. "There are four different varieties of spider plant," Creeden said in the tone of an educational host. "See if you can spot the differences."
Erika Deini, who designed the PTG logo, and whose illustrations can be seen on many of the flyers, led the crowd in a yoga-esque plant stretch that was a little awkward in the crowded room. As I poked through the throng of earthy plant-fanciers drinking mango-flavored LaCroix and eating lychee fruit, I felt the same way I would at a gallery opening. I moved carefully so that other attendees could stare contemplatively at the plants, now afforded the status of art objects.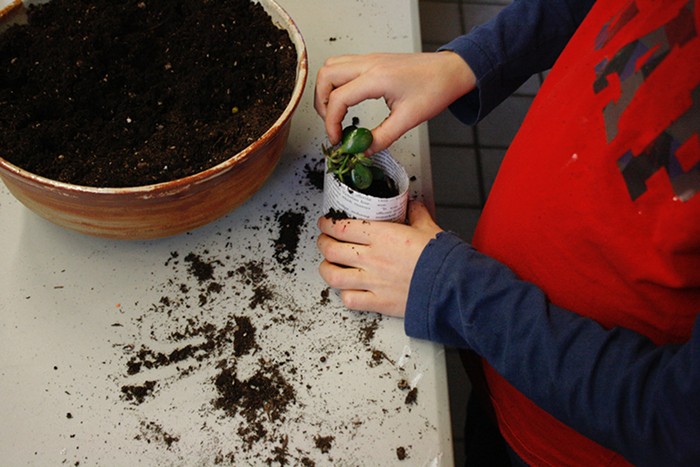 Two weeks later, I returned to PTG to talk more with Creeden and to meet Urban Shaman/Event Coordinator Michael Stevenson Jr. At the opening, there were fewer than 20 plants, but this time, I could feel a garden beginning to form. The air was properly muggy and I was particularly impressed by rice cookers that had been repurposed as humidifiers. The kitchen, formerly covered by a white sheet, was in the process of being dismantled, as Creeden brainstormed ways to get people to walk past the old location of the food counter barrier. There wasn't a counter there anymore, but even I naturally gravitated to the area previously appointed for customers. "I'm thinking of making a map," Creeden said. Suddenly, he seemed to shift gears. "I might have a bunch of people make maps, to see what they want from the space."
Both Creeden and Stevenson are graduate students at Portland State University, and PTG is run by students and educators from the school's Art + Design community. Both artists talk hard in the language of social practice which, in layman's terms, combines conceptual art, fine art, and philosophy. People can get pretty deep into it. For instance, a new addition to the space is Creeden's very large Monstera deliciosa, named Her Majesty, who Creeden just re-vesseled (I think that means re-potted) in a ceremony the Sunday before my visit. Creeden credits Her Majesty with "teaching him how to care for a plant" and her clippings have spawned four other plants in the space, not to mention the homes of Creeden's acquaintances. She's a matriarch but she's also grown too large for his living quarters, so he's been moving her through a series of art installations. At this point, Her Majesty has appeared in so many shows that he's in the process of compiling her curriculum vitae. It's humorous and eccentric, but there's also no reason it isn't real, meaningful art.
The idea behind PTG grew out of Ralph Pugay and Ariana Jacob's 2016 Pioneer Courthouse Square installation S.A.D. Park, and also takes inspiration from Libby Werbel and her Portland Museum of Modern Art in the basement of Mississippi Records. Portland Parks has given the artists a three-month lease through April for the project. As of now, no one seems to expect it to go on any longer than that. The Parks Department is still trying to get a business back into the space. I jokingly ask if there's any possibility of still being able to cook burgers onsite. "We agreed not to sell food. There's actually nothing to buy in the Portland Tropical Gardens," Creeden replies.
"It's an interesting dynamic to the project," Stevenson says. "This is a commercial sector but this isn't a commercial space."
Open hours at Portland Tropical Gardens are evolving. As of press time, the hours were Monday from 11 am-1 pm, and Thursday and Friday from 5-7 pm, with regular workshops with Creeden on Sunday afternoons. As of now, PTG only has an Instagram account and a Google Calendar to catalog their events. There's been some conversation within the group about what having a traditional website would even accomplish.
"We'd have a page where we'd direct people to our Instagram or our calendar," Stevenson says.
For now, they're more interested in growing their garden.