Portland's Stumptown Improv Festival turns five this year. The young fest is looking strong, well-adjusted, and chock-full of the vitamins and immunizations necessary for the health and growth of an improv comedy festival. In years past, the Mercury noted that national improv is taking notice of Portland and this city's terrific scene. This year, Portland's national draw is impossible to ignore. The Stumptown Improv fest annually outgrows its shorts due to the ante-upping nature of the fest's co-founders and hosts: the energetic trio of Leon Anderson, Jed Arkley, and Erin Jean O'Regan. [Full disclosure: O'Regan is a soccer columnist for the Mercury.] So here's what's new at Stumptown Improv this year and what is thankfully un-fucked-with.
This year, Stumptown Improv ambitiously expands to four nights, adding a Sunday show at Curious Comedy, which will feature a double bill of Oregon Children Theatre's all-teen improv troupe Impulse and a second show for NYC hip-hop improv "non-teens" North Coast. I'm sure everyone is sick of how much I love North Coast, so I will refrain from (THEY'RE THE BEST! SEE BOTH SHOWS! SEE BOTH SHOWS!) pointing out anything other than the fact that North Coast is coming at us this year with their own version of improv Hamilton, "a full, factually accurate improv set to satisfy your hunger for hip-hop history." I can't even imagine, but only North Coast could pull something like that off.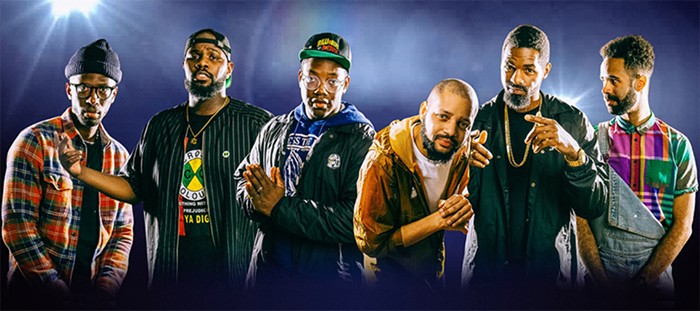 Similarly scream-worthy are White Women, a troupe composed of Black men from of LA's Upright Citizens Brigade Theatre. Former Mercury Senior Editor Megan Burbank raved about them ("White Women's improv style is near-perfect"), after their sold-out Stumptown Improv Presents show in February. I'm also hotly anticipating the Boston free-form "follow the funny" stylings of Big Bang, who last year treated audiences to a spur-of-the-moment song about people who keep instruments on their walls but never play them.
Portland's own improv teams present a strong showing, per usual, with wizened and weird Broke Gravy (containing show organizer Leon Anderson) and the ridiculously fun J Names (Jed Arkley's in this one). Even though it only lasts four days, Stumptown Improv Fest has a surprisingly long reach and a big impact on Portland's improv community. Show up and support this little-fest-grown-big that's putting the Portland improv scene on the map.