Finding any logic behind Hollywood's increasingly desperate dependence on marketing tie-ins is a fool's game (Dr. Seuss would be delighted, I'm sure, if he knew
the Lorax is now an SUV salesman
), which perhaps explains why two of this year's biggest movie releases decided a little while ago to eh, fuck it, let's just cash in on that lucrative nail polish market. Introducing
The Amazing Spider-Man
nail polish and
The Hunger Games
nail polish!
Sponsored
Sketch comedy troupes from all over N. America descend on The Siren Theater for 3 glorious nights.
First! Here's Spidey's new look for for spring:
And here's what all the most adorable pint-sized murderers in this year's Hunger Games will be wearing:
Okay. So. Sorry to backtrack, but reading "IN'SPIDER'ED BY THE HOTTEST MOVIE OF THE YEAR" is the sort of thing that makes me want to become illiterate. Also, as embarrassing/sexist as the names for the Spider-Man nail polishes are (from here on out, I'll be referring to all things that are white as actually being "My Boyfriend Scales Walls"), don't forget that the names for the The Hunger Games' colors have been changed from their original versions. Here's what the nail polishes were named when they were first announced:
Ah, yes—"Catnip"! Because, you see, that sounds sort of kind of like "Katniss," the name of the The Hunger Games' heroine!
Also I guess I got distracted by the stupid names and forgot for a second that Spider-Man is about a teenage boy who gets super-powers and doesn't really wear a lot of nail polish. And The Hunger Games is about downtrodden children brutally slaughtering each other in a devastated, impoverished America where the only people who care about fashion are the one-percenters who use plastic surgery to mangle their bodies into post-human abominations. Details, details, I know.
(Puts away nerd self-righteousness, returns to cherished Monday ritual of silently weeping while reading comic books and YA novels alone in a studio apartment)
Via io9, ComicBookMovie, bellasugar, and Racked.
Sponsored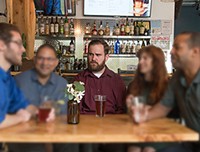 Adults aged 18-35 with good hearing will be paid for their time. Located at the Portland VA Medical Center