Sponsored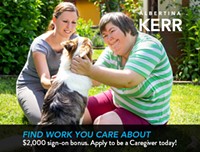 Become an Albertina Kerr Caregiver & help people experiencing intellectual and developmental disabilities.
... and it'll be the roadshow version, which will feature an overture, an intermission, and a longer runtime. Tarantino gave Variety some more info about what'll make the 70mm version different—and why going to see it on 70 will be more like a special event, and less like just showing up at a multiplex.
When audiences pay to see the limited roadshow engagement of Quentin Tarantino's The Hateful Eight this holiday season, it won't just be the projection of Ultra Panavision 70mm photography that distinguishes it from multiplex versions released two weeks later. It will be a slightly different—and longer—film overall.

"The roadshow version has an overture and an intermission, and it will be three hours, two minutes," Tarantino told Variety. "The multiplex version is about six minutes shorter, not counting the intermission time, which is about 12 minutes." (Via.)
That means Portlanders will be able to see The Hateful Eight at the Hollywood, on the format Tarantino shot it on, two full weeks before a different version will open in multiplexes. Screenings at the Hollywood will start on Christmas Day, and tickets will go on sale for Hollywood Theatre members this Friday. Everybody else can get advance tickets starting November 6.*
"We'll be showing it in 70mm Ultra Panavision," says the Hollywood's Dan Halsted, who points out that Hateful Eight is "the first movie shot in that format since 1966"—and one of less than a dozen films that've ever been filmed in Ultra Panavision.
"We'll be the only theater in Portland playing it for the first two weeks," Halsted says. "We already put in the work to find lenses to present the movie in the largest image possible." Halsted adds that getting this roadshow version of The Hateful Eight is "a return to form for the Hollywood Theatre, as most of the 70mm Ultra Panavision movies originally played here in the 1960s, many in the roadshow format. There will probably be a temporary 70mm installation in the suburbs showing it as well, but on a smaller screen, and without our dedication to excellent presentation."
This is great—and big—news for Portland's film scene. It's also been in the works for a while—the possibility first came up in the Mercury back in March, when the Hollywood got 70mm up and running with 2001: A Space Odyssey. (They've since shown Vertigo in 70 as well.) Now that it's definitely happening, the Hollywood will be one of only about 100 theaters in the country that'll be showing Hateful Eight early and in Tarantino's preferred format.
That's cool. And it's even cooler because The Hateful Eight looks fantastic.
*UPDATE (TUES NOV 10): Looks like the Hollywood's wasn't able to sell tickets quite as early as they'd expected—but if you're getting antsy about getting in on opening day, keep an eye on the Hollywood's site, which'll update once they can start selling tickets.