Back in May, I previewed a unique start-up called Green Box (pdxgreenbox.com). To recap: Green Box curates cannabis and cannabis products for you based on your preferences, and then delivers one each month to your home. (Attention Jeff Sessions: A gay, married, Black man curated and delivered a box of cannabis to me in full compliance with state and city law. Welcome to Portland, you little punk.)
Green Box is now fully up and running, and they offered to deliver one to my modest abode. I'm stupid, but I'm not so stupid as to say no to such an offer, so I went online and completed my profile, answering questions about edibles, flower, flavor note preferences, and so on. While there was no box to check for "massive hedonist," I felt my answers gave a good overview of what I like regarding cannabis (which, again, is everything, and in large quantities).
I selected a delivery time period on Sunday morning, and received a text update that morning with a link that showed me, Lyft-like in real time, where my Delivery Driver of the Dank was, and when he would be arriving. Right on time, an unassuming car pulled up, and the owner of Green Box, Adrian Wayman, hopped out and handed me the specially curated box of green, and his phone to sign.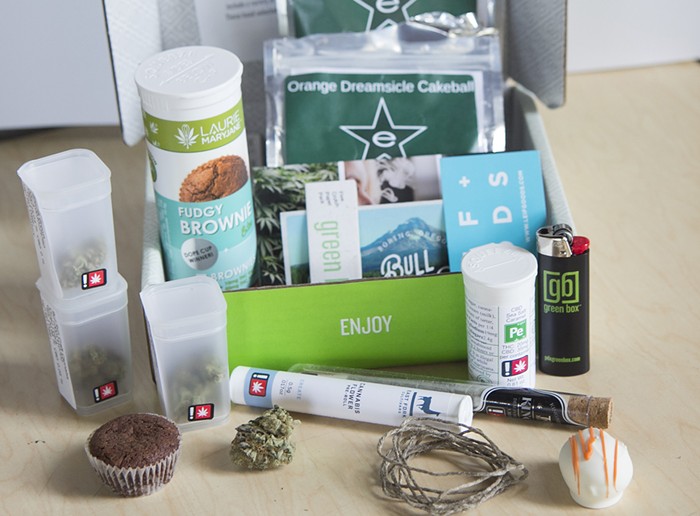 Showing admirable restraint, I waited until I was inside my house before lifting the lid on the sleekly designed package, which I will be repurposing this holiday season. Inside the lid was a highly detailed menu of the nine products contained within, along with a couple extra treats, and some ancillary items such as a lighter, organic hemp wick, and some crutches for joints.
To be exact, I received:
• a 5-piece container of Brownie Bites from Laurie + Mary Jane
• a Sesame Harissa Chocolate Bar from Leif Goods
• a CBD Sea Salt Caramel from Periodic Edibles
• 1 Orange Dreamsicle Cake Ball and 1 Lemon Cake Ball from Elbe's Edibles
• a pre-roll of a high-CBD strain, Shark Shock, from East Fork
• a king-sized pre-roll from TKO, a whopper at 1.3 grams in a sleek glass tube
• 1.39 grams of Cherry Kush from Nelson & Co.
• 1.25 grams of Sour Tangie from Ten Four Farms
• 1.22 grams of OGKB from Gnome Grown
• 1.25 grams of Golden Cobra from Bull Run Craft Cannabis
I was already familiar with many of the producers on this list, and the products they provided in my Green Box lived up to their reputations and my expectations. It was great to try some new strains and products from others I had heard of but have not yet tried. Everything was top shelf, and I would had no hesitation sharing this with the snobbiest of my canna friends and colleagues. In fact, I did share, with my 79-year-old mother, a cannabis consumer of 60 years, who raved about the packaging. Upon opening the box, she paused and asked, "This is the coolest fucking weed thing I've ever seen. You've giving me this, right?"
The concept of a personal pot shopper would have been laughable a few short years ago. Now with Green Box, it's here, and would make a great gift, for yourself or someone else—hey, maybe even your own mother. Prices run $100 for a monthly box of 4-6 products, or $150 for 7-9 products. Check them out at pdxgreenbox.com.