A couple Mondays ago at about 5 pm, I got an Instagram message on my business account.
"Hey XXXX! We are a DC based food delivering company that has just expanded into the Portland area. We specialize in delivering local foods products through an on demand service while providing a gift of cannabis with all products sold. Check us out! Happy to deliver your first delivery on us!"
In an era where you can't cough without getting a Robitussin ad on your phone five seconds later, I had my suspicions about the legitimacy of this offer. To recap: You want to bring food AND weed to my front door? For stoners, this is the cannabis equivalent of a Nigerian prince needing my help. (To whom I gave, and y'all can suck it once he gets access to his frozen accounts and pays me back with mad interest. Who's going to be the gullible one THEN?)
But even if this was an elaborate way to obtain my home address to do me harm, I was willing to chance it, because—again—they were offering to bring food and weed to me.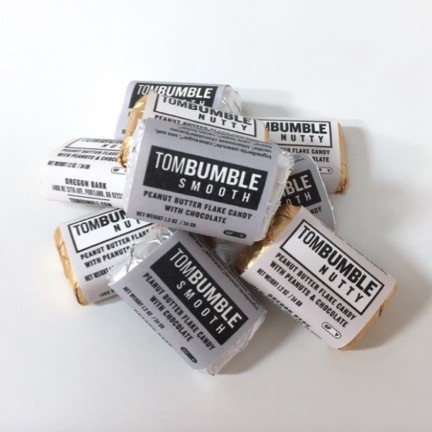 A very polite delivery driver showed up within the hour, and handed me a small brown paper bag. Inside were two delicious fancy-pants chocolates from Tom Bumble, one nutty and one smooth. The chocolate was sourced in the western hills of Ecaua—
Sorry, what? Oh, you want to know about the weed. Gotcha.
The delivery also came with a brown, childproof-sealed bag with an eighth of Washington Glue, comprising a half dozen fully formed, mature, and heavy buds that had a pleasant light citrus scent. They smoked just fine—I'm vaping some as I type this, and haven't gone crazy(-ier). Research shows the strain is an indica-dominant hybrid, and it's leaving me relaxed but engaged.
The company is called
Local'd
, and owner Domenick Vanucchi and I traded some emails. Vanucchi shared that Local'd is a Washington, DC-based company, with a recent expansion into Portland that began September 1. He described them as "an on-demand marketplace designed to grow, support, and fund local start-up companies." They sell the products through their website and delivery service, and "all products come with a gift of cannabis, which our customers have the option to choose between different types and quantities. Delivery is within an hour (except for peak times) and can be anywhere within the Portland boundaries." The products are high quality and, as you can tell from
the site
, prices are not cheap.
Vanucchi added, however, that a percentage of all sales goes back to the participating companies in a mission to help fund their brands, and that since started they began in February 2017 in DC, they had raised over $100,000 for their partner brands. In Portland, they've partnered with Oregon Bark (the makers of Tom Bumble chocolate) and Pinkleton's Curious Caramel Corn.
So... Is this legal?
I'm guessing so, but I can't say for certain. There was nothing wink-wink about the delivery—they checked my ID, and the company has been rapid and straightforward in my communication with them. I assume they have done their homework for their expansion, or have great legal representation if they have not. They have a website, they have a promo code, and they answer their phone. So, legit for sure; legal, I certainly hope so.
I didn't feel like calling the OLCC and the OHA and the ONI and the Portland Police and Jeff Session's office and Jesus to ask if it was okay that someone gifted me an eighth of kind bud when I bought two expensive chocolates. Like all of you, I've found this year to be a freefall of heartbreak. At this point, free cannabis with food deliveries is just fine. Local'd violated no law I have in my home.