[WARNING: The following stories are factual and can be both gruesome and troubling.—eds]
ALL HOUSES have histories. And Portland has many old homes—but not many current owners know anything about the previous occupants... or the horrifying things that may have happened there. What follows are true stories of some of the grisliest murders of Portland past, and the homes where they took place. All the houses mentioned below are still standing and occupied—though we've redacted the exact street addresses to protect the anonymity of the current owners. (Much thanks to author/researcher JD Chandler for his help in choosing the following stories. For more grisly true tales, read his book Murder & Mayhem in Portland, Oregon and our interview with him, HERE.)
_________________________________________________________________________________________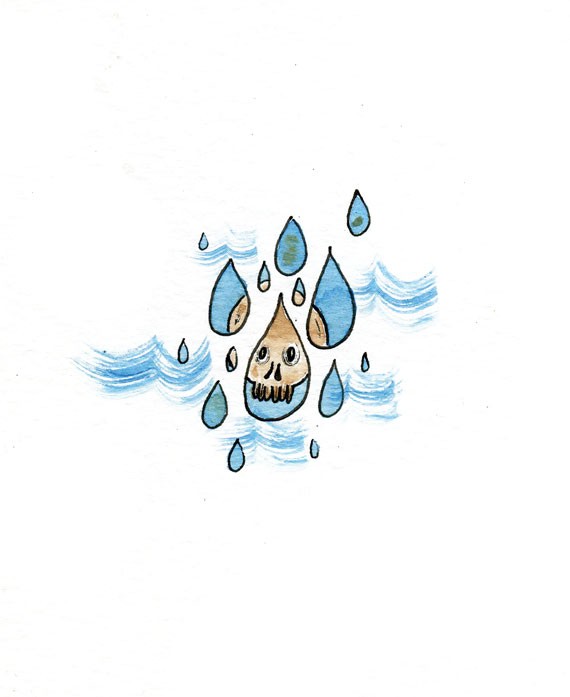 The Gates Home
SE 35th: The Pool
"Do you want a swimming lesson?"
That was the offer 13-year-old Michele Dee Gates made to four-year-old Ruth Anne O'Neil on January 4, 1980—an invitation that would end her young life.
Michele had been Ruth's babysitter on numerous occasions, and the older girl had agreed to escort the four-year-old to a nearby Herfy's restaurant for ice cream. Instead, Michele lured Ruth to her house on SE 35th with the promise of teaching her how to swim. The teen dressed the young girl in a yellow bathing suit, and escorted her out to the four-foot-tall vinyl swimming pool in the backyard. It was unseasonably balmy that day, and the pool still had 10 inches of water at the bottom.
The young girl climbed in, followed by Michele. That was when the teen forced Ruth O'Neil's face underwater and held her there until she drowned.
No longer struggling, Michele pulled the lifeless girl out of the water, removed her bathing suit, and put Ruth back into her street clothes—with the exception of her socks and underwear. She then carried Ruth's body into a neighboring man's backyard, and carefully laid her corpse onto a rubbish heap, hiding the underwear and socks in the neighbor's shed—possibly to frame the man.
Michele had been very careful this time. She had learned a lot since drowning her male three-year-old cousin a year before.
According to reports from the Oregonian, neighbors described Michele as very neat, polite, and "extra normal"—often wearing her hair in two braids. She was an avid swimmer, popular, and considered a "big sister" to many of the neighborhood youths, who would occasionally be left in her care. Such was the case in 1978, when Michele's three-year-old cousin Naytah Ottino had reportedly fallen into the duck pond at Washington Park Zoo and drowned. Michele had been with him, and was seen holding the dead toddler's body in the water, claiming she had been trying to rescue the boy—although years later she would tell investigators that she had "intentionally pushed him in" and "allowed him to drown, telling others it was an accident."
The death of her cousin taught Michele one thing: drowning someone isn't as easy as it looks... and she wouldn't make the same mistake twice.
When police were questioning Michele following the murder of four-year-old Ruth, they immediately noticed inconsistencies in her story. When interviewed further at the station, Michele suggested that maybe Ruth's mother had given her drugs—or perhaps she had been raped and suffocated. After interrogators dangled the idea that whoever perpetrated this crime had to be "brilliant," Michele happily admitted she had taken Ruth wading in the pool and held her face under the water until she was dead. She also took the opportunity to confess to the drowning of her three-year-old cousin.
During her extended wait for a trial—one that would go on for five years due to the nature of Michele's confession (she had not been read her rights) and her complicated juvenile status—psychiatrists would describe Michele as suffering from a "narcissist personality disorder with schizoid and passive dependent tendencies," and doubted that she could ever be cured. After spending two years in a home for disturbed children in Maine, she returned to Portland awaiting news of her still-pending trial. Police were alarmed by the revelation that she had been accepted as a volunteer YMCA swimming coach for disabled children. The Y quickly dismissed her, but not before a terrifying incident in which another instructor screamed at her three times to pull a struggling five-year-old out of the water. Michele was just standing there, passively watching the little boy flail. Later she would explain her actions, saying, "The child needed the experience to gain confidence."
Eventually, in January 1985, a 19-year-old Michele Gates agreed to accept responsibility for her crime, in exchange for what turned out to be a "limited sanction" without ever being placed in "secure detention." Michele then disappeared from the public record... until 1991, when she offered to pay an ex-boyfriend $10,000 to murder her fiancé's ex-wife and burn down her house. The murder never happened, and Michele was caught and sentenced to 15 years in prison for "solicitation to commit a crime of violence." Prosecutors opined she wanted this woman dead for one reason: She was unable to get pregnant.
And she wanted to adopt the man's child. WM. STEVEN HUMPHREY
_________________________________________________________________________________________
The Bowden Home
SE Yamhill: Pandora's Box
James Bowden didn't storm the beaches of Normandy or island hop in the Pacific. He didn't liberate France or occupy Japan. He was working up in Alaska during the fighting. Other men fought—he froze. Other men won the war—he got to read about it in the papers.
In 1946, the war was over and Bowden was back home in Portland with his wife, Fern, and their kids. All wasn't well, though. The man who watched others take Normandy, take Japan, take victory, was watching something else now. He was watching another man take his wife.
Or at least, that's what he thought was happening. They were always talking and walking together. It couldn't be anything else. Bowden told Fern, "He didn't want her walking down the railroad tracks with that man no more." She didn't listen. She wanted out. She wanted a divorce.
Bowden decided that he was going to do something about that son-of-a-bitch. If he was going to take his wife, he'd have to pay. A knife would be too easy, a bullet too usual. If that other man was going to have his way with his woman, his death would be good and dramatic: He'd get blown to kingdom come and then some.
Bowden got himself some dynamite, some detonators, everything he'd need to build a bomb to send the bastard sky-high. He stored it all in a footlocker in his basement and planned for the day when he'd blow his rival to smithereens. He rigged some dynamite in an apple box so that when the cuckolder opened the lid: KAPOW. One less homewrecker.
His wife and kids saw him tooling around in the basement, fiddling with the box, adjusting the mysterious contents. They couldn't know. They couldn't know that Daddy was going to kill a man. He told them not to look in the footlocker. Never touch the contents. Never, never open it.
He was away on a fishing trip on July 27 and curiosity got the better of his wife. She knew that he'd said to stay away from the box, to never look in it but... he'd been acting so strangely. She had to know what he'd been up to in that basement.
She went into the basement and decided to take a peek at the footlocker that her husband had been spending so much time with. Inside, she found a wooden box intended for her supposed lover and opened it. The blast reverberated through the Southeast Portland house, and after an explosive instant, she was dead.
James Bowden never killed his wife's lover. He never got any kind of revenge on the man. He did manage to destroy the one person he was trying to keep, though. He was arrested, tried, and brought before a judge and jury. After five hours of deliberation, his peers decided that the man who built the Pandora's Box was guilty of first degree murder. Bowden was sentenced to life in prison. JOE STRECKERT
_________________________________________________________________________________________
The Ollison Home
N Williams: Dynamite and Gunshots
The explosion should have been a tip-off. At midnight on February 22, 1970, somebody dynamited Big Poop's house. They didn't get Big Poop that night, but the blast wrecked his car, his house, and his garage. Maybe Poop knew who was responsible—if so, he wasn't talking.
Sure, lots of hoods wanted him dead. No one can remember exactly how Roma Ollison earned the nickname "Big Poop," but make no mistake—this guy was King Shit, a well-known gangster presiding over a string of gambling houses that ran up and down North Williams. When the police busted one of his clubs in 1957, Big Poop flashed his famous smile for the newspaperman's camera. He dressed in crisp, snazzy suits; he'd light his cigars with five-dollar bills. Doing time for gambling and dodging charges for bootlegging and narcotics had given him the steel-edged swagger to flaunt his success like an emperor—it would take someone with real brass balls to stick up Big Poop.
Ollison used the explosion as an opportunity to move into a bigger, better home, located just up the road from his gambling clubs. On June 22, 1971, he was there with his lady friend, Kathy Ann Ward—40 years his junior. At 1:25 am, she heard a knock on the front door. Big Poop's voice wafted up to the bedroom, and Ward could hear him talking to the two men downstairs, followed by a scuffle. Then she heard the gunshot. The two men raced upstairs and robbed her, skedaddling as Poop bled out in the entryway. They'd given him a serious beating before firing one straight into his heart. One of them left behind a worn, gold-plated bracelet with the initials J.W.D.; the reverse bore the inscription "Love Lee Anne."
Big Poop was taken to the hospital, but the slug in his chest was too deep; he was pronounced dead on arrival. Ward was able to describe the perpetrators to the police: two small men—one of whom the Oregonian termed as "rough skinned"—in their mid 20s. The cops couldn't determine how much money they made away with; they never found the killers.
It's possible the two murderers were simply looking for an easy payday; it was well known Big Poop always carried cash to spare. He ran one of the city's biggest fencing operations, trafficking in stolen goods and coordinating robberies around the city. Maybe there was more to the shooting than a simple cash grab, though. He had no shortage of rivals and hungry hangers-on looking for their own slice of Big Poop pie.
Or maybe this was a way for Johnny Law to get rid of Big Poop once and for all. That bracelet, a choice bit of evidence, could have been planted—a bit of misdirection, perhaps? Along with a material witness and ample motive, the coppers still were never able to close the books on Poop's murder. However, they now conveniently had one of Portland's biggest gangsters out of their hair for good. Wild speculation? Perhaps. Or it could be one more case of cleaning up the mean streets of Portland by using a few of its own dirty tricks. NED LANNAMANN
_________________________________________________________________________________________
The Dolan Home
NE Emerson: Unwelcome Visitors
We hear it all the time: The holidays are a time to open your heart and soul—and sometimes even your home—to your kin and neighbors.
But here's the truth: We often forget about the darkness of the holidays, the stuff lurking just beyond the edges of all that warm, cheery, red-and-green light.
I'm talking about the hustlers and the hoods and the bad men and women who never miss a chance to make a dime at someone else's expense. It's Christmas for them, too.
Because what do they see when they walk around looking at all the lights and window dressings? Opportunities for one more score. The holidays—full of sentimental dupes and expensive gifts, so very helpfully piled in living rooms right near the front door—are one big criminal smorgasbord.
Which is a long way of explaining how one Veronica Dolan—a 74-year-old woman living all by herself—had come to have some unwanted visitors in the dark hours just before Christmas Eve 1976.
And how it came to pass that the Christmas of 1975 would be the last one she'd ever see alive.
Dolan had done what people who grew up with big families do. She'd spent the day before Christmas Eve with relatives, at her sister's. After a time, she decided to brave the unseasonably cold night air and walk several blocks back to her tidy bungalow off NE MLK.
It all seemed so normal. She came in the house. She undressed. She put on her nightgown. As for exactly what happened next, we'll never know.
Dolan's sister found her corpse at 2:15 in the afternoon on Christmas Eve—dressed in nightclothes, with her hands and feet bound together. Dolan had been beaten over the head and "choked and smothered," the coroner said, "probably with a pillow."
And her house? It had been ransacked so thoroughly that the cops figured whoever did it had come with company. It would be counted as one more home burglary—albeit with a tragic twist—in a neighborhood that had seen a sudden "rash" in recent weeks.
Justice didn't wait. One of the killers had left some "property" behind. At five the next morning, detectives tracked down two transients from Mexico—Juan Aguilar, 22, and Abraham Cruz, 25—and charged them with murder. They'd done it all for $8 and a medal that once belonged to Dolan's sister.
The case, tried by a little-known deputy prosecutor named Mike Schrunk, kept Dolan's name in the papers for a little while longer—somewhere it had been many times before, but almost always for happier things.
The longtime secretary, for First National Bank and then for Portland Public Schools, famously won a movie magazine puzzle contest in 1929. Another time, she wrote an essay good enough to earn her a Columbia knit swimsuit. She loved contests so much, she even went to New Orleans in 1953 as a delegate for the National Contesters' Association.
Her killers were sentenced to life in the spring of 1977. And then Dolan's name stopped showing up in the papers. Until now. And it's not even Christmas. DENIS C. THERIAULT
_________________________________________________________________________________________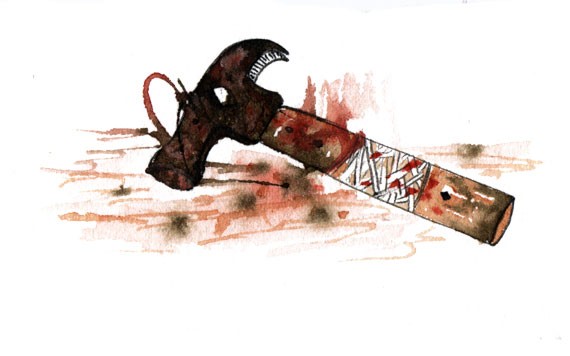 The Weeks Home
SE Market: A Hammer
Missing. They were missing.
Eloise Wiebe, a nurse at Good Samaritan Hospital, left work in a frenzy on the afternoon of March 25, 1974. Her two boys hadn't made it to school that day and this was the first she was hearing of it. She rushed home to her quiet suburban neighborhood to knock on the door of Arlene and Howard Weeks at their low-slung ranch. The Weeks looked after the boys in the mornings when Eloise went off to her early shift at the hospital. There was no answer at the door. What she found inside would change her life forever.
She saw Arlene, 28, in the front room, bound and gagged. Eloise called the cops. Howard, 30, was in the back bedroom on the floor, nude and tied up with an electrical cord, while the poor Wiebe boys—Todd, 10, and Kevin, 8—lay prone on the bed, trussed up with pantyhose. All had shattered skulls, brutally bludgeoned with the Weeks' Sears Craftsman hammer, a deadly weapon that lay on the bed by the dead boys. It was only the Weeks' newly adopted four-month-old, Brant, who survived the terrible attack, alone in his crib.
But who could have perpetrated the largest multiple murder in Portland's history at the time—a horrible event that a Portland police detective called "the most violent crime I have ever seen in many years of police work." And most importantly, why?
Neighbors reported seeing a man with long curly hair walk out of the Weeks' house at 7:15 that morning—around the time of the deaths—and get into his 1965 blue-and-white Ford. The police began scouring records for corresponding vehicles, but no one could conceive of a motive for the brutal killings... the house wasn't robbed, no one was sexually assaulted, the Weeks were well-liked churchgoers. The police photographed every one of the 300 mourners as they exited the memorial service. Hundreds of tips were called in. Rewards were donated. It took nine long days before an arrest was made.
Colin Hockings, 30, told police interviewers, "I wondered when you guys were going to come and see me." A married man with two very young kids of his own, Hockings and his family lived in an apartment in Gresham. On March 25, Hockings hadn't gone to work, unusual for the normally punctual shipping clerk. It was after the police searched the man's home and car on a tip that the formerly convicted man turned himself in. And he had a connection to the Weeks—in 1973 they were coworkers at Gresham's state employment office.
In the heat of that summer, the hammer slayings trial began. In testimony, Hockings described Arlene as "a nice person," but denied ever being inside the Weeks home or even knowing where they lived. At the trial, Hockings' friend said the two of them went to a beer and reefer party where they drank for many hours, and they made it home to Gresham at 4:30 am on the day of the murders, less than an hour before the Weeks' garage was broken into and the murderer entered the house. It was a seven-mile drive from Hockings' apartment to the Weeks' Southeast Portland home. With plenty of damning witness testimony during the five-day trial and Hockings' fingerprints found on the Weeks' bedroom dresser, the jury found Hockings guilty of four counts of murder on August 22, 1974. He was sentenced to four consecutive life sentences.
But the story doesn't end there.
A retrial was held in June 1976 because the "trial judge erred in admitting certain evidence" in the original trial. Witness discrepancies were pored over. Neighbors said the man that exited the Weeks' house had curly hair—Hockings' was stick straight—and he was taller than people described. Descriptions of his car varied. Yet the retrial jury still found him guilty on four counts. He sits in prison to this day. And a motive has never been satisfactorily found.
The lone survivor of the hammer slayings, baby Brant Weeks, went back up for adoption, and presumably survives to this day. The Wiebe boys were not so lucky. COURTNEY FERGUSON
_________________________________________________________________________________________
Vacant House
SE 66th: A Smiley Face
Little towheaded Tommy Mantia seemed to be trying to avoid trouble on September 27, 1979, when he walked headlong into it. The seven-year-old, who perhaps had a slightly naughty air about him, was in trouble with his babysitter. When she warned him there'd be hell to pay when his mom got home, he skedaddled out of the Southeast Portland duplex he shared with mama, and headed toward a neighborhood tavern.
It's not what you think: The youngster wasn't after the hooch, but rather seeking out a man later described as a "casual friend," who would occasionally treat the kid to a hamburger. Dale J. Jones was 22, and had recently been kicked out of his parents' house for his drinking. He'd spent the previous six months sleeping in parks, couch surfing with family and friends, and bunking in a nearby house that was vacant for remodeling. A high school dropout with what was described as "low intelligence" and a "sporadic" employment record, Jones had shaggy, shoulder-length blond hair that he was fond of keeping under a cowboy hat. Tommy, meanwhile, had on a shirt with a smiley face.
Complaining that he hadn't been fed, Tommy let Jones buy him a hotdog, and the two ended up back at "Jones' house." While en route, they were noted by a police officer—but there was nothing to arouse suspicion. Upon arrival at the nearby, unoccupied house, Tommy started asking questions. Why didn't Jones have any furniture? Where was his family?
Tommy wasn't scared, though—he was amused, laughing his head off at the ridiculousness of Jones' circumstances. Jones really didn't appreciate that (and maybe he had a little buzz on from the bar), so he "restricted the breathing" of the boy for the three-to-five minutes it takes to die in such a manner. Then he left him there, in a second floor bedroom.
Within days, Jones was taken into custody for questioning regarding Tommy's disappearance, and had what must have been a lovely two-and-a-half-hour chat with police. Apparently unsure his victim was actually dead, Jones refused to cooperate until the idea was floated that the child could still be alive, at which point Jones helpfully drew officers a map to the house where they soon found Tommy's body.
There was no question of Jones' guilt, but at his trial the issue at hand was intent. Far from a hardened murderer, Jones was described at the time of his arrest as "one frightened 22-year-old" who had apparently been fond of Tommy. What seized him on that day while being mocked by a little boy for his failure to succeed at normal life—anger, fear, self-hatred, some combination—only Jones knows for sure. And was Tommy forced to go without food out of cruelty or poverty, or was he just telling tales? His mother, Julie Mantia, may be able to shed some light, but even at the time of the incident, she kept mum to the public. MARJORIE SKINNER
_________________________________________________________________________________________
The Miller Home
N Wabash: The Paperboy with an Ax
Today, the small house where Lloyolla T. Miller lived out most of her life has faded a bit. The garden this so-called "Rose Lady of North Wabash Avenue" fastidiously tended has been left to weeds and scrub. But, even now, it's easy to imagine roses and rhododendrons coming into vibrant life around the home on May 29, 1979—the day Miller's was violently snuffed out.
That was the day the paperboy murdered her with an ax.
It's a crime that might bring in the vultures of cable news today: A respected neighborhood matron, a paragon of Portland pride, savagely attacked in her home by a disturbed neighborhood teen. But the killing got relatively little coverage in the Oregonian—a mere handful of blurbs over the course of a week.
It wasn't until a day after the murder that a neighbor found the 69-year-old Miller—not among the garden beds or at her typewriter (she was an aspiring writer of mysteries) but dead in the basement, wounds gashing her neck and upper torso. A bloodied ax lay nearby.
This was not one of Miller's slow-building whodunits. Mere hours after the grisly discovery, police arrested 14-year-old David P. Lindell as he walked his paper route. The teen had been seen around Miller's house at the time of the killing. He was formally charged the next day.
Probably because Lindell was a juvenile at the time, there's no published record of his trial, and so no definitive account of the chilling circumstances by which he, Miller, and an ax ended up in the woman's basement. It appears the motives were at least partly sexual. Lindell was convicted of the murder, and sent to the MacLaren School for Boys in Woodburn until he was 21. His life, as we shall see, remains a bit of a mystery.
Miller had moved from Michigan to Portland with her parents as a young girl, and made regular appearances in the Oregonian throughout her life. Described as a "natural tomboy," she was a North Portland pageant regular in her teens, and a top student of Roosevelt High School's Class of 1928. In her twenties and thirties, Miller was among the Portland Archery Association's finest shots, and known to crush opponents on the badminton court.
She was also a patriot, serving in an auxiliary arm of the US Coast Guard during World War II. She lived with her parents nearly her entire life. Her mother died in May 1979, and Miller had been on her own for only two weeks or so when she was so savagely killed.
"She spent a lot of time in the garden," a friend said after her death. "That's about all she did—weed and plant the garden."
As for the murderer, he did okay in the MacLaren school for several years, then in 1983 began a series of "escapes"—they'd let him leave on work release or for visits home, and he wouldn't return. He was caught three times and, still, they let him leave.
Lindell's final escape, it appears, came in 1985, when he didn't come back from applying for a job. There's no record he was ever apprehended.
The last published description of the disturbed young man appeared in the Oregonian on September 11, 1985, when he was 20. It said he's "6 feet 1 inch tall, weighs 243 pounds, and has brown eyes and black hair."
One wonders if a person roughly matching that description is ever seen walking down North Wabash, pausing in front of a small light-colored house on a corner lot, and remembering roses. DIRK VANDERHART