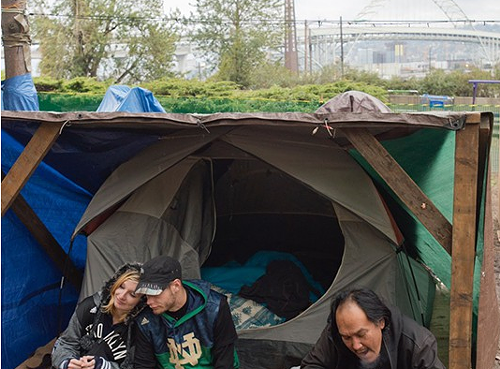 The city will consider "exercising its authority to suspend, and perhaps eventually terminate" its recognition of the Overlook Neighborhood Association if the group's board next week votes to approve a discriminatory proposal that would prevent houseless residents from participating in meetings.
That's the word the Office of Neighborhood Involvement sent to the OKNA yesterday, in a letter the neighborhood association has posted to its website.
"This is not a decision that ONI would lightly make," reads the letter from Brian Hoop, manager of ONI's Community and Neighborhood Involvement Center. "However, a prohibition upon houseless individuals qualifying for membership in the Overlook Neighborhood Association would be in conflict with the inclusivity and diversity that ONI otherwise serves to promote for all neighborhood associations."
The rule being considered by the OKNA would require that prospective members have a "legal domicile and address within the boundaries of OKNA" in order to join. Owning property or operating a business within the neighborhood's bounds would also be acceptable qualifications.
But the rules would prevent homeless people from joining—including, notably, residents of the organized Hazelnut Grove encampment that the OKNA has squabbled with since 2015.
Under current city bylaws, the OKNA says, "it is possible that anyone who happens to be in the neighborhood on the day of a meeting could be eligible to vote. This includes houseless individuals camping illegally in Overlook or squatters occupying a vacant building."
The proposed rule, which would grant membership privileges to a houseless village with a city permit, looks partly like an attempt by the OKNA to force Hazelnut Grove into a formal agreement with the City of Portland. The neighborhood association and houseless village have been in mediated talks with the aim of establishing a "good-neighbor agreement," so far unsuccessfully.
"In the spirit of this diversity, ONI does not believe that residency should be based on a 'legal home address,' nor should it be limited to those who may be able to afford to buy or rent a home," ONI's letter reads.
This isn't the first questionable proposal to come from the OKNA since Hazelnut Grove sprang up in 2015. In December of that year, the association also considered demanding the identity of everyone living in the camp, which would have become a matter of public record.
The city's threat to rescind the OKNA's "benefits of formal recognition," have caused board members to change their strategy around the rule, Chair Chris Trejbal says. Rather than taking the item up at this month's regular meeting (6:30 on Tuesday, at Trillium Charter School), the OKNA board will discuss the proposal in a short meeting beforehand.
"In light of Commissioner [Chloe] Eudaly's and ONI's threat, the board will discuss the amendment during a special meeting on Tuesday before the regular meeting," Trejbal says. Eudaly oversees ONI.
Live in Overlook and have an opinion on the proposal? You can send feedback to info@overlookneighborhood.org.
Here's the full letter: