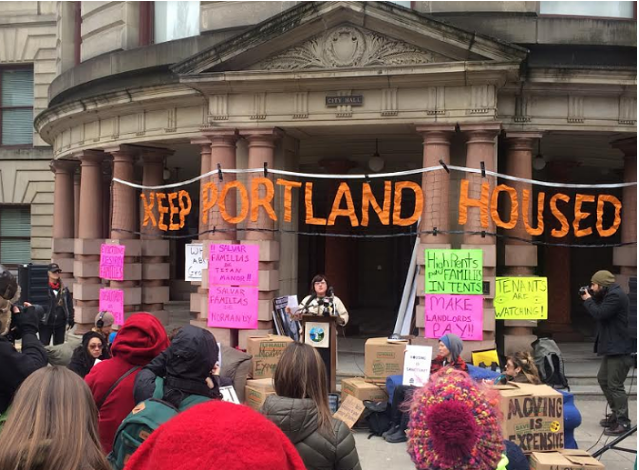 No surprises here: The City of Portland is still under a formal housing state of emergency declaration, and the city's policy requiring landlords to pay relocation fees rides on.
Well before an hours-long hearing on those two proposals this morning, it was clear Portland City Council would extend the housing emergency by 18 months—a move that allows officials to disregard zoning rules when siting homeless shelters—and extend Portland's mandatory renter relocation law until next April. The law requires landlords to pay tenants between $2,900 and $4,500 when they issue a no-cause eviction, or cause a tenant to move because of a rent hike of 10 percent or higher.
Both of the extensions passed unanimously, amid widespread consensus that, yes, Portland's housing market is still leaving too many people behind, and, yes, the homelessness crisis isn't getting better despite a vastly improved network of social services in recent years.
More interesting this morning was the gut-check that the hearing became. With the relocation payment policy she'd championed coming before council yet again, City Commissioner Chloe Eudaly pressed her colleagues to close what activists say is a gaping loophole in the policy: an exemption on landlords who control just one rental property.
This "mom-and-pop" landlord protection has been in place since the city passed the law in February. It was envisioned as a way to protect landlords who don't have the buffeting cash of larger institutions and who might, for instance, rely on rental property income for their retirements.
Not long after the relocation payment law passed, landlords figured out a way to game the system. A person who rented out more than one single family home could avoid having to pay relocation fees if they simply set up a limited liability corporation for each of their properties. Under the city law, the LLC would look like a small landlord, even if its owner actually controlled a bunch of property.
Council got its first shot at closing the single-landlord exemption as a whole in July, but demurred. But it did shut down the LLC-loophole. This time, with the proposal coming from Eudaly herself, most commissioners were still disinterested. Eudaly's amendment to kill the "small-landlord" exemption failed 4-1.
One big reason: Most, if not all, of the council intends to make the relocation ordinance a permanent fixture in city law. And with officials planning to look into passing such a permanent policy in December, commissioners decided there was no need to rush.
"I'm not prepared to vote for amendments on the fly," said Mayor Ted Wheeler. "I'd like to hear different perspectives."
The different perspectives he's talking about will come in the form of a volunteer committee that's been looking at the relocation law, and will bring forward recommendations for how to tweak it. The committee is peopled with landlords, tenant advocates, activists, public officials, and others, and it's seen its share of acrimony.
After Margot Black, co-founder of Portland Tenants United, compared landlords to terrorists at a recent meeting, there was talk of her being kicked out. That never came to pass, but the sometimes-acrimonious nature of the group has led some to conclude its members will never approve a recommendation to close the small-landlord exemption.
Interestingly, there were at least five landlords at today's hearing who say that exemption is nonsense.
"Please consider the effect of the small-landlord loophole on the tenants themselves," said Meg Dorton, who told council she owns two rental units. "Though they are small landlords, the effect they have on tenants" are just as powerful.
That sentiment would be argued again and again, as dozens of citizens, including several candidates for state and local office, urged council to close the exemption.
"The family thrown into homelessness does not suffer more or less based on whether the landlord owns one or many units," said Julia DeGraw, who's challenging City Commissioner Nick Fish in next May's primary.
Council also heard from several renters who explained they'd been served with rental increases of just under 10 percent by landlords who wanted to avoid paying relocation costs. One woman said her rent had been raised by 9.97 percent, and that her landlord had begun charging her "fees" for water, sewer, and garbage bills that effectively raised it even higher. She said she couldn't afford the increase, and wasn't sure what to do.
Eudaly chimed in with a tale of her own, saying she was hit with a 9.7 percent increase this year, though she said her rental is not kept in good condition.
Christina Dirks, an attorney with Legal Aid Services of Oregon, told council her office had seen far fewer calls about no-cause evictions since the relocation law went into effect (though she said it now gets called about "9.99 percent rent increases"). "I've observed the critical impact the relocation ordinance has had," Dirks said,
On the other side—and part of an apparently small contingent on hand today to oppose closing the exemption—was Jane Leo, a lobbyist for the Portland Metropolitan Association of Realtors.
Leo suggested that landlords are forced to hike rents higher than they'd like because of city policies. "When the city sets its limit on what the rent increase can be, the city needs to take a look at itself," Leo said. "How much did the water and sewer rates go up? How much did the property taxes because of the bonds go up?"
She also suggested to council that people who rent out single-family homes are rushing to sell "because of
the uncertainty and because of the burdens." As of September 30, Leo claimed, "there are mo more than 440 single-family properties the we know were, or are, tenant occupied for sale on the market."
In the end, none of the testimony moved council to act on the exemption. It will certainly be back on the table in December, and the vote could well be tight. Eudaly and Fish both voiced support for closing the loophole, with Fish saying: "I am persuaded that the one-dwelling-unit exception has had unintended consequences. In effect, it's a loophole that needs to be closed." Fish argued for still exempting accessory dwelling units from the the policy.
But if there's a strong third vote that will support them, it wasn't clear today. Commissioner Amanda Fritz said she's worried "about the number of emails and letters I've received about people leaving the rental business."
Commissioner Dan Saltzman didn't say much at all, beyond voting down Eudaly's amendment.
And Wheeler appears to still be making up his mind. He couched his opposition today in process, saying he didn't want to make changes on the fly. So the Mercury asked after the hearing how he felt about the substance of killing the small-landlord exemption.
"There is definitely a loophole," he said. "I'm not convinced of the magnitude of the problem, or whether this solution is the best way to solve the problem."
This article has been edited to reflect that City Council eliminated a loophole for landlords who own multiple properties, but create an LLC for each