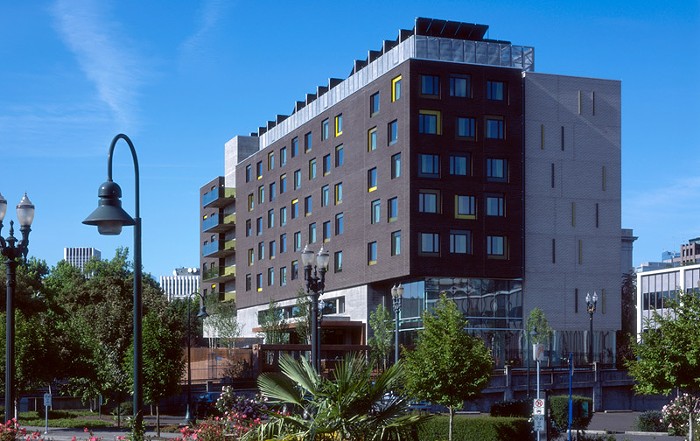 The mood in city hall was upbeat last week, when Portland City Council set into motion a plan that could see 2,000 units of deeply affordable housing sprout up in the city during the next decade.
As we reported at the time, the minor step of studying how to expand so-called "supportive housing"—in which cheap rents are paired with social services—is seen among some as a sign the City of Portland, Multnomah County, and others will ultimately support those new units, and therefore shift their focus to housing people who are exceedingly difficult to house.
But while there's widespread acknowledgment this effort will be costly, not many people are offering specifics. Which is odd, because they've been available for months.
According to an analysis completed earlier this year by the New York-based Corporation for Supportive Housing, creating and operating 2,000 units of supportive housing would cost roughly $300 million over 10 years. And once the housing's all established? It'll cost $41 million a year to operate, the analysis suggests.
That's a lot of money—more than local governments or the city's housing authority, Home Forward, have to throw at the matter. Officials haven't been shy about previewing the fact they'll be seeking new revenue to fill gaps in funding for this push. The only question is where they will look. (Mayor Ted Wheeler has said he doesn't want a property tax increase, and there's some interest around a cell phone tax.)
The CSH analysis is built on a set of assumptions—for instance that roughly 1,200 of the supportive units will
be built into new projects, while the remaining 800 will be come in the form of existing units in the community.
Heather Lyons, the Portland-based director for CSH who authored the document, tells the Mercury those assumptions came from speaking with local officials about what kind of mix they'd like to see.
Lyons' analysis suggests roughly $184 million of the $300 million estimate would go toward "capital costs for building new units." The rest would go toward operating, paying for social services, and leasing.
Not all of that would need to come from new taxes and fees.
"There are existing resources for services that can be matched to housing, and there is existing housing in the community that can have services attached," the document says. "Moreover, a wide-ranging coalition of systems and partners, well beyond the City of Portland, Multnomah County and Home Forward, will pool their resources to sustain this system over time."
On top of that, Lyons and others argue that supportive housing ultimately offers cost savings to communities, reducing visits to the Emergency Room and hospital stays, as well as cutting down on law enforcement costs.
"Supportive housing has been rigorously tested for more than two decades, and the results are clear: It improves lives and communities and reduces costs," the analysis says. Lyons tells the Mercury she's hoping to get grant money that would enable CSH to study what sorts of savings might be possible here.
Meanwhile, local officials have discussed finding a way to funnel cost savings back into the ongoing costs of operating this kind of housing. It's unclear how that would work.
Here's the full report.