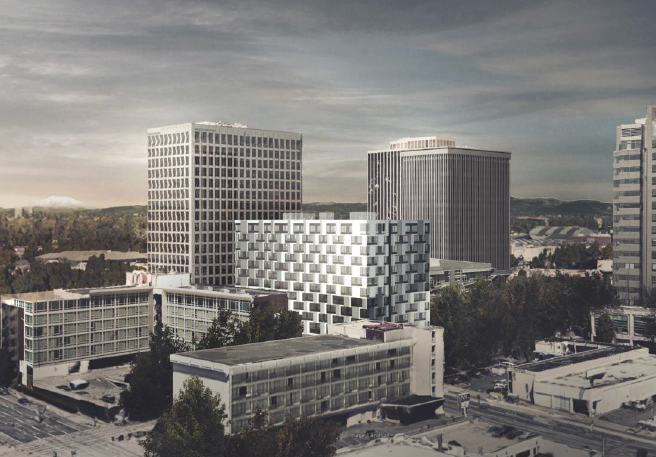 Portland City Council today approved the largest affordable housing project the city's seen in five decades, a 12-story, 240-unit development in one of Portland's most desirable areas. It was far more tense than you would expect.
Once it's finished in 2019, the project in question—known for now as Block 45 and located at Northeast Grand and Hassalo—will inject hundreds of affordable units into the booming Lloyd District, near streetcar and MAX lines and a short distance from the city center. But as council considered an ordinance [PDF] approving $5.1 million in urban renewal money (and dedicating land) to leverage tens of millions of dollars from other sources, two questions served as sticking points: Is Block 45's price tag too high, and will it run contrary to the city's brand-new emphasis on housing homeless residents?
Most persistent on the latter question was Commissioner Nick Fish, who in recent months has pushed for a renewed focus on so-called "supportive housing." That model combines extremely affordable rents with intensive social services, and is aimed at getting chronically homeless individuals off the street. In a vote last month, City Council ordered up a study on strategies for creating 2,000 units of this housing over the next decade, an effort that could cost $300 million.
The council commitment to supportive housing came very late in the process for the Block 45 development, which was awarded to local housing authority Home Forward in early 2016, and which is already designed. The development includes plans for setting aside 20 units for domestic violence survivors at deeply affordable rates (set at 30 percent or less of the area's median family income), but it hasn't reserved supportive units for the homeless. That bugged Fish, who threatened to vote against the project.
"This is the first project out of the box and we're already experiencing the problem I anticipated: We're going to lose an opportunity because of some other compelling use," Fish said. "We now have a policy saying we're going to hit 200 [supportive units] a year and we're going to miss an opportunity in this project to hit one."
Mayor Ted Wheeler, who oversees the Portland Housing Bureau, suggested Fish might be getting ahead of himself.
"The [supportive housing] strategy is being ironed out as we speak, per the resolution we all supported," Wheeler said. "I've heard nothing to suggest this project cannot be included."
Still Fish succeeded in winning an amendment to council's approval of the project, which orders housing officials to return to council with a proposal for including supportive housing in the development. Funding would have to be identified for such housing.
The next question came from Commissioner Chloe Eudaly, who wondered at the project's $74 million price tag. Even removing price of building the ground-floor commercial spaces Block 45 anticipates, the cost reaches more than $281,600 per unit. That's well above the roughly $200,000 per unit mulled under Portland's recently passed housing bond, and far higher than the $100,000 per unit some housing developers have said they can build for (though project-to-project comparisons are fraught because of the many differences that can arise).
"I think the number one question is going to be the price tag," Eudaly said, asking "why the per-unit cost appears to be so much higher than what were anticipating for our housing bond units."
Wheeler, too, had alluded to potential backlash over the price tag. Earlier in the hearing he made a point of noting that the city's $5.1 million investment would be leveraged more than 10 times by other funding sources in the project.
"I want to keep that front and center—10 to 1 leverage," Wheeler said. "I know there is a lot of back of the envelope scribbling going on as a result of the total cost you mentioned in exchange for permanent affordability."
The housing bureau and Home Forward defended the costs. They say the price tag is reasonable for a well-built, environmentally conscious building in the heart of the city.
"At a flagship location. on streetcar, on a site worth $3 million—We think for the next 100 years that's a good investment and we're willing to standby those numbers," housing bureau Director Kurt Creager said.
Fish went even further. In other public projects, "I never remember someone getting up and saying: 'I object to quality. I object to planning for the long term. Cant we go cheap? Can't we find some way to make it look crummy?'" Fish said. "Why is it that when we build something that houses low-income people, all of the sudden cost becomes the big issue?"
Now that city funding is approved (along with $500,000 from Multnomah County), the Block 45 project will rush to close. Home Forward needs to lock in terms by December 31 to get a favorable price for tax credits it plans to sell to fund a sizable portion of the project. There's also a more-fundamental concern. As we reported this week, congressional Republicans have signaled a willingness to wipe out some of the tax credits Block 45 and other projects are relying on. As a result, Home Forward and other housing providers around the country are scrambling to finalize deals before potential chaos strikes.
Once built, the Block 45 project will feature 240 units priced at or below 60 percent of the area's median family income. Here's the breakdown.