Eighty homeless people died on the streets of Portland last year, a downtick from 2015's grim figure that nonetheless "should remove all doubt that homelessness is the challenge of our time," according to a report released by Multnomah County this morning.
The annual Domicile Unknown report [PDF] tallies the deaths of people in Multnomah County who were either known to be homeless, or who's residence couldn't be identified. After researching 91 deaths in 2016 classified "domicile unknown" in medical examiner records, officials dug in and were able to confirm 80 people were homeless at the time they died.
The tally from last year is big—far larger than the 32 to 56 deaths on the streets in 2011 through 2014. But 80 is lower than the 88 people who died on the streets in 2015, the largest figure since Multnomah County began releasing this report.
The deaths most frequently occurred downtown, but came throughout the city of Portland, and were nearly split between colder (October through March) and warmer (April through September) months. A full 50 percent were caused or helped along by substance abuse, while no substance was identified in 40 of the deaths. The report classified 33 deaths as accidental, 32 as "natural", nine as suicides, three as homicides, and three as "unknown."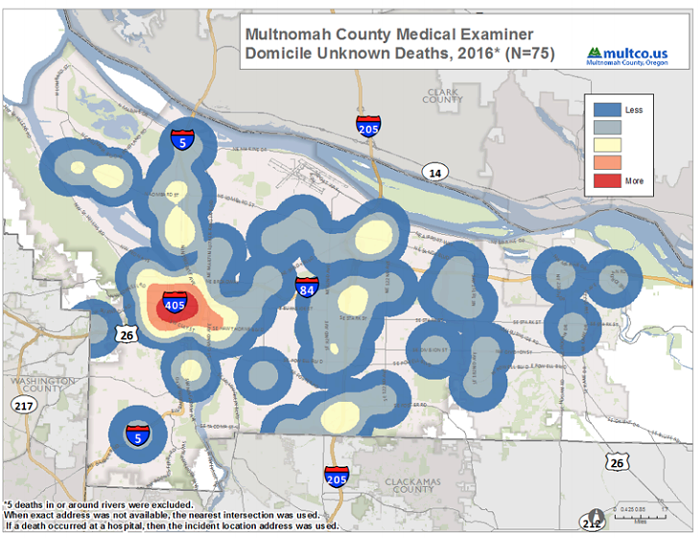 "These deaths reveal some hard truths," says an impassioned introduction from Multnomah County Chair Deborah Kafoury and Israel Bayer, outgoing executive director of Street Roots. "The housing crisis is now claiming lives in every geographic quadrant of our county. Secondly, a growing number of the suspicious deaths the Medical Examiner's Office investigates every year are among people experiencing homelessness. Finally, these neighbors are literally dying right in front of us, with 32 people passing in a public space."
In the face of a homeless population that has risen 10 percent in the last two years, officials have spent millions scrambling to find new shelter space, assist with rents, and rapidly re-house people who've recently fallen into homelessness. As a result, the most recent point-in-time homeless count found fewer people were unsheltered in Multnomah County during a night earlier this year than a night two years before (but more people were in shelter).