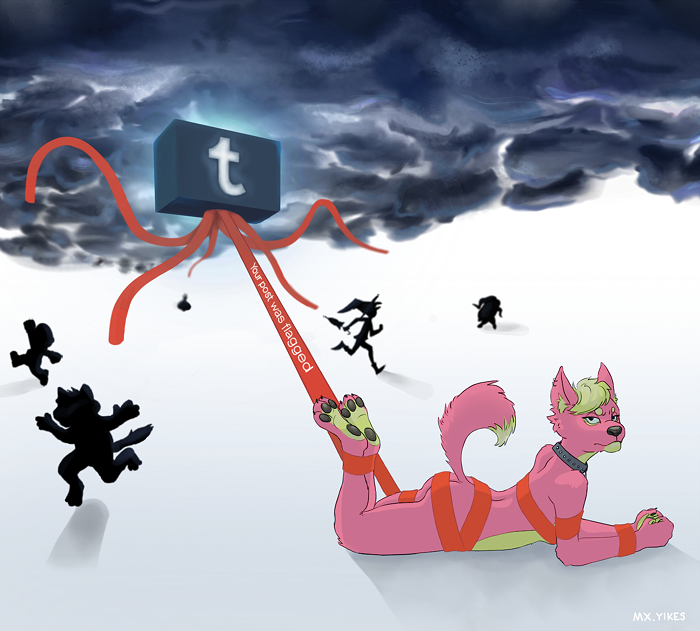 There's
this one GIF
of actor Michael Fassbender's ass that hotwired my sexual awakening. The camera panned from his broad shoulders to his narrow hips. And those back dimples. I watched the GIF loop. Over and over. The focal point of the online commentary around the GIF was this fraction of a moment where—between his lithe movements—everyone was certain they caught a glimpse of Fassy's
hanging dong
.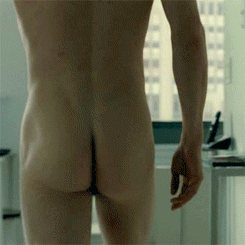 That was the first NSFW GIF I lingered on when I got my Tumblr account. I was 15. There would be others. Like that one from an episode of
ER
where a man languidly kissed down a woman's chest. It was tantalizing, the loop restarting right as he reached the border of her panties.
Tumblr and porn go together like coffee and cigarettes, or Twitter and Nazis, or Furries and horndogging over Sonic the Hedgehog. You can't have one without the other. But today, December 17, new guidelines are being implemented by Tumblr that will rid the microblogging site of the "Not Safe For Work" (NSFW) content and creative freedom that has made up its culture for over a decade. Today, that culture changes, and many believe the crackdown signals not only Tumblr's demise, but also the internet's.
Two weeks ago, Tumblr's CEO Jeff D'Onofrio said, as if to console the user base, "There are no shortage of sites on the internet that feature adult content." But that's not true. All over the web, sites are opting for censorship. Craigslist removed its Personals section, Facebook is banning any mention of sex, Instagram is curtailing cannabis posts, and safe online spaces for sex workers are vanishing.
This is partly because of FOSTA-SESTA, the Fight Online Sex Trafficking Act and the Stop Online Sex Trafficking Act passed by Congress in March. FOSTA-SESTA were meant to mitigate human trafficking by holding websites more accountable for the content on their sites, but the sweeping language of the bills has been much more effective at curbing free speech.
Tumblr banning porn, adult content, and "female-presenting nipples," as the new rules read, serves as a grim portent for what FOSTA-SESTA will do to the internet as we know it. What will be lost when the internet is censored?
***
"I just want it on the record that it's ridiculous that Tumblr is gonna die on the hill of 'titties are worse than Nazis,'" Kellen L-V, a fan artist on Tumblr, told me after the Tumblr ban was announced. (Nazis and white supremacist blogs still seem to be welcome on the site.)
Tumblr's new rules aren't just bad for bloggers who specialize in NSFW content. They are also tough on artists like Kellen who draw fan art, whether it be explicit or non-explicit.
"I had about ten pieces flagged, only one of which was NSFW(ish)," Kellen said, referring to Tumblr's automatic flagging system. "One of my pieces that was flagged was a black and white print of a dog. Just a dog."
The chaos caused by Tumblr's faulty flagging has triggered a mass exodus from the site. "I've left my art blog," Kellen told me. "It became unsustainable. It seems like shouting into the void at this point."
To many users like Kellen, Tumblr's change came out of the blue. In mid-November, Tumblr was unexpectedly removed from the Apple App Store. The removal was allegedly because of a child pornography controversy on Tumblr. Instead of just banning pornography with children, though, Tumblr began quietly banning all NSFW blogs. Then, it made the guideline announcement: all adult content, not just the illegal content, would be banned—no excuses. The move seemed to be an attempt by Tumblr to satisfy Apple, a company notorious for sanitizing its content. Steve Jobs notably said that "folks who want porn can buy an Android."
Apple only allows apps to have a certain percentage of their content to be pornography. When the percentage passes that threshold, the app is removed from the App Store. So, presumably, when Apple removed Tumblr from the App Store, they were also suggesting Tumblr had crossed that threshold.
FOSTA-SESTA, those anti-sex trafficking bills passed by Congress this year, are also playing into this push from publishers to sanitize online content. The bills won't fully go into effect until 2019, but online spaces for sex workers started disappearing barely after the ink on FOSTA-SESTA was dry. That's because, according to WIRED, "the statute also tinkered with a bedrock provision of internet law, opening the door for platforms to be held criminally and civilly liable for the actions of their users."
Patreon, a subscription crowdfunding site often used by independent creators, updated their terms of service to restrict adult content around when FOSTA-SESTA was signed. By June 2018, it had officially banned adult content, cutting off a base of porn creators, sex workers, and NSFW artists who relied on the site for their livelihoods.
"This is bigger than us & Patreon," Vex Ashley, a founder of the independent erotic film production collective Four Chambers tweeted around June. "It's a worldwide crackdown on freedom of expression, on women, on marginalized people, on sex and sex work, on nonconventional forms of labor that counter the status quo... Just to be clear what is at stake, this is my whole income, my livelihood."
Shortly after the Patreon hullabaloo, Backpage.com shuttered. Then, Craigslist personal ads were in FOSTA-SESTA's sights. One by one, places where people could safely make their living through sex work, where they could pick and choose their clientele, vanished. Their revenue channels were also stifled.
Tumblr, around February, almost as if anticipating FOSTA-SESTA, turned on its Safe Search feature for all of its users, blocking adult content by default. Users had to manually turn Safe Search off themselves. Now, months later and a month before FOSTA-SESTA fully hits, Tumblr has gone fully PG.
It's a move that recalls one of Tumblr's ill-fated predecessors: LiveJournal.
Before Tumblr, LiveJournal was the place to be online. It was a blogging site where creativity, especially fandom creativity, thrived. The site hosted many fanworks—art, fan theories, erotica (written and drawn), etc. But about a decade ago, LiveJournal was bogged down by worries that child pornography could spread easily on their site. In order to save the platform, they got in front of the problem: They banned adult content. In doing so, they signed their own death warrant. People left in droves. It was an exodus.
But LiveJournal users' search for a promised land was successful. They found their Jerusalem on Tumblr.
Tumblr has been a content-centered community with seemingly no rules since its 2007 inception. As LiveJournal faded to irrelevance, Tumblr grew. It now services around 451.3 million blogs. It's seen a lot in its 11 years, but despite leadership turnovers, the user experience has mostly remained intact. But now? There's no way it will be the same.
LiveJournal is now restricted by a Russian owner who recently implemented a ban on political and LGBTQ speech to comply with Russian law. It's no good over there. Despite all the warning signs, Tumblr is still forging ahead, following LiveJournal's missteps. The user base is preparing for the worst.
"This isn't just porn and jerking off, this is people's safety," Amp, a kink-friendly sex educator and co-host of the YouTube channel "Watts the Safeword" told me. "Representation for marginalized groups will disappear. People will turn to more dangerous means of 'learning' about sex."
Tumblr was always unique in the way it combined discussion with sex. Blogging and reblogging, in a way, felt more personal than talking to people on, say, YouTube, Amp said. Tumblr allowed users to curate a NSFW page in an inviting way that other platforms just can't.
"The social impact of removing sexual education—which is what we used Tumblr (and other platforms for)—means teens and adults not knowing how to protect themselves properly and how to have safer forms of sex," Amp said. "Not having representations of sex and gender will lead to kink being seen as more 'other' and therefore lesser in some ways."
Myriads of Tumblr users created their own amateur porn that was suited to their own tastes or was more representative of who they were as people, the stuff not pedaled by mainstream markets.
"For creators who curated their Tumblr platform specifically, there isn't a replacement at the moment. Imagine building a small, cultivated, safe and cozy ecosystem—that you might have made a living on—now gone forever starting December 17," Amp told me. "This feels like the death of a platform. It might bounce back once they've regulated posting, but it'll never be the same."
***
This past weekend, everyone on my Tumblr dashboard was posting their goodbyes. It was sweet. This platform meant so much to so many, including me. I learned a lot from Tumblr. Not all of it was about sex, but a lot of it was about sex. It was like the big sister I never had.
Every user I come across is certain there won't be anything left for them on Tumblr after the rules get implemented. People have spent years building these blogs and identities. There's a certain mourning that comes with leaving that behind.
"I used Tumblr as a place to make queer friends and grapple with my own identity," Kellen told me. "Now most queer and sex-positive spaces are going quiet. It's unfortunate, and I'm hoping that they reconsider."
Users are looking at other places to move their content. Most I've talked to are leaving for Twitter. Others are trying Instagram. Sites like Pillowfort and Cumblr—a little on the nose?—are advertising themselves as Tumblr alternatives. Many aren't sure. All they know is that, if these rules remain in place, there soon may not be any home for them on the internet.
FOSTA-SESTA have the potential to change the internet as we know it. Tumblr's crackdown isn't an isolated event. It's a canary in the coal mine, warning of a more censored, puritanical internet.
The porn ban, on the other hand, has appeased the virgins at Apple. Tumblr has made its way back onto the App Store as of this past Thursday.