The Food Issue 2016
IT STARTED with a cow tongue and one recipe from Around the Fire, the new cookbook from the grill-happy restaurant Ox.
It ended in a cooking adventure that took more than a week to complete, required at least four trips to various stores, and forced me to peel membranes from not one, but TWO cuts of meat. Making the Ox classic smoked beef tongue with ensalada rusa and sweetbread croutons is not for the timid.
I accidentally chose the most time-consuming recipe in the recently released cookbook just because I happened to have a cow tongue handy. (*I am not a serial killer.*) But like a big dum-dum I thought: How hard can it be? Pretty rough, turns out. I'm a serious amateur, and this bitch of a recipe nearly took me down.
It's three pages long, dedicated to curing and smoking a cow tongue, making a potato salad, cleaning and deep-frying sweetbreads, and creating a pleasant caper vinaigrette. All that also required me to make three more recipes from the back of the book: for roasted beets, homemade mayo, and a cure rub. That's some serious Little Red Hen shit.
I'll note here that much of Ox's cookbook is a more forgiving glimpse into the fire-hot kitchens of the Northeast Portland restaurant: A grilled skirt steak with onion marinade and chimichurri looks promising and far less difficult. Grilled vegetables and their secret to succulent meat (a spice and fat mix they call "black gold") are also much more approachable.
First off: You've got to plan to plan. That beef tongue must be boiled for several hours and cooled. Then you do the grossest thing possible: You slide the tongue membrane off the meat. This gets rid of the icky and bumpy taste buds, but is very much like removing a sticky condom. Then the tongue must be cured for four days, and THEN smoked in mesquite chips. Get that alder and cherry wood right the hell out of here. Mesquite only, hombres.
And veal sweetbreads, of which this recipe requires a pound, aren't just in the meat case at Freddy's. I found my thymus glands (YUP, THAT'S WHAT A SWEETBREAD IS) at Laurelhurst Market's butcher counter. These must soak in water for a day, to remove impurities. Then you boil them for a bit and again you have to do the grossest thing: Peel off another damn membrane so that you can cut the sweetbreads up, dredge them in rice flour, and deep-fry them like nuggets.
Among the other things I obtained and prepared: 40 arugula leaves (NOT 38 or 41!), golden beets, cornichons, and champagne vinegar. Also, I didn't notice until the day of cooking that I needed fresh horseradish root. When Whole Foods was out, so was I. Instead I used Beaver brand horseradish I had in the fridge.
But after all the errands and prep work, I actually just spent a lazy Saturday afternoon puttering around my kitchen putting it all together—it's meant to be a play on cold cuts and potato salad. The instructions were precise and the luxe color photo of the dish helped me know exactly how it was supposed to turn out. I created a pretty fair clone.
In the end, this appetizer cost more than $50 to make (plus the bottle of wine necessary to the cheffing process)—and it goes for $14 at the restaurant. But it serves four or more at home, so I guess the cost is a wash. The smoked beef tongue is also one of Greg and Gabrielle Quiñónez Denton's signature plates—and when I posted a side-by-side of my dish and theirs on Twitter, I got a quick ping back: "Yours looks better than ours!!" This was not true, but social media props almost made all that membrane work worth it.
---
Around the Fire: Recipes for Inspired Grilling and Seasonal Feasting from Ox Restaurant
by Greg Denton, Gabrielle Quiñónez Denton, and Stacy Adimando
(Ten Speed)
Sponsored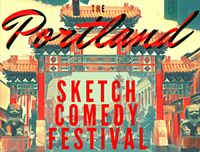 Sketch comedy troupes from all over N. America descend on The Siren Theater for 3 glorious nights.