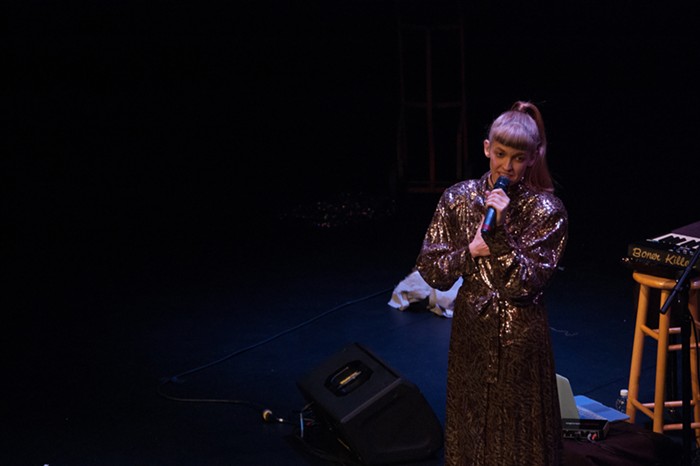 There were lines out the door for both ticket holders and those waiting in standby for Erin Markey's TBA show. Nineties hip-hop bumped through the theater walls. People were spilling drinks and making new friends. Clearly, word had gotten out that Markey's show, Boner Killer, was a hot ticket. Markey has built up a reputation for being one of the most original, off-the-wall, and funniest performers in Brooklyn's tremendous comedy scene. She was named one of the borough's funniest people in 2016 by Brooklyn magazine and has been called a "magnetic diva" by the New York Times. Clearly, this show came with a lot of hype. Spoiler alert: It lived up to it.
From the get-go, Markey's one-woman show (accompanied by bandmate Emily Bate on bass and electric guitar) was all over the place. That's not a bad thing. In a style that I've come to understand and appreciate more in contemporary performance, Markey's comedic storytelling thrives on fast cuts. What can start as a direct address demanding that the audience become the event planners for her ideal funeral can quickly be interrupted by a raucous Whitney Houston or Fiona Apple cover, leaving the audience searching for meaning in the sudden change. Markey doesn't get bogged down in explaining the shifts. Throughout the piece, she moved from one moment to the next with a wink and smile, luring the audience into thinking that all would become clear with time.
I'm not sure it ever did.
And I think that's kind of the point. I mean, it takes its title from an interruption that results in sudden confusion and a reversal of mood. And Markey expertly practiced these boner-killing tactics throughout the show through a mixture of raunchy jokes, expert vocals, and the right amount of uncomfortable crowd work.
The most captivating of these, and perhaps the most central, was an impression of Markey's own aunt, who she described as a sort of boring nun who happened to be the first family member to believe in her niece's talents. Markey began the impression by reliving the memory of getting an acting gig in Europe but needing more money to extend the trip into a backpacking tour. As the story became more and more elaborate, Markey's aunt began to explain how she delved into the world of Craigslist sex work to pay for the trip, at which point I wondered if this tall tale had turned from a comedic impression into a nonfiction recollection from Markey herself. At certain points, Markey dropped into her own voice and lets go of the voice of her aunt momentarily. It's the kind of moment that makes you lean in, thinking that you'll hear the whole truth. But just when it seemed like Markey might tell all, she popped into yet another hilarious boner killer, leaving you wondering and wanting more.
Markey's take on her own queer identity lies at the heart of this. She references it multiple times times but never expounds upon fully. And if I'm reading that subtlety correctly, I'd say that Boner Killer works both as an attempt to explain the personal significance of queerness and to challenge the utility of a general explanation of queerness in the first place. That may be one of the best uses of bait-and-switch I've seen in this kind of performance.