A few years back, some friends moved to New York. I asked them what they most wanted to do there. Their response? As if it was a completely normal response: "Make a theater band."
"What's a theater band?" you might ask. I'm not sure if a real definition exists, but from my own experience, it's a group of actors who also happen to sing and play instruments, and get together to essentially live-score a play. My first exposure to this was in the mid-aughts when Sweeney Todd had an excellent revival on Broadway in which every player in the cast also played in the band that accompanied the show. There have been countless others. Taylor Mac might even fit into the category as his own theater band. Or Green Day, a band that made a musical about a band... sort of. In any case, the reason I bring up theater bands and my friends and Sweeney Todd is that in terms of theatrical experience mixed with a concert vibe, Half Straddle know what's up.
Half Straddle took the stage at Lincoln Hall last week to a large, enthusiastic crowd. They were to perform their latest, Ghost Rings, "an original song cycle that burrows and soars through the twisted layers of love among best friends and a family band of yesteryear," according to their website. I'd say that's about accurate. The curtain went up on the four-piece showered in light and glitter. Over a throbbing score of synth and drums, we heard playwright and performer Tina Satter explain a bit of context for the piece. It's an installment among several works she's making about her sister, and loosely based on a short-lived family band that she made with her sister. "Ghost rings" are also a type of candy she made up when she was a little girl. It was clear upfront that this was going to be a show focused on memories.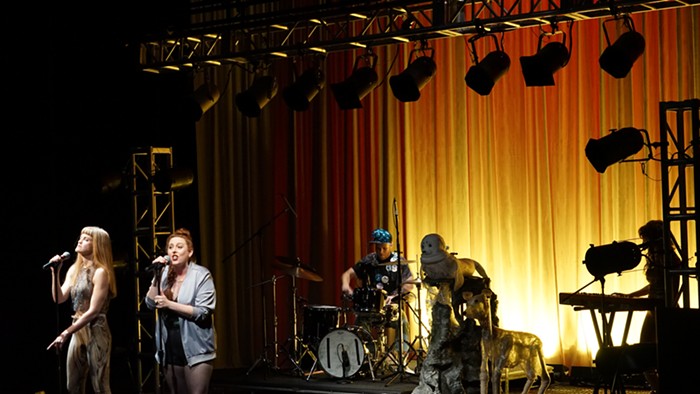 We only heard from Satter a few more times throughout, mostly during transitions or moments when extra narration is needed. For the most part, she was content to wail on the drums, keeping a nice, deliberate pace.
Most of Ghost Rings cycle was performed by Erin Markey and Jo Lampert backed by Chris Giarmo, playing characters Satter described as her two imaginary best friends, who we soon ascertained to be likely representations of Satter and her sister in their youth. From the get-go, it looked like this friendship was strained, and the two girls couldn't figure out why their differences seemed to be growing. They even employed advice about their "inner spiritual animals," a seal and a deer (actual puppets that come out on stage). But there appeared to be no going back. Whatever the reason, this bond had been strained indefinitely.
It might be hard to believe that a lot of this played out humorously. The comedy here was mostly deadpan, with laughs coming from a wink and a nod to the earnestness of the subject matter, much of it portrayed through extremely catchy and powerful pop music.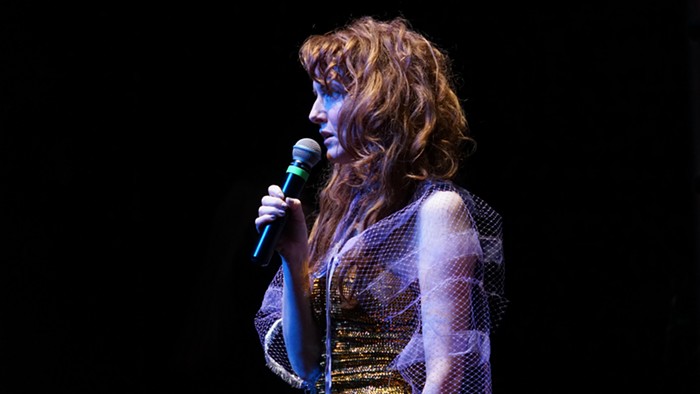 Ultimately, Ghost Rings is about trying resolve the loss of childhood. Toward the end of the show, a bit of a resolution was ushered in but it wasn't exactly telegraphed, as the two friends/sisters came to an understanding that maybe the rift between them was induced by their own mental programming, not outside forces or a single event. The show concluded with a hopeful and bombastic pop song about the power of love, and I'd be lying if I said it didn't shift some stuff around in the place where I store my feelings.
That said, Ghost Rings felt as though it was missing a middle act. It occurred to me afterward that I found myself wanting more backstory. Still, I have to imagine that this was probably one of the high points of the festival. And you should go for the theater band, so you can tell your friends later that you knew about theater bands before they were cool.