Stef Chura is kind of blowing up right now. Her debut full-length, Messes, just dropped at the end of January, and though it may seem like the Michigan singer/songwriter arrived at the head of grunge rock fully formed, she's actually been sitting on a number of Messes' tracks for years.
Chura caught my attention a while back when a Michigan acquaintance shared her slowly insistent (but catchy as hell) ballad "Speeding Ticket." It's the closing track on Messes, but versions of "Speeding Ticket" also appeared on Chura's 2010 self-titled release and her 2011 demo, so you can hear the song recorded a few different ways. And while the skeleton of "Speeding Ticket" remains unchanged, the lo-fi nature of its initial incarnations is uniquely chaotic.
I knew I wanted to keep tabs on Chura, so I was excited when her nostalgic, up-tempo track "Slow Motion" started showing up in places like Pitchfork last year. "Slow Motion" feels like a complaint you can tap your feet to, and I found myself thinking about it when I was waiting in lines. Chura's songs exist half the time on my stereo, and the rest of the time in my head. Her sound is like a California surf-rock update on '90s feminist grunge, or a strange marriage between Throwing Muses and early Liz Phair.
Messes is a really carefully constructed record—it's like one long wave. After the inauguration, my go-to Chura track was "Human Being," where she slowly croons, "Someday/They're gonna know/You're a/Real human being." It always feels weird to talk about an artist's looks, but Chura definitely has a well-defined aesthetic accompanying Messes. Her sun-faded clothing, large glasses, and pastel palette read strongly as casual and unproduced. It's exciting when women artists are allowed to be themselves.
Sponsored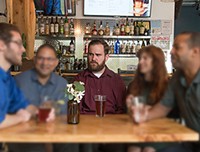 Adults aged 18-35 with good hearing will be paid for their time. Located at the Portland VA Medical Center