After being threatened with a 300-percent rent increase, it seemed that things were looking up for Portland's Independent Publishing Resource Center. Now, though, it looks like the opposite might be true. The Independent Publishing Resource Center "has now officially walked away from negotiations with the [City Bikes Annex] location on 7th and Ankeny," IPRC Executive Director A.M. O'Malley told the Mercury yesterday. "We've negotiated with them in good faith since August. Here, in the 11th hour, we realized the things they were asking of us were just adding up to an unworkable situation."
Sponsored
Sketch comedy troupes from all over N. America descend on The Siren Theater for 3 glorious nights.
Senior Editor Megan Burbank reported last year that the nonprofit—which focuses on self-publishing and offers community classes and access to DIY print resources—were faced with a 300-percent rent increase at their current 1001 SE Division location. "It was an industrial space when we started renting it," O'Malley explained when asked about the original rent hike. "Then it got a retail overlay. So now a restaurant could go in there or a brewery with a taproom—which is what's happening. The brewery behind us, Grixsen Brewing, keeps coming into our space and talking about what they're gonna do with it."
In October, following a successful Kickstarter which raised over $20,000, the IPRC announced their new home would be 734 SE Ankeny, the former location of Citybikes Annex. It seemed like everything was working out and the IPRC's future would be secure, with landlords who wouldn't mess with the city's prized self-publishing nonprofit. "Collaborating with Citybikes seemed like such a natural move," says O'Malley. "It was really difficult for us to make the decision to walk away. We wanted to stay there long-term. We were gonna put in ADA-compliant bathrooms for them."
O'Malley says the IPRC's current landlords, W Harrison LLC, gave the organization a 30-day extension on their lease, which would have run out May 1; it's now set to expire June 1. "They could have charged us 150 percent of our rent and they didn't," she says. "[We're] trying desperately to find a space before time runs out. I looked at six spaces yesterday."
It's still a close deadline considering that negotiations with Citybikes lasted nearly six months before falling apart. As O'Malley puts it: "We have to have a slightly bigger space so that we can do more programming so that we can afford a higher rent. [The space we have right now] is a very unique space and [our new space] has to be ADA-accessible."
Another bomb from O'Malley: "I am having a baby this summer, so I am stepping down from my position at the IPRC," she says. "Brian Tibbets, our current board president, will be taking over as interim executive director starting mid-May. He's just going to be the interim director as we're hoping to do a national search.
"I'm a little bit heartbroken that I have this undeniable deadline of having a baby because if we can't find a space by the time I leave it's gonna be really hard for me to leave. I've worked at the IPRC for ten years. It all came together in this way where it made sense to make that choice but I really did think that everything would be settled by the time. We're a thriving organization. We're doing really well. We're growing and making new partnerships. This curve ball. Unfortunately because we're still a small non-profit, it's a big crisis for us."
Sponsored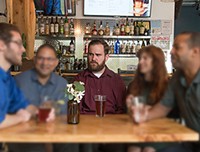 Adults aged 18-35 with good hearing will be paid for their time. Located at the Portland VA Medical Center