Sponsored
Sketch comedy troupes from all over N. America descend on The Siren Theater for 3 glorious nights.
Last week marked Boise, Idaho's sixth annual Treefort Music Fest, the Northwest's preeminent five-day, multi-venue music festival. Though it's evolved to include art, tech, and culture in recent years, I'm happy to report that Treefort's music-first mindset remains fully intact.
This year saw the addition of the Boise All-Ages Movement Project, a pop-up venue run by local teens and operated out of Pollo Rey Mexican restaurant. Not only did it offer the under-21 crowd the chance to see sets from touring acts like Happyness, Alex Cameron, and Elvis Depresedly, along with local favorites Western Daughter and Clarke and the Himselfs, you could devour a tasty burrito and treat yourself to the salsa bar while enjoying the show.
Treefort veterans Built to Spill were absent from the 2017 lineup, but you didn't need to scroll too far through the list of 400+ performers to see that frontman Doug Martsch had a Thursday afternoon set at the Boise Contemporary Theater. The 40-minute performance featured a handful of solo tracks from his excellent, old-timey folk- and delta blues-inspired solo album, Now You Know, along with stripped-down renditions of Built to Spill classics, including a moving version of the Perfect from Now On track "Kicked It in the Sun." Martsch's captivating set gave Treefort fans their annual Built to Spill fix, and likely left most in attendance longing for more solo recordings from the hometown indie-rock hero.
Rock composer/musician Seth Olinsky (of experimental acts Akron/Family and Cy Dune) might not be native to Boise, but his annual Band Dialogue experiment should earn him some kind of key to the city, or at the very least some keys to the newly opened JUMP (an acronym for Jack's Urban Meeting Place) where the sixth installment of his unique multi-band composition took place. The building's organizer described JUMP as a "community center on steroids," offering Boise residents a state-of-the-art community workshop and creative space. It's adorned with some really fun looking slides that seemed to sprout out of the many walls and rooftop terraces lining the intricately designed building and a sizable collection of antique tractors that once belonged to JUMP's namesake, the late potato magnate J.R. Simplot. The slides were still under construction, but JUMP's Celebration Circle out front was the perfect venue for the annual Treefort spectacle, which featured Olinsky conducting about 15 different bands though huge compositions of orchestrated noise. Previously held at the skatepark and on closed-off city streets, JUMP provided a new aerial vantage point on its fourth-floor garden terrace and the chance for audience members on the ground floor to enter the staging area and stroll through the massive circle of sound.
Aside from a freak downpour during an otherwise great Friday evening set from Sonny and the Sunsets, the Boise sky cooperated with Treefort's outdoor stage. Saturday afternoon featured a performance from venerable singer/songwriter Jonathan Richman, whose hip-shaking and playful-yet-moving lyrics sent positive vibes throughout the enamored crowd. The former Modern Lovers frontman will return to Portland later this summer for his second Pickathon appearance.
Richman's positive energy was later echoed and amplified when Minneapolis-based rapper and singer Lizzo, her DJ and backing emcee Sophia Eris, and a pair of dancers took to the same stage to spread their own exuberant and uplifting message. Lizzo's positive attitude, unwavering energy, and hilarious banter combines seamlessly with her skills as a musician. Her set wasn't so much a performance as it was the coolest party in town. Watching her captivate the thousands in attendance and effortlessly convert them into full-blown Lizzo worshippers was one of the highlights of the festival.
Angel Olsen has been one of my favorite acts to see live ever since I first encountered her at the Old Church back in the heyday of MFNW's multi-venue format. Her 2016 genre-hopping full-length, My Woman, was one of my favorite releases of last year, and her headlining set at the main stage Sunday night was every bit as stunning as the album. Whatever technical issues the band appeared to be having onstage were completely drowned out by Olsen's powerful voice, which was accompanied by a robust and downright spiffy band featuring Mount Moriah's Heather McEntire on backing vocals. It's become clear that whatever size stage she steps onto, and whatever sound she decides to pursue on her next album, Olsen will always be able to raise the hair on your neck and send goosebumps up and down your arms.
After reforming myself from the melted puddle of mush that Olsen's set left me in, I managed to make my way over to the Linen Building for a set from prolific Northwest singer/songwriter Karl Blau. Somehow Blau's baritone crooning sounds even better live than it does on his immaculate 2016 collection of reinterpreted material, Introducing Karl Blau. The singer and a talented backing band featuring LAKE's Ashley Eriksson on drums and backing vocals had the tipsy late-night crowd silent and swooning as he rolled through his takes on classics like Link Wray's "Fallin' Rain," the Bee Gees' "To Love Somebody," Tom T. Hall's "That's How I Got to Memphis," and Townes Van Zandt's "If I Needed You."
Canadian guitar-pop all-stars Alvvays were dreamy as ever, and the slew of new songs they performed were more than enough to put their forthcoming sophomore album near the top of my most-anticipated records list. Xenia Rubinos blew minds in a smaller venue that could barely contain her sound. Her catchy-as-hell single "Lonely Lover" was stuck in my head for the next two days. Rubinos can dial in a warm and soulful R&B sound one moment, and then the next scale speaker stands and hurl herself into the crowd in the midst of a frenzied noise-rock assault—her live show is a real-deal spectacle.
Wednesday night's packed and sweaty Meat Puppets show feels like a distant memory at this point, as do the back-to-back Thursday night sets from Chastity Belt and the Coathangers. I would be remiss not to mention that Doug Martsch's highly anticipated set was preceded by a performance from Boise-based singer/songwriter Kelsey Swope, who plays experimental folk under the name Bijouxx (formally Grandma Kelsey). Swope's piercing vocals and haunting guitar work left the at-capacity audience in stunned silence for 35 minutes straight. Nocturnal Habits, the new Portland/Olympia-based project spearheaded by Justin Trosper and Sara Lund of Unwound and Two Ton Boa's Sherry Fraser, played a loud and moody Saturday night set that picked up steam as it went on, enthralling attendees with catchy hooks and razor-sharp chemistry. They've been playing quite a bit in Portland, and are definitely worth checking out.
Treefort Music Fest 2017 felt like a breath of fresh air. I've made the comparison before, but the closest comparison right now might be Portland's Bridgetown Comedy Festival. Both events strive to ensure that everyone involved—volunteers, performers, or attendees—experience the magic of the weekend. The sense of community that builds throughout these festivals cannot be overstated. I'm hopeful that Portland will one day foster something like Treefort, but until that happens I'm fine with heading to the City of Trees for my annual round-the-clock fix of excellent music and good times.
Sponsored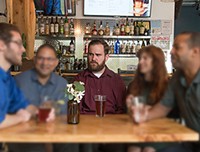 Adults aged 18-35 with good hearing will be paid for their time. Located at the Portland VA Medical Center