The always fascinating travel website
Atlas Obscura
is devoted to exploring the weirder nooks and crannies of the planet, and last week they announced a big festival for this summer's upcoming total solar eclipse. It's happening in Eastern Oregon in the path of totality (i.e., a concentrated geographic band where the viewpoint from Earth will see the entire sun get blotted out), and in addition to scientists and other speakers, it will feature a performance from
Sun Ra's Arkestra
.
The actual location of Atlas Obscura's Total Eclipse festival has not been made public—it sounds like it will take place on a privately owned farm—but it has been revealed that the site is roughly a 30-minute drive from Baker City and will be in the valley of the Snake River. That puts it very close to the Oregon/Idaho border, which makes it about a day's drive from Portland. Conditions will be hot and dry, and most likely cloudless (ideal for viewing the eclipse and other celestial activity). Tickets for the three-day event are on the expensive side ($250), but it sounds like in addition to the eclipse itself, the weekend will be a smorgasbord of science-y things for families, nerds, and families of nerds.
With motel rooms and campgrounds that fall in Oregon's path of totality already booked solid for the August 21 eclipse, this festival offers another chance to get to see the complete eclipse while sleeping under the stars, with the opportunity to absorb some deep knowledge to boot. And the chance to see Sun Ra's Arkestra is nothing to sneeze at—the ensemble, named for free jazz pioneer Sun Ra, has, to the best of my knowledge, never performed in Oregon before.
Tickets, and a lot more info for planning your weekend, are over on Atlas Obscura's site.
Sponsored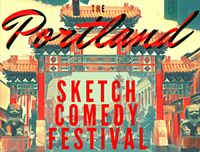 Sketch comedy troupes from all over N. America descend on The Siren Theater for 3 glorious nights.