Guys! I hope you're ready for Portland's version of the World Naked Bike Ride, because it kicks off tomorrow night (Sat June 24) at 8 pm (ride at 9 pm), starting at Fernhill Park (6010 NE 37th Ave). It's always a goddamn hoot, whether you're riding or watching... but if this is your first time, here are some tips from the experts to make sure you'll have the ride of your life.
1) How nude should I be? As nude as you want! While helmets and especially shoes are always a good idea, underwear is fine, stockings are fine, and all your juicy bits flapping in the wind is fine. IT'S ALL FINE! While nudity won't get you arrested, acting in a lewd behavior will. Be cool, and keep your eyes up, perv.
2) How should I prepare? First of all, don't drive to the starting point (it's a huge faux pas). Bike, or take the bus or MAX—and bring your friends. Secondly, smart WNBRs figure out some way to carry clothes, snacks, water, and a bike tool/pump/patch kit in a backpack, pannier, or basket. Fanny packs are hilarious and very useful in this situation. Also bring some donation money (WNBRs don't grow on trees), and for an after-ride drink. Third and most important, DON'T GET DRUNK BEFORE OR DURING THE RIDE. You're going to be surrounded by thousands of cyclists, so ride safe and keep your wits about you.
3) What if people see me? Well... they are going to see you. But remember, you're going to be in a humongous throng of Ps & Vs whizzing past the crowds at a quick clip. Nobody's gonna remember your P or V. Pro-tip: If you want to stay anonymous-ish, stick to the center of the street away from high-fiving crowds and photogs. Some riders wear masks (that don't obscure the vision).
4) Why is this even happening? Great question. The WNBR was originated to show the vulnerability that cyclists endure in a car-crazy culture. But it's also to draw attention to our great and powerful cycling community, and how biking can improve everyone's lives... while having tons of nudie fun. It really is a blast, and if you haven't experienced the excitement, NOW IS YOUR TIME.
Find out tons of more information here!
Sponsored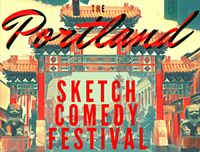 Sketch comedy troupes from all over N. America descend on The Siren Theater for 3 glorious nights.