Sponsored
Sketch comedy troupes from all over N. America descend on The Siren Theater for 3 glorious nights.
All over Portland yesterday evening, I kept seeing these long corrugated HVAC tubes sticking out of the tops of buildings, humming ominously. I couldn't think what they were for. When I entered Artists Repertory Theatre for the second night of the fourth annual Stumptown Improv Festival, even a charming woman blowing bubbles at the entrance could not draw my attention from the white, snake-like tube emerging from the inner theater. In Home Alone 2, such a tunnel ferried garbage and tricksy little ten-year-olds. Oh! I abruptly realized, It's air conditioning—that sweet ambrosia of the 90-plus-degree days we've been having in Portland all week. My hot yoga class was ironically canceled, but it appeared we would all be watching improv in relative comfort.
Funny thing about the Artists Repertory Theatre: In my preview for this fest, I said there's not a bad seat in the house. Those fuckers changed the goddamn seats around! Trying to make me look like a liar, huh? Old review is VOID. New review is PENDING. I can no longer speak from experience on the views from the seats of the Artists Repertory Theatre.
As luck would have it, I was sitting next to an Artists Rep staff member and she said I was not losing my flippin' mind. They just switched from three-quarters round to proscenium two days ago. Right, I said, Proscenium. And pretended to know what that meant.
I hate to be made to cheer but you have to do it or else the improv festival's founders—Leon Anderson, Jed Arkley, and Erin Jean O'Regan—won't let you see the show. I gave my best woot, hoping it would be enough to satisfy the pumped-up players who seemed ready to rip a phone book in half.
Curious Comedy opened the 7 pm show with their Hood ensemble, a huge nine-person group. It was like Girls Generation up there. I happily recognized Tunnel's Chad Parsons and the prolific Laura Sams right off the bat. Both are strong, physical players. Parsons did a lot of sliding on the theater's smooth stage. Sams threw a chair at Matt Lask. Everyone in the Hood troupe brought their A-game. I was impressed and mentally running to keep up with the competitive scene changes and joke switches. After a few minutes of rapid-fire vignettes, Hood begin to build and weave a few different stories about witches being excluded from a limeade party, unsupervised grade schoolers exploring the dangerous world of personal finance, and the truly terrifying passivity of a non-verbal Portland house meeting.
The second troupe—the Right Now—entered the darkened proscenium stage to Montell Jordan's "This Is How We Do It," pumping up the crowd with how aptly the tune fit the moment. It was Friday night. We were feeling alright. The party was here—on the West side. The Right Now are generally a trio but Claire Slattery and Fontana Butterfield performed bravely without their performance triplet Mariah Howard. I must admit that after the legion that was Curious Comedy's Hood team, having only two players on the stage made it feel empty. The Right Now struggled through a couple skits—Arthur Miller-esque vacuum salesman, a rock band with only bass players—before finding a gut-busting conversation between two glamping middle school teachers which thoroughly won everyone over.
The theater was heating up (I had no doubt that HVAC snake would return between shows) and I needed a nap, so I didn't stay for the later shows. Tonight is the last night of Stumptown, and I will return to watch more incredible, funny performances! Join me in giving a woot, won't you?
Sponsored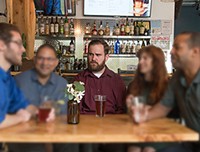 Adults aged 18-35 with good hearing will be paid for their time. Located at the Portland VA Medical Center