Add
Kayse Jama
to the list of people looking to unseat state Sen. Rod Monroe.
Sponsored
Sketch comedy troupes from all over N. America descend on The Siren Theater for 3 glorious nights.
Jama, the executive director of Unite Oregon and a longtime community organizer, announced over the weekend on Facebook that he is "planning to move my years of advocacy and community building work to the next level." Jama hasn't formally announced what that means, and didn't respond to messages left by the Mercury.
But it turns out Jama does have a campaign committee registered with the Oregon Secretary of State, indicating he'll run for Oregon Senate District 24, currently held by Monroe.
That makes him the second confirmed candidate taking on Monroe, a longtime legislator who earned heaps of ire this year—including from legislators in his own party—when he played a big role in derailing House Bill 2004, which would have killed a state pre-emption on rent control, and limited landlords' ability to issue no-cause evictions.
Monroe, an East Portland landlord, would not support the bill—even after the rent control provision was taken out. It died in the senate after narrowly passing the House.
In response, plenty of people seem to be lining up to unseat Monroe, who's been a legislator on and off for decades. Shemia Fagan, an attorney and former state representative, told the Mercury last week she'd been courted by other legislators to run against Monroe from the left. And Andrea Valderrama, an aide to Mayor Ted WHeeler, says she's also mulling a run.
If his campaign committee and cryptic post this weekend is any indication, Jama's definitely in as well.
Update, 5:16 pm: Jama, who'd been hoping no one would notice the creation of a campaign committee while he prepared a formal announcement, answered some questions about his impending candidacy.
He says he made the decision to run after a recent vacation with his family. His wife, Stephanie Stephens, recently secured a position on the David Douglas School Board, he says, and they needed to "carefully weigh whether or not to enter back into campaign mode—this time for a much larger race in a more crowded field."
The chief reason for running, says Jama, is that "our vulnerable communities are facing massive federal spending cuts and mean-spirited policies meant to continue keeping us divided." Jama himself was born in Somalia, and fled as a refugee during civil war there.
"As a candidate, I am not only seeking to represent the people of Senate District 24," Jama said in a written response to our questions. "I am also seeking to empower them and bring them along with me. I'm a community-based leader, not a politician. And it's time for more of us to run for office."
Of course, HB 2004 played a role in his decision. Jama calls its failure "heartbreaking," and says "anyone who voted against it, in my opinion, was not serving in Oregon's best interests." (The Senate never actually voted on the measure. All Republicans opposed it, and without the support of Monroe and Sen. Betsy Johnson it appeared dead in the water, so wasn't called up.)
Jama's also pledging to run a positive campaign. He says he's not running against Monroe or Fagan or anyone else. "Anyone who stands up to serve deserves recognition and respect," he says. "I'm running for the people of Senate District 24."
Asked about endorsements, Jama says he's got several notable people backing his candidacy, who he'll reveal in coming days, but that he's not sweating that as much as community support.
Sponsored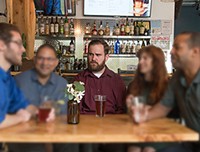 Adults aged 18-35 with good hearing will be paid for their time. Located at the Portland VA Medical Center