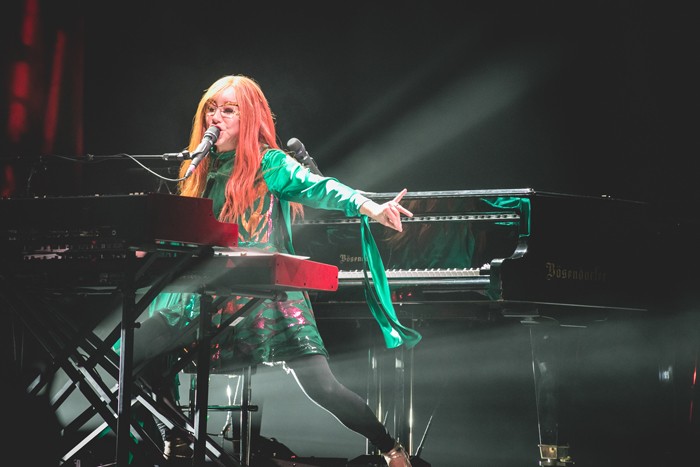 Sponsored
Sketch comedy troupes from all over N. America descend on The Siren Theater for 3 glorious nights.
Last night Tori Amos warmed up the packed Arlene Schnitzer Concert Hall with a few songs before she paused to greet the audience. "Thanks for coming," she said and then paused wryly, "on the night before tomorrow." The crowd went wild. We turned to one another. "She totally isn't going to say Thanksgiving! Ha ha ha! We hate Thanksgiving!" (Well, I hate Thanksgiving. The rest of the audience might have just been excited.) Just in case we didn't understand that she was totally avoiding the mention of Thanksgiving, Amos said it again. To paraphrase: "We're gonna have a lot of fun tonight, which is the night before tomorrow." Tori Amos is such a social justice baller.
I had never been to the Schnitz before and I had never had such good seats at a Tori Amos concert. In my teens, my best friend and I slept in an alleyway behind St. Andrew's Hall in Detroit (that sounds intimidating, but you must remember I was in a thick crowd of a couple hundred Tori Amos fans) and still didn't get tickets to her Dew Drop Inn tour. I love the girl and her piano, but I've just never been fanatical enough to get into the smaller, more intimate shows, let alone have close-up orchestra seats. I was pumped!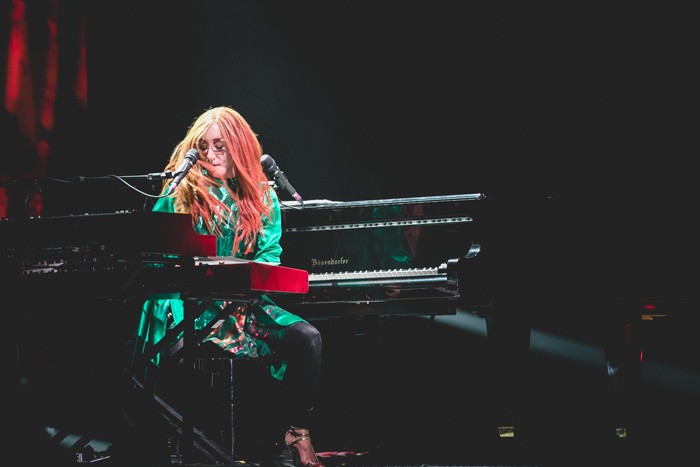 The Schnitz was packed and swarming with—dare I say—a multi-generational audience. When we spoke before this show for an interview in this week's Mercury, Amos told me that she sees a wide variety of ages at her shows, and she was absolutely right. There were people seemingly older than me wearing Hawaiian shirts, there were business goths with heavily pierced ears, and there were tweens in purple leg warmers sitting on special booster seats (because tweens are so dang short) mouthing the words to "Playboy Mommy." I caught the lady standing next to me singing loudly on a couple occasions, but the sound at the Schnitz is so good, it was hard to get distracted from Amos's presence onstage.
One of the secrets to Amos' longevity as a performer is that she's fucking killer live. I've seen her play with a full rock band and I've seen her play alone, and in either configuration the energy is always huge. She infamously straddles her piano bench—this time between a Grand Piano and a synthesizer setup—shifting sensually between the two, often mid-song. Amos has extreme audience control and at certain points had the crowd completely spellbound, like during her rendition of the Boys for Pele track "Little Amsterdam" before she stopped playing and did an over-her-head high-kick from her bench like, "Hey, come on, let's have a little fun." The crowd went wild. Seemingly overcome, a tall bearded person wearing hotpants and fishnets made a bolt for the backstage entrance but was stopped by security.
The fan love is real. Even now, I know fans of Amos that are traveling from city to city to see her play multiple shows, and one of the reasons they do this is because Amos keeps her setlist fresh. She plays material from a wide berth of her records. She plays covers—the second song of last night's show was a mashup of Amos' own "God" and Kate Bush's "Running Up That Hill." Later she performed what started out sounding like a John Carpenter or Stranger Things score but turned out to be a very nostalgic synth-centric cover of Don Henley's "Boys of Summer."
During the encores, the crowd rushed the stage to fill the aisles and a tall, put-together woman in a white blouse pumped her fist shouting "So you can make me come/That doesn't make you Je-e-sus!" along with the lyrics to the Little Earthquakes anthem "Precious Things." Amos's second encore was 16-year-old Suzette's favorite song, "Raspberry Swirl," one of her danciest, most heart-pumping hits. She sent all her fans out into the pre-tomorrow night primed to party.
Sponsored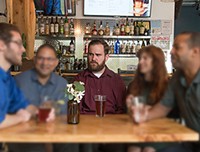 Adults aged 18-35 with good hearing will be paid for their time. Located at the Portland VA Medical Center