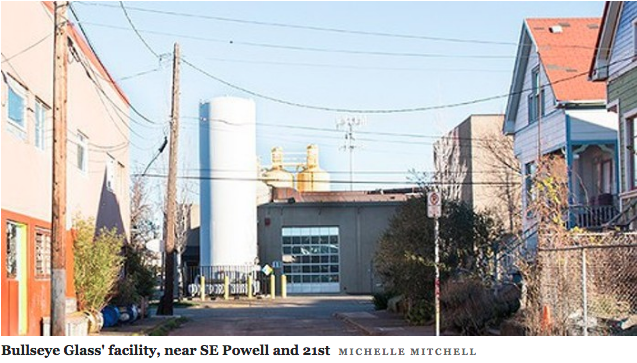 It's Bullseye Glass's turn to sue.
Presenting itself as a caring business unfairly and improperly maligned over faulty testing, the Southeast Portland art glass factory filed suit in federal court today, naming as defendants Gov. Kate Brown, the director of the state's Department of Environmental Quality, the director of the Oregon Health Authority, the Multnomah County Health Department and two unknown state officials.
"This case is about DEQ and Defendants' rush to judgment when they got hit with bad publicity," Bullseye says in a lengthy filing, accusing state and local officials of violating its civil rights. "They proceeded to change the rules applicable to Bullseye after the fact, and acted like the rules had been in place all along."
Bullseye's quiet existence off Southeast Powell changed in February 2016, when the Mercury reported that federal studies on moss had suggested the factory might be emitting toxic metals into the surrounding air.
The tumult that followed would result in outcry (and lawsuits) from neighbors, the departure of the head of the Oregon DEQ, orders that Bullseye (and a now-closed glass plant, Uroboros Glass) cease using certain metals, and a re-examination of state and federal rules around glass manufacturing. When all was said and done, Bullseye says it spent $1.5 million to attach new filtration systems onto its furnaces. Its suit seeks $30 million plus attorneys' fees, and a declaration that the state's regulation was unlawful.
The 88-page lawsuit paints Bullseye as a leader of its industry, a "quintessential homegrown business" that unfailingly complied with regulators, and a victim in the rush to respond to public outcry over the moss tests, which suggested the area near Bullseye had elevated amounts of arsenic and cadmium. Concerns soon emerged about other materials as well. Bullseye contents the scrutiny was unfair.
"This case is about abuse of governmental power," the suit says. "It is about Oregon's government coddling huge industries with deep pockets and political ties, and allowing them to dump hundreds of millions of pounds of industrial pollutants and hazardous substances into Oregon's air."
It continues: "No Oregon business has ever been treated the way Bullseye was treated in the actions described below. Bullseye was shut down, and its goodwill and good name were irreparably damaged."
Here's the full suit [PDF], which also goes into the emissions histories of larger companies than Bullseye to argue it was treated unfairly.
Though Bullseye says it was caught unaware that it was emitting potentially harmful substances, concerns had been raised about the company in the past. At least one complaint filed with the state raised concerns about the glass dust that collected on the company's roof. An ex-employee told the Mercury that employees were strictly safeguarded against breathing in the dust while inside the factory, even as it apparently was being discharged through a smoke stack.
The concerns weren't limited to air quality. Bullseye was recently fined for contaminating groundwater.
We're seeking comment from the named defendants in the case.
Update, 2:30 pm: Unsurprisingly, Brown's office is declining to comment on the suit, other than to say, "Governor Brown is dedicated to ensuring clean air and water for Oregonians."
Here's more coverage:
•State Finds Alarmingly High Arsenic, Cadmium Levels Near Two SE Portland Schools
•Too Cozy? A DEQ Air Quality Official Apparently Vacationed With An Attorney Representing Industry
•Oregon DEQ Director Dick Pedersen Resigns Amid Air Pollution Concerns
•Bullseye Glass Has Suspended Use of Arsenic and Cadmium Because of Air Quality Concerns
•Portland Public Schools Is Ordering Air Tests Because of Arsenic, Cadmium Concerns: "We Need A Public Meeting"
•Soil Near Bullseye Glass Contains Arsenic and Cadmium—And Other Things Officials Told Parents Thursday

•Essential Pollution Controls Lacking at Two Glass Plants Blamed For Cadmium Emissions
•Bullseye Glass' Sales Were $19.8 Million Last Year. Pollution Controls Would Have Cost A Tiny Fraction of That.