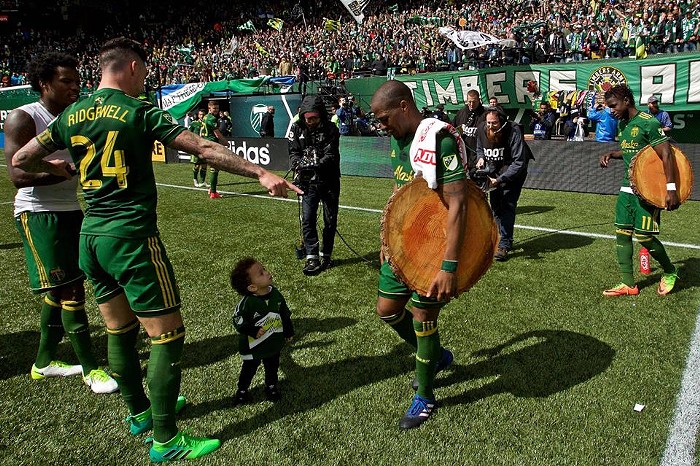 In what might be the most stunning trade in franchise history, the Portland Timbers have sent Darlington Nagbe, the club's first MLS draft pick and all-time appearance leader, to Atlanta United.
In exchange, the Timbers have netted more than $1 million in general and targeted allocation money — a number that could rise as high as $1.6 million in the coming years if Nagbe hits certain performance benchmarks with Atlanta.
Measured in allocation money, it is the most lucrative trade in MLS history — a deal befitting its centerpiece, who, from the moment he made his debut more than seven years ago, has been one of the league's brightest talents.
For the Timbers, Nagbe's is another seismic departure in an offseason that began in earnest just under a month ago with the similarly seismic departure of manager Caleb Porter. It might be for the best. But it tears further at the fabric of a club that was once one of MLS's tightest-knit.
The impetus for this trade was, reportedly, Nagbe's midseason request that his salary be nearly doubled to more than $1 million per year. The Timbers balked, and once Porter departed just prior to Thanksgiving, made Nagbe available.
With Portland presumably looking for an Eastern Conference trade partner, Atlanta jumped. They're also taking on center back Gbenga Arokoyo's contract, with the expectation that Arokoyo will be released.
But that doesn't mean it isn't surprising. Asking for a nearly 100 percent raise is a bold move, and, in this case, a surprising one, considering Nagbe's preeminent personality trait from his first moment in Portland seemed to be his conservatism.
That conservatism manifested itself in Nagbe's hugely reserved public persona, but it also manifested itself on the field where, in game after game through the years, Nagbe would play as if the objective of the game was simply not to lose the ball instead of to make something happen with it, valuing safety above all else.
To be perfectly clear: Nagbe, like Sebastian Blanco, like Fanendo Adi, is a million dollar player in today's MLS. The Timbers might not have wanted to pay him, but the market bore that out. If a top-class club in Atlanta thinks you're worth a million bucks per year, you're probably worth just that.
At roughly $565,000, which is what he made last season, Nagbe was sorely underpaid. He was making less than a collection of players including Brek Shea, Simon Dawkins, and his frequent victim Matias Laba. He was getting out-earned by almost two-to-one by Blanco. That he wanted a raise was more than understandable.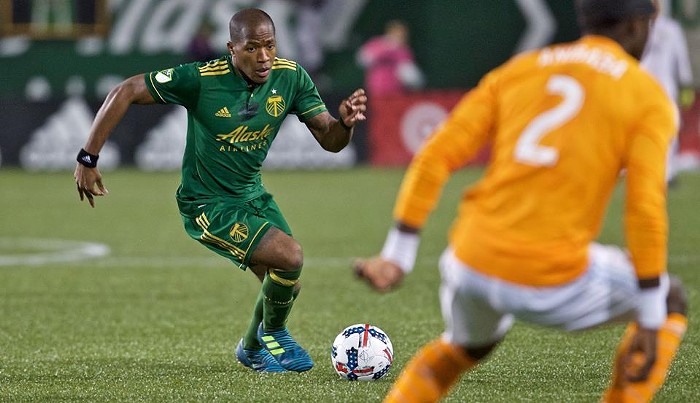 At the same time, while Blanco is not twice as talented as Nagbe — no one on the planet is — he was twice as productive in 2017.
Such was always the conundrum with the Liberian native, a player whose worth was and may continue to be notoriously difficult to quantify. There is no better player at keeping the ball in the league, which is of huge value in transition. How much value? The Timbers will find out in a couple of months.
Of course, Nagbe was more than a safe pair of feet during his time in Portland. There were moments in each of Nagbe's seven seasons where he left everyone who watched and played with him in absolute awe of his sheer ability, his power, and most of all his uncanny and unmatched feel for the game.
This was a player who won Goal of the Year in his rookie season for that juggling, arching volley against Sporting Kansas City, and proceeded to put together a catalogue of incredible finishes and flourishes that maybe just a handful of American players have ever been able to match.
2017 was no different. There was the near-herculean run and pile-driver of strike against Vancouver in May, and a jaw-dropping no-look turning chip that bamboozled Tim Howard in August. They were the two best goals scored anywhere in MLS all season.
His very best was blinding, but because he was at his very best so rarely, he was — when push came to shove — expendable in a way that Diego Valeri or Diego Chara would not be.
This trade is, of course, a gamble. Had Portland paid Nagbe, no one would have batted an eyelash. But after four years of stagnant production, the Timbers decided to be aggressive and give themselves and incoming manager Giovanni Savarese a tremendous amount of flexibility heading into 2018.
In Nagbe, the Timbers had a versatile, dependable, jackknife of a player who, every so often, would show up a decide a game by himself. The player tapped to replace Nagbe might decide games more often. Or he might not be any of those things.
Regardless, this is in many ways an anguishing departure.
Nagbe grow up here in the last seven years. We watched him become a husband and a father, a citizen and a national teamer. Though Nagbe never shed his reserve even as he became the Timbers' longest-tenured player, he was both known and adored by fans and teammates who got to see him at ease.
He'll be great in Atlanta, in a rampaging offense where he'll have to shoulder even less of the final third load than he did in Portland.
Whether Nagbe ever becomes the world class player that most everyone who has ever seen him play has believed he could be is less certain. The Timbers are betting that what we've seen from Nagbe over the last handful of years is all he can offer, and, at 27, chances are better than not that they are right.
Time will tell. The Timbers might have loved Nagbe and might hate to be losing him, but they decided after the salary demand that they'd seen enough.
Nagbe departs as an original Timbers legend, and, importantly, a champion. Though he might never have hit his absolute best in Portland, for a mercurial player and a grounded man, that very well might be legacy enough.