Burgerville's employee union has given its corporate leaders an ultimatum: recognize the Burgerville Workers Union (BVWU) at the chain's 92nd and Powell location within 48 hours, or they'll be legally forced to.
A group of BVWU representatives delivered this message to the fast food chain's Vancouver, WA headquarters this afternoon. If Burgerville's management declines to voluntarily recognize the Powell store's union by Wednesday, BVWU will schedule an April vote to get the National Labor Relations Board involved—a government entity that could mandate corporate cooperation in the union's contract negotiations.
This urgent demand may sound rash to an outsider, but the union's action comes after two years of attempted—and dismissed—discussions about the BVWU's existence with corporate.
"They've totally refused to participate and have ignored all of our requests for formal recognition," says Emmett Schlenz, BVWU spokesperson.
Most recently, the union pulled off a three-day-long strike and boycott of the restaurant, resulting in what Schlenz believes were "retaliation firings" of several participating staff. The walkout, which began February 1, was the largest fast food strike in forty years.
The first step is being recognized as a union. But BVWU already has a list of demands ready for corporate when they reach the bargaining table. These demands range from access to affordable health insurance, a $5 raise, fair scheduling, and scrapping the company's use of "E-Verify," a program that identifies undocumented immigrants used during the hiring process.
While at least six Burgerville stores have unionized, the Powell location has seen the most employee involvement and momentum since forming a union in 2016. Schlenz said that once the Powell members successfully agreed on a contract with corporate, other stores will follow suit.
Regardless of whether Burgerville's corporate leaders agree to recognize BVWU this week or federal labor board forces their hand, the small union is on the cusp of becoming the first legally recognized fast food union in the history of the United States.
"We're entering uncharted union territory," Schlenz says.
Sponsored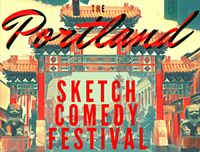 Sketch comedy troupes from all over N. America descend on The Siren Theater for 3 glorious nights.