Sponsored
Sketch comedy troupes from all over N. America descend on The Siren Theater for 3 glorious nights.
You may have seen some headlines in the past few days about Burgerville permitting its employees to vote whether or not they want to unionize. How nice of them, right?
As it turns out, this isn't the entire story.
That's because the Burgerville Worker's Union (BVWU) already unionized two years ago, after a number of staff at the fast food chain's Vancouver and Portland stores combined efforts to demand a $5 hourly raise from management. It's still one of the main unanswered requests that the BVWU has pitched to Burgerville execs, along with affordable health insurance and fair scheduling.
Burgerville has still yet to voluntarily acknowledge the union's existence, let alone listen to their concerns. When representatives from BVWU delivered their latest request to be formally recognized by corporate last week, staff at the Burgerville headquarters wouldn't even let them in the door. The company's announcement this week does not change this.
"It's about framing," Emmett Schlenz, a BVWU spokesperson, told the Mercury on Wednesday. "If [Burgerville] acknowledges that there has already been a union for two years, they are admitting that they've ignored our requests to negotiate."
This could break federal labor laws. According to the National Labor Relations Board (NLRB), "It is an unfair labor practice for either party to refuse to bargain collectively with the other, but parties are not compelled to reach agreement or make concessions."
---
RELATED
: "
Burgerville's Union Will No Longer Be Ignored by Management
" [
News, April 4, 2018
]
---

In a press release sent by Burgerville on Wednesday, the company claimed "it will support the free vote by employees at Burgerville... to decide if they want to unionize." What the release didn't say was that Burgerville is legally required to do this, since it refused to voluntarily recognize the BVWU. In brief, this strategically-worded press release is a roundabout promise to not break the law.
Right now, only employees at Burgerville's NE 92nd and Powell store are requesting union recognition from corporate heads, since it's the store with the most employees supporting the union. Based on the number of union cards Powell employees have signed—and the fact that all employees participated in a February strike—BVWU is confident the majority of employees support the union. Ideally, if Burgerville recognizes this union, the rest of the stores will follow.
The Powell store's union vote has been scheduled for April 22 and 23rd (two days to ensure all employees have a chance to participate) by the NLRB. Stay tuned.
Sponsored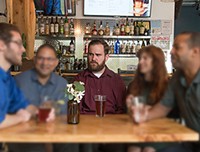 Adults aged 18-35 with good hearing will be paid for their time. Located at the Portland VA Medical Center