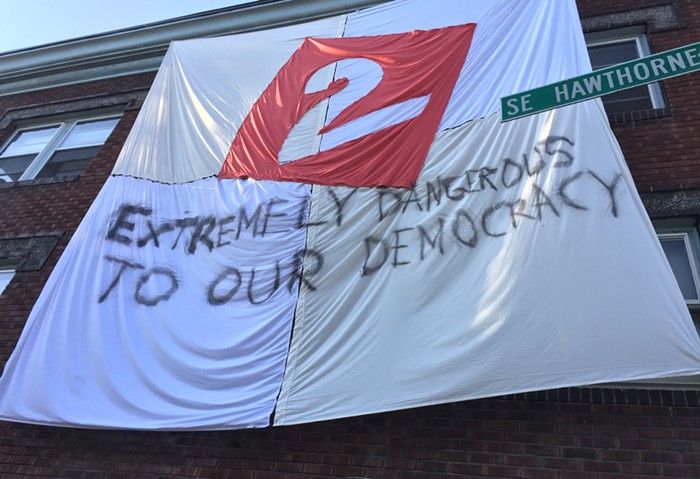 Portland TV station KATU got a shoutout this morning on the corner of SE 16th and Hawthorne, where a massive banner—assembled from bedsheets, safety pins, and spray paint—covered the front of the three-story-tall Warnell Apartments building.
Located on a major commuting thoroughfare and next to two busy stops for TriMet's 14 bus line, the message has gotten plenty of attention since it was found around 6 am.
"I don't know who did it and will remove it at my earliest convenience," property manager Martin Connolly tells the Mercury.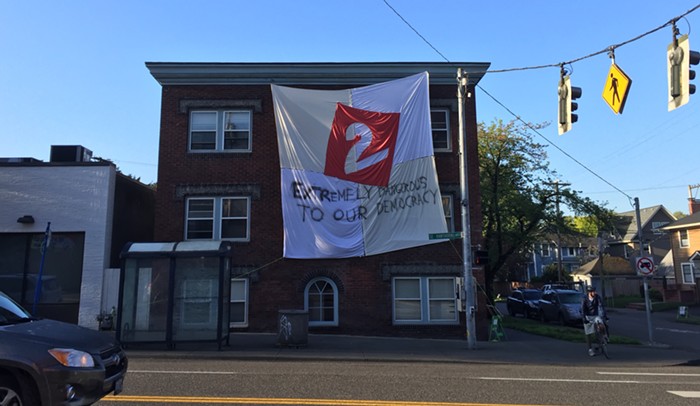 The red diamond logo of Portland TV station KATU hangs above the spray-painted text, which echoes the phrasing of the Orwellian script that conservative telecommunications company Sinclair Broadcast Group recently forced its stations, including KATU, to read on the air. (You saw Deadspin's creepy video.) "Unfortunately, some members of the media use their platforms to push their own personal bias and agenda to control 'exactly what people think,'" read one of the lines in that script. "This is extremely dangerous to a democracy."
At the time, KATU declined to comment about their participation, even to their local news partners.
Connolly noted he had yet to receive any complaints from either outside or inside the Warnell.
"Not one word!" he says. "I thought for sure I would have received a call by now, but nothing. We are a neighborhood of bar patrons, however, so perhaps you and I are the only ones awake."
Then again: "Weird shit happens on that corner every day," Connolly adds, "so maybe people think this is just par for the course."