Sponsored
Sketch comedy troupes from all over N. America descend on The Siren Theater for 3 glorious nights.
Update 12:51 pm
A male suspect appears to be in custody. According to Portland police, officers apprehended the suspect in a blue Mazda Tribute near NE 16 Ave. and Glisan St.
Bartley Tuthill caught the arrest on camera:
Update 11:53 am :
PSU has put out a statement on this morning's hit-and-run:
On Friday morning, a vehicle struck pedestrians walking on the sidewalk near SW 6th Ave. and SW Montgomery St. on the PSU campus. Three pedestrians who were injured are hospitalized with serious injuries. The names of the victims have not been released. Portland police are investigating the incident. PSU's campus remains open, except for areas closed by police for the investigation.

PSU's Dean of Student Life's office and Center for Student Health and Counseling will provide assistance and support to any members of the PSU community who may have been impacted by this incident.
ORIGINAL POST:
The driver of a blue SUV or sedan reportedly drove onto a sidewalk near SW 6th and SW Montgomery St around 10 am, hitting at least three women before driving off.
According to witnesses in the area, it appears that the driver "intentionally" ran over the victims, but Portland Police Bureau spokesperson Chris Burley has said he cannot confirm this. At a 11:15 press conference, Burley said officers have yet to track down the car and/or the subject. The three women have been sent to the hospital, and two of them have "serious, life-threatening injuries."
Witness Christopher Bond says he says driver was going about 35-40 mph when they hit the victims, and that the vehicle is bluish-purple with tinted windows. He didn't catch a glimpse of the driver.
Witness Christopher says three women were injured and one had a tire mark on her back. The driver tried to hit him too. pic.twitter.com/6WoIcNyBcX
— Kelly Kenoyer (@KenoyerKelly) May 25, 2018
The scene is closed off here. pic.twitter.com/0quo2Uu7er
— Kelly Kenoyer (@KenoyerKelly) May 25, 2018
I'm talking to a few PSU students and they say they're scared. "I don't know how a person could do this."
— Kelly Kenoyer (@KenoyerKelly) May 25, 2018
A police officer tells me several people were injured. The driver drove up on this sidewalk, where several tables and chairs were set up by the Starbucks. "It's hard to believe it wasn't intentional," he says. pic.twitter.com/IVDEOhfySP
— Kelly Kenoyer (@KenoyerKelly) May 25, 2018
"Two of the women have serious, life-threatening injuries," Burley says.
— Alex Zielinski (@alex_zee) May 25, 2018

We'll update this blog as more information comes out.
Sponsored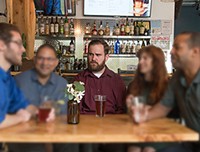 Adults aged 18-35 with good hearing will be paid for their time. Located at the Portland VA Medical Center