Sponsored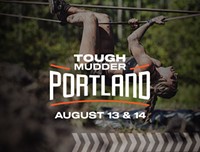 Lock in your summer adventure, Portland. Join us for world famous obstacles over a 5K or 10K distance.
Greg Slauson wanted to make donuts. He was an early Voodoo Doughnut adopter and saw that with hard work you could turn donut-making into a living.
So in the late fall of 2011, he opened up a wintertime-only food cart called Donut O Rama. He considered it a trial-by-fire run where he could learn on the job while waiting for a brick-and-mortar to become available.
Six years later, a space has materialized and Slauson says he plans on bringing his donuts back at 435 NW Broadway sometime this fall.
Donut O Rama, Slauson says, will open with a roster of about 15 donuts, including beignets and crème brûlée beignets. He's purchased a drill press for what he's calling "drill press donuts," which will allow him to offer more composed desserts. (Think of a donut with fried chicken, grits, and honey.) His shop will seat about 30 and offer cold press coffee on a nitro tap, with a four-tap system rounded out by ciders and beers.
Slauson also says he has plans to roll out a monthly donut program, á la Lardo's "chefwich" specials in which top chefs from all over Portland put their own unique spin on the sandwich—and in this case, a donut.
And finally, he plans to partner with his neighbor, p:ear, to offer up his donut shop as a space for children to sell their artwork, as well as other prominent local artists who donate artwork in order to sell them and raise funds to fight houselessness. He also wants to open up the space after hours so that other incubating pop-ups and aspiring food cart owners can make use of the space as they launch their new projects.
When it opens, Donut O Rama will keep daily hours of 7 am to 2 pm with the goal of staying open until 7 pm once the word spreads.
Donut O Rama: 435 NW Broadway, coming this fall
Sponsored
Virtual Auction Event & Drag Queen Fashion Show. You won't want to miss this show!