Corzetti has moved into the space vacated by Muscadine on NE Prescott. Opened by Johnny Nunn, who also has French spot Verdigris down the street, it's designed to be a neighborhood Italian restaurant. I've only eaten off the happy hour menu (once at a media preview), but there are a couple of reasons you should check it out. The lasagne sandwich ($9) is one. House made focaccia stuffed with smoked pork, mozzarella and marinara sauce, it's the perfect hangover remedy or late-night carb replenishment.
The second reason is the chicken and sage meatballs ($7). Served on a creamy polenta that's as smooth as mashed potato, the tomato sauce is rich while the sage gives the meatballs an extra kick. It tastes of Thanksgiving, but oozes comfort, making it good for anytime of the year.
The main menu is focused on pasta, which all come in under $18. Daily specials include steak braciola, chicken with polenta and seafood cioppino.
1465 NE Prescott, Happy Hours: 4-5 pm and last hour of service daily, corzettipdx.com
Sponsored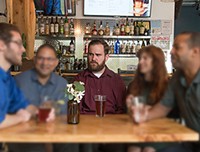 Adults aged 18-35 with good hearing will be paid for their time. Located at the Portland VA Medical Center