Sponsored
Win a behind-the-scenes tour of our kitchen, see how we make our artisan edibles, and get some swag.
The fallout from Portland police officers' actions—or inaction—during the 6-week Occupy ICE protest outside Southwest Portland's Immigration and Customs Enforcement (ICE) facility has sparked a response from Portland Police Chief Danielle Outlaw.
"Officers and their supervisors use discretion every day to ensure that we use our resources in the most effective and appropriate manner, and they did so during this protest," said Outlaw in a press release sent this evening.
For those who haven't been following, Outlaw's responding to a letter sent to the city by a lawyer representing ICE's union accusing Mayor Ted Wheeler for imposing a policy that banned city police officers from responding to any 911 calls coming from federal immigration officers or federal protective service officers at the ICE facility. Wheeler has already rebuffed these allegations in a letter sent yesterday.
Outlaw says that she directed all PPB officers to "respond to all 911 calls around the Occupy ICE protest" and that she "informed the Federal Protective Service that we would respond to their emergency calls for service if their safety was at risk."
PPB officers responded to a total of 41 calls for service during the 6-week Occupy ICE campout, according to Outlaw.
"We will continue to review relative reports and calls for service to identify any actions that did not meet the expectations outlined," says Outlaw. "I am proud of the professional response to calls for service during an already tense situation, as well as the thoughtfulness that went into using our resources given our current staffing levels."
Sponsored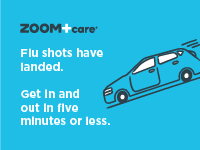 ZOOM+Care makes flu shots easy and safe. Schedule ahead, skip the line—get in and out in 5 minutes.