Sponsored
Sketch comedy troupes from all over N. America descend on The Siren Theater for 3 glorious nights.
Montavilla Jazz Festival
It makes sense that in order to hear local jazz musicians pushing the envelope, you have to venture to the edge of the city's envelope, as the Portland Metro Arts Center hosts artists such as Randy Porter, Nancy King, Dmitri Matheny, Darrell Grant, Christopher Brown, Alan Jones, and more.
1:30 pm, Portland Metro Arts Center, click here for a complete list of performers and showtimes, $15-50
---
Portland Beer and Music Festival
You like beer. You like music. Behold: A festival geared specifically to those fine and cultured tastes! Admission includes tastings from the over 40 craft beers available, and a chance to listen to sounds from the 182s, Jon Davidson, and the Bass Punks.
7 pm, Tiffany Center, $35-50
Cardioid, Cat Hoch, Dan Dan
For years, Radiation City was one of the most popular bands in Portland, thanks to their snappy blend of synth-pop, indie rock, and modern soul. But they splintered in late 2016, and keyboardist/singer Lizzy Ellison struck out on her own, forming Cardioid with Unknown Mortal Orchestra drummer Riley Geare, recording an excellent and efficient pop-rock album called Parts Dept., and moving to Los Angeles. Tonight, Cardioid returns to Portland for a hometown show, this time with a sophomore album in the works—the merch section of their website teases: "Fantasy Metal - Coming Soon!" There's no official word of what that means, exactly, but show up tonight and see if Cardioid has anything new up their sleeves. BEN SALMON
9 pm, Doug Fir, $10-12
Lubec, Curling, Slippery Eyes
Through unpredictably reactive drumming from Matt Dressen; Eddie Charlton's geometric, calculated guitar riffs; and Caroline Jackson's fuzzed-out classical piano, Lubec creates carbonated shoegaze, too fizzy and frenetic to be dreamy but too distorted to feel like reality. CIARA DOLAN
7:30 pm, Firkin Tavern, free
Pig & Oyster Roast
Perlot presents this one-of-a-kind, Mexican-inspired feast from the culinary mind of Executive Chef Patrick McKee, featuring raw and grilled oysters, whole roasted pork shoulder in spiced adobo, coal roasted veggies, and live music from Devin Phillips.
6 pm, Perlot, $35
The CCS Invitational at Hubba Berg
CCS hosts an invitation pro skate contest and festival with help from Adidas. Watch over 40 pro skateboarders tear up small scale recreations of legendary skate spots Hubba Hideout and Wallenberg with a 5k cash prize on the line, all while enjoying food, beer, carnival games, and browsing wares from over 30 skateboard, footwear and apparel brands.
2 pm, CCS, free
The Neverending Story
In 1984, celebrated German director Wolfgang Petersen (Das Boot) made his first English-language film, an animatronic-stuffed adaptation of half a children's book called The Neverending Story. It concerns a bullied bookworm who retreats to an attic to lose himself in a stolen tome, and manages to literally lose himself within it. This movie is one of the most '80s things ever made, with a cast of vaguely disquieting pseudo-Muppets assisting an androgynous horse-mounted rockstar on a synth-drenched journey through a Yes album cover to save a nameless princess. The movie is shaggier than the flying dog that steals every scene he's in with a lecherous charm, but there is still a strange, cheesy magic (barely) holding everything together. BOBBY ROBERTS
2:30 pm & 7 pm, Academy Theater, $3-4, all ages
Multnomah Village Vine & Dine
Pairing some of the Northwest's finest wines with sweet and savory treats from the region's best chefs. Proceeds benefit the Multnomah Village Block Initiative.
1 pm, Multnomah Arts Center, $30-50
Oregon Handmade Bike Show
One of the better Oregon bicycling traditions is this weekend-long showcase of designers, engineers, and cycling aficionados coming together, having some beer (a very important step) and creating artfully done transportation with their own hands.
11 am, Cathedral Park Place
Drag Queen Brunch
Liven up your Sunday brunch with an early afternoon cabaret show featuring celebrity tributes, comedy, and glamour served up by some of Portland's premier drag queens. Coffee and brunch buffet is included with admission, but you'll need to bring extra funds for Bloody Marys or mimosas.
11 am, Night Light Lounge, $23-50
Don't forget to check out our Things To Do calendar for even more things to do!
Sponsored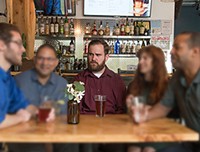 Adults aged 18-35 with good hearing will be paid for their time. Located at the Portland VA Medical Center