Though Dev Hynes has written and produced hits for the likes of Solange, Florence and the Machine, Kylie Minogue, and Carly Rae Jepsen, his solo work as Blood Orange has never been all that concerned with chart-topping singles. Over seven years and three albums, Hynes used the Blood Orange moniker to delve into deeper, more delicate, and more personal material.
His new record Negro Swan explores themes like the ongoing anxieties of queer and trans folks and people of color, surviving childhood trauma, and what he defines as "Black depression." Negro Swan is a meditative journey through Hynes' most intimate thoughts, sung over minimalist drum beats, mellow guitar riffs, and spaced-out keys. It's less an album of independent and disjointed singles—as so many hip-hop and R&B albums are today—as it is one continuous and slowly unspooling narrative.
Lacking such straightforward bops as Freetown Sound's "Best to You" or Cupid Deluxe's "You're Not Good Enough," Negro Swan requires more patience than previous Blood Orange albums, and perhaps more than a couple of front-to-back listens. Its progressive R&B and lush bedroom pop is more ruminative than Hynes' previous efforts, but the result is beautiful, haunting, and brutally honest. With guest appearances by Tei Shi, A$AP Rocky, Project Pat, and Diddy (who lets himself be surprisingly candid), the most important and frequent guest is transgender activist Janet Mock, whose spoken interludes are heard throughout the album, propelling the narrative forward to a triumphant coda.
Sponsored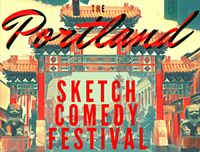 Sketch comedy troupes from all over N. America descend on The Siren Theater for 3 glorious nights.