Family and friends of Patrick Kimmons—the 27-year-old Black man fatally shot by Portland police officers early Sunday—gathered in downtown Portland tonight to hold a candlelight vigil in his memory. The gathering, organized by Don't Shoot Portland, completely blocked off northbound traffic on SW 4th Ave. at Harvey Milk St. during rush hour—but many drivers honked in support as they drove past the candles and fresh flowers that lined the street.
Sponsored
Sketch comedy troupes from all over N. America descend on The Siren Theater for 3 glorious nights.
"This is bigger than us," said Sequoia Turner, Kimmons' partner of nine years. "This is about our community, this is about this entire city."
The circumstances surrounding Kimmons' death remain hazy. According to the Portland Police Bureau (PPB), two officers shot at Kimmons around 4 am Sunday near SW 3rd and Harvey Milk St. They believed he was involved with a shooting that had just taken place in the same area. According to PPB reports obtained by the Oregonian, officers say they fired at Kimmons after he pointed a gun in their direction.
Turner and Kimmons' three children—ages nine, six, and three—joined their mother at tonight's vigil, wearing shirts with his picture on them and painting signs that read "Love You Patrick Kimmons" and "I love you, Daddy." At one point, his six-year-old daughter shouted into a megaphone, "Leave my Daddy alone!"
Kimmons' children and nieces/nephews painting a sign: "love you Patrick Kimmons" pic.twitter.com/ELRe96ODx8
— Alex Zielinski (@alex_zee) October 2, 2018
Kimmons grew up in St. Johns in a tight-knit family. At least a dozen of those family members attended the vigil to hold signs, share memories, and mourn with Kimmons' friends.
"He was the youngest, but he was the one always keeping the family together," said Tianda Washington, Kimmons' cousin. She grew up living in the same apartment complex as him and said they spent a lot of their childhood together.
"He was a great dancer. He loved taking photos. He loved his children more than anything," Washington said. "And he was very, very close with his mom."
Washington said she wants the police who shot Kimmons to be held accountable. "We demand justice," she said.
pic.twitter.com/cFAyQiFZhf
— Alex Zielinski (@alex_zee) October 2, 2018
Turner's stepmother Yolanda said she showed up to support her family.
"And I have two Black kids of my own," she said. "I know this could just as easily happened to them."
At least 100 friends, family members, and strangers stopped by the evening vigil. Hamdi Ali, a member of Portland State University's Black Student Union, said she's tired of the frequency of people of color being shot by police in Portland. She referenced the June death of Jason Washington, a Black man who was fatally shot by PSU police when a gun fell out of his holster while trying to break up a bar fight. Last month, a Multnomah County grand jury cleared the two officers involved of any criminal charges.
"When does this end? How many more lives must be lost because of the color of their skin?" Ali said. She recalled standing at the same intersection for a Black Lives Matter protest in 2015 when she was a freshman at PSU.
"And we're still here," she said. "It's like nothing has changed"
Sponsored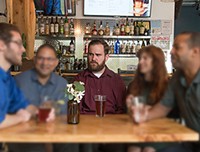 Adults aged 18-35 with good hearing will be paid for their time. Located at the Portland VA Medical Center