I'm pretty sure that one cup of detox tea I had last night isn't going to make up for the damage I did at Sunday's
Wild About Game
. Worth it.
Sponsored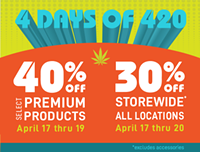 30-40% off Premier Dispensaries April 17-20
Flower, pre-rolls, edibles, carts and more.
These 4 Days of 420 are for you.
Held at the Resort at the Mountain every fall and hosted by Portland meat purveyor Nicky USA, this is the day-long festival that's always a good return on the (relatively low) cost of admission.
The day features battles between Portland and Seattle chefs based on a game meat (this year: rounds with rabbit, partridge, wild Hawaiian venison, and duck). While the event always sells out, there are so many yummy bites and sips to have along the way, that even waiting in line doesn't suck.
This year, Pete Cho of Han Oak won the popular vote and the judges' competition, crafting a potent hot pot-inspired partridge dish. He went whole hog on the whole bird, making a broth with its bones, a roulade with its meat, a brassicas salad, and a slightly spicy smear of partridge offal on the side. Then he threw in a deep-fried leg on the side, its little bird food curling under the addictively-spiced breading.

Here were a few of my favorite bites and moments from the 18th annual Wild About Game:
CBD is Everywhere: I don't know if you've noticed (you have) that weed is like, legal? And in the age of Trump and anxiety, more and more of us are turning to herbal de-stressors? Enter CBD everything, including a super tasty bottle of Hemp Elixir from Aurora Elixirs in Portland. One bottle has 15 mg of CBD, and the lavender spice and grapefruit rosemary flavors were both wonderfully complex and not oversweet. Also on offer: cannabis infused olive oil from Portland's House of Spain, so put that in your pan and smoke it.
Blood Tincture Splatter is a Thing: For the first time, Nicky added a cocktail competition to the mix. The winner was Mitchell Sennewald from Interurban, who used Maker's Mark 46 that was fat-washed with smoked pork belly, sweet vermouth, Water Ave. coffee, and Raft bitters for a surprisingly smooth result.
But the most bizarre award definitely goes to Connor Slevin from Loyal Legion, who made a Maker's and Nicky USA "Metadori," infusing charteruse Madior with guanciale and mixing it with bitters, lime, simple syrup, and a Morica-spiced blood tincture "splatter."
Bubbles! I got to try the 2016 viognier from the equivalent of a rock super group, but with winemakers. Barnaby Tuttle (of Teutonic Wine Company), Tom Monroe (of Division Winemaking), and Jesse Skiles (of Fausse Piste) make the best wine they can with a particular kind of grape—and then blend them. The viognier was bubbly, bright, and at $21 is worth grabbing for a special occasion that also won't blow your whole budget.
Meat Smells: There is a 100 percent guarantee that your hair will smell like the vapors of sautéed foie gras for hours after Wild About Game. Your liver, on the other hand, will need a few days at minimum to bounce back.