As the city heads into
the final month of its pilot project
to see how much everyone loves and/or loathes e-scooters, the Portland Bureau of Transportation (PBOT) has released some findings—namely, those gleaned from a survey sent to Portlanders who rode a Bird, Lime, or Skip e-scooter.
And acording to both e-scooter riders and PBOT, things are going GREAT. In a press release, PBOT said the survey results "suggest scooters are a popular new transit option for Portlanders and visitors alike." It should also be noted, though, that these results are from a relatively small number of respondents—out of 75,000 surveyed, less than 5,000 responded.
PBOT's complete results are here. We'll have to wait until after November 20—the final day of the city's e-scooter pilot project—to learn if PBOT has decreed that e-scooters "contribute to the city's mobility, equity, safety, and climate action goals."
In the meantime, who's up for some PORTLAND E-SCOOTER E-FACTS™???
• The majority of respondents do not care for public transportation, with 61 percent of respondents saying they "never" use e-scooters to access a bus, MAX, or streetcar. If an e-scooter hand't been available for their last ride, 19 percent of respondents would have "driven a personal vehicle, carshare vehicle, or other motor vehicle" instead.
• The majority of e-scooter riders use them for commuting to and from work (18 percent) and "fun/recreation" (28 percent). Okay, sure.
• Most of the survey's respondents (12.79 percent) work or attend school in Northwest Portland (ZIP code 97209). 97209 was also where there largest percentage of respondents lived (9 percent). This was followed by 10 percent of respondents working or going to school in downtown/Southwest Portland (97201) and 8 percent working or going to school in inner Southeast (97214).
• Despite the city's requirement that e-scooter companies distribute a minimum 20 percent of their scooters in "historically underserved neighborhoods" in East Portland, only .73 percent of respondents said they worked or went to school in ZIP code 97266—and only 1.5 percent of respondents said they lived in 97266. (97266 runs from SE 82nd to SE 122nd and is bordered on the north and south by SE Division and SE Clatsop.)
• When asked, "What changes would encourage you to use e-scooters more often?", 58 percent said they wanted "more e-scooters available," 44 percent responded wanted "safer places to ride (e.g. bike lanes or paths separated from vehicles)" and 9 percent were irredeemable dorks who want "e-scooters with seats."
• 38 percent of respondents are in their 30s, and 31 percent are in their 20s. (.04 percent said they were in their 90s. Okay!) 62 percent identified as men and 33 percent identified as women. The majority of respondents (36 percent) are also doing quite well for themselves, making more than $75,000 a year.
• 78 percent of survey responders know that users are legally required to wear a helmet while riding e-scooters! This data point is particularly interesting in comparison to the findings of the Mercury Scooter Science Squad, whose rigorous studies, conducted by "looking around," concluded that .0000000006 percent of e-scooter riders actually wear helmets.
Meanwhile, the Washington Post reports that a very dramatically worded class-action lawsuit filed on Saturday in Los Angeles "accuses two of the largest e-scooter companies, Lime and Bird, as well as other e-scooter firms, of 'gross negligence' and 'aiding and abetting assault.'" And while the scooter companies won't say how many of Portland's e-scooters have been vandalized and/or dumped in the Willamette, we do know that Lime, at least, recommends using a grappling hook to get them out.
There. That is literally all the e-scooter news that there could ever be.
Sponsored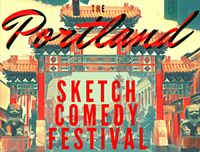 Sketch comedy troupes from all over N. America descend on The Siren Theater for 3 glorious nights.