It's been six months since Oregon Senator Jeff Merkley was denied entry to an immigrant detention center in Texas—
and livestreamed it
, adding fuel to the fire of a national outrage over the Trump administration's "zero tolerance" immigration policy.
Sponsored
Win a behind-the-scenes tour of our kitchen, see how we make our artisan edibles, and get some swag.
The latter half of 2018 didn't bring much change—ICE and the Border Patrol are still separating families and keeping kids locked up, and today news broke that a seven-year-old Guatemalan girl, Jackeline Caal, died from dehydration and shock after crossing the border and being detained earlier this month.
So Merkley is in Texas again this weekend to shine a light on the issue. While there on Friday and Saturday, he is visitng three detention centers: the South Texas Family Residential Center in Dilley, the Karnes Residential Center in Karnes, and the Tornillo Children's Detention Camp in Tornillo—a desert tent encampment that currently detains over 2,000 immigrant children.
Merkley is joined by fellow Democratic senators Mazie Hirono and Tina Smith, as well as Representative Judy Chu. Beto O'Rourke will join the delegation on Saturday in Tornillo.
So far, I've heard about a fourteen-year-old who has been in custody for five months and may shortly be "celebrating" her Quinceañera there. I've been told she's having suicidal thoughts.
— Senator Tina Smith (@SenTinaSmith) December 14, 2018
The lawmakers plan to tour the facilities and learn how children are being treated in them. Merkley recently made the media rounds to talk about child detention centers at the border, and called Trump's immigration policy "traumatizing" to children.
Sponsored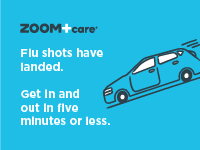 ZOOM+Care makes flu shots easy and safe. Schedule ahead, skip the line—get in and out in 5 minutes.