Eddie, the Oregon Zoo's beloved basketball star and one of the oldest sea otters in the world, passed away this morning after being humanely euthanized, "
following a decline related to his advanced years
."
Sponsored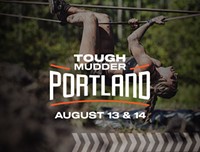 Lock in your summer adventure, Portland. Join us for world famous obstacles over a 5K or 10K distance.
Eddie and his longtime companion Thelma moved to the Oregon Zoo in 2000—after they were rescued as pups by the Monterey Bay Aquarium's Sea Otter Research and Conservation program. In 2013, Eddie became a worldwide star thanks to a viral video highlighting his slam-dunking skills, which he honed as therapy for his arthritis. (Even then, Eddie was old for an otter.) For his 20th birthday, Eddie was visited by Portland Trail Blazers mascot Blaze, during which Blaze (somehow) affixed a Blazers logo onto Eddie's basketball backboard.
Sadly, Thelma passed away in 2017, being similarly euthanized due to age-related health complications.
Longtime Blogtown readers may remember that in 2012, the two of us co-authored Otter Friday, a weekly roundup of otter-focused news and videos that was, and remains, the greatest thing that the Portland Mercury has ever published. Due to the runaway success of Otter Friday (and/or us politely asking), the Oregon Zoo gave the two of us a behind-the-scenes tour and VIP access to their then-resident otters—not only sea otters Eddie and Thelma, but also river otters Tilly and B.C. As recounted in our story about that wonderful day, Thelma and Eddie made quite an impression:
Everything happens in slow motion when you see a sea otter in real life. The first time we entered the back of the exhibit and saw Eddie blissfully floating on his back in his holding pool, adorably rubbing his face with his tiny paws, everything got extremely real. And it only got better.

Speaking of Eddie: Male sea otters are very territorial. While he's mellowed out in his old age, Eddie kept his eye on us the entire time, and we were told to stay a few feet back from the chain-link fence that bordered Eddie's pool. Erik was intimidated beyond words. (This is why there are no pictures of Eddie.)
Our post detailing our wonderful, otter-obsessed visit to the zoo is here, and it contains many more photos and details, including the fact that despite both Eddie and Thelma being put on otter birth control, Thelma still got pregnant.
It's been a while since we did Otter Friday. And today's not even a Friday. But here's one last Otter Friday post for you, Eddie. RIP.
Sponsored
Virtual Auction Event & Drag Queen Fashion Show. You won't want to miss this show!