Whether it's the high cost of health insurance, the scarcity of state-funded psychiatric treatment beds, or the fear of an institutional setting, Portlanders with mental illnesses—especially those without homes—
aren't getting the kind of care they need
. It's a reality not lost on city officials.
"I'm increasingly of the opinion that we are addressing a major public health epidemic," Wheeler said last Tuesday, referring to the city's growing mental health needs. "And I'm not sure we have the right tools in place in able to address it."
The tools in place—an overburdened emergency clinic for psychiatric patients, promises of affordable housing with built-in mental health care, and a network of hard-working, but underfunded, nonprofits—aren't enough to keep the city from relying heavily on a controversial provider: the Portland Police Bureau (PPB).
Portland police remain the de-facto first responders for people experiencing untreated mental health issues. Despite increased officer training and a police team specifically tasked with connecting people to behavioral health care, it's proven to be a Band-Aid solution.
Three out of the four people fatally shot by a Portland police officer in the last year were in the middle of a behavioral health crisis when they were killed.
Community leaders, physicians, and the cops themselves agree that officers shouldn't be tasked with solving the region's growing mental health problem. That's why Wheeler, along with other local officials, have begun looking outside Portland city limits for solutions.
---
"I'm increasingly of the opinion that we are addressing a major public health epidemic, and I'm not sure we have the right tools in place in able to address it."
---
Last week, Wheeler and a number of his top advisors drove two hours south to visit CAHOOTS, a Eugene program that sends trained mental health and substance abuse experts to respond to 911 calls that don't necessarily need police intervention. Now nearly 30 years old, CAHOOTS (short for Crisis Assistance Helping Out On The Streets) has at least one of its three mobile units—a combination ambulance and primary care clinic—on call every hour of the day.
"I'm here to listen and learn," Wheeler told CAHOOTS leadership, prior to a presentation and after getting a tour of a mobile clinic.
He isn't the first local official to do so. Representatives from Multnomah County and the PPB (including Chief Danielle Outlaw) have also visited the Eugene nonprofit in the past month, signaling a growing interest in the model.
Like a traditional law enforcement team, CAHOOTS responds to calls that come into the regional 911 call center, where perceptive operators evaluate if incoming calls merit police attention—or could be better handled by an unarmed mental health crisis worker and EMT.
More than 50 percent of all 911 calls that would traditionally go to the Eugene Police Department are handled by CAHOOTS—lightening officers' workloads and saving the taxpayers an incredible amount of money.
According to CAHOOTS' calculations, the mobile crisis team has saved the EPD an average of $8.5 million each year since 2014. Thanks to its trusted relationship with the Eugene community, many people call CAHOOTS directly for assistance, avoiding the 911 system entirely.
The program's team prides itself with treating basic medical needs in the field (via the mobile clinic)—whether it's wound care, helping people detox from a bad drug trip, assisting clients who show symptoms of psychosis, or counseling people who've reported self-harm. Without CAHOOTS, these needs would typically be addressed by a pricey ambulance trip to an emergency room, which often leaves patients (and, more often, taxpayers) with a $2,000 bill.
---
"We focus on recognizing that people are an expert in their own lives."
---
CAHOOTS staff are regularly called when someone reports a homeless person sleeping on their property or somehow disrupting their neighborhood. Staff may offer to take that person to a shelter, or to CAHOOTS' brick-and-mortar clinic, White Bird, to address unmet health needs, or give them the hard truth: If they don't move, they might be arrested. But staff never force clients to accept their help.
"At our clinic, we focus on recognizing that people are an expert in their own lives," said Benjamin Brubaker, White Bird administrative coordinator, explaining the program to the mayor and his staff last week. "We can step into situations and try to assist and support, but we could potentially do harm by stepping in and telling people how to lead their life."
Portland doesn't have a direct equivalent to CAHOOTS. The closest is Project Respond, a program staffed by mental health clinicians with Cascadia Behavioral Health that responds to mental health-related emergencies. However, Project Respond does not directly respond to 911 calls. The team is called out from either the Multnomah County mental health crisis line, or when law enforcement calls them to help. Only 40 percent of Project Respond's calls for service come from law enforcement.
Commissioner Jo Ann Hardesty has suggested training staff at Portland's 911 call center to triage calls like they do in Eugene—and directing non-criminal emergencies to mental health or social workers.
Aside from a canister of pepper spray, CAHOOTS staff are unarmed when they interact with clients. Despite regularly interacting with folks who are in crisis, no CAHOOTS employees have ever been injured in the field.
CAHOOTS Program Manager Tim Black says staff rely on verbal de-escalation to calm a potentially violent client—and are told to trust their instincts if they feel a situation might get out of their control. Occasionally, Black says, employees will ask police officers to back them up if they're feeling uncertain about a visit. It's not a decision they make lightly.
"But, if some kind of intervention like that is going to happen, we'd like to be on scene," said Brubaker. "We'd like to be able to bear witness to it, help direct it a little bit, make sure the individual still gets the care that they need."
There's no way to determine if the fatal encounters between mentally ill Portlanders and police would have ended any differently if Portland had a program like CAHOOTS in place.
"There are several of those [Portland cases] that because of the direction they went… they would not have been situations where we could have effectively intervened," Brubaker said. "It's all a guessing game."
---
"[Law enforcement] believes we're allowing them to do their jobs better, because we're out handling all the other stuff that they aren't necessarily trained to be handling."
---
Part of CAHOOTS' unique success is rooted in its history. White Bird Clinic's relationship with the Eugene Police Department goes back to the mid 1960s, when officers would mostly swing by to drop off people who were in the midst of a bad LSD trip. The decades of trust built between the two organizations can't be easily replicated.
"[Law enforcement] believes we're allowing them to do their jobs better, because we're out handling all the other stuff that they aren't necessarily trained to be handling," said Brubaker.
It's still unclear if the city plans on integrating parts of CAHOOTS' model into Portland's current emergency response system.
The city's visit, however, focused on technicalities rather than abstract ideas, hinting at its level of interest. Wheeler's staff centered their questions for the CAHOOTS team on procedure: How is this funded? (Some city dollars, some fundraising) Can staff access client's health care history? (Yes) Where are clients from? (Vast majority are locals) Where do you direct homeless clients?
Like many other service providers across Oregon, CAHOOTS has yet to find a good answer to that last question.
"The shelter piece is the biggest road to nowhere that we have," Brubaker said. "There's a huge lack of shelter beds and supportive housing options in the county."
"It's one of the harder conversations, as we go out to talk to somebody who's sleeping in somebody's doorway," he says, "because when they say 'Where can I go?' the answer is 'I don't know, man. But right here you're going to get a ticket.'"
Sponsored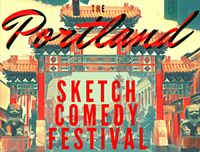 Sketch comedy troupes from all over N. America descend on The Siren Theater for 3 glorious nights.