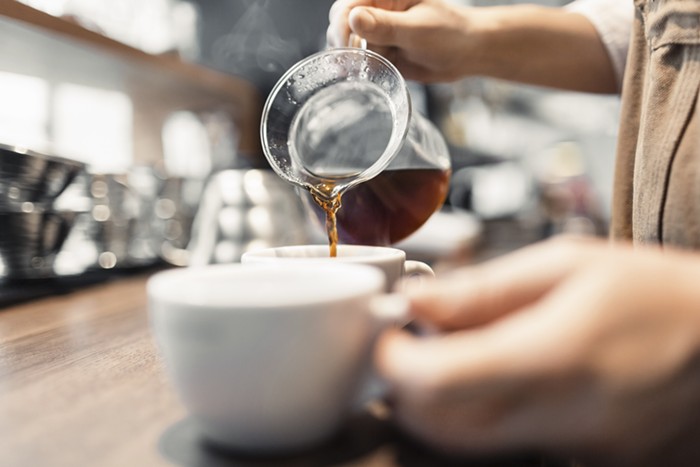 It's been a rocky January for Portland coffee purveyor Ristretto Roasters. And judging by the company's Monday night Twitter rant, its troubles are far from resolved.
The now-deleted tweets, the first posted by Ristretto Roaster since December, sought to smear a former employee for bringing attention to the company's ties with a web series that attacks sexual assault survivors.
The Twitter rant starts with a jab at Heart Coffee Roasters—another Portland coffee company—one of many businesses that distanced itself from Ristretto after learning of the videos.

Ristretto then turns to Camila Coddou, the former Ristretto manager. She's painfully characterized as "the little lady grinding her ax" in Ristretto's tweets.

Coddou was the first to draw the public's attention to Nancy Rommelmann, a journalist and spouse of Ristretto owner Din Johnson, for producing a
web series that delegitimizes rape allegations
and the enduring trauma that accompanies sexual assault.
Johnson disputes Rommelmann has anything to do with his business, but multiple Ristretto employees are under the impression by her involvement in the company that she's their boss. Which is why, when they caught wind of Rommelmann's YouTube series, thirty past and current employees sent a letter to Johnson demanding an explanation.
"Invalidating assault survivors throws into question the safety of Ristretto Roasters as a workplace and has the potential to create a demoralizing and hostile environment for employees and customers alike," the letter, sent January 10, reads.
Coddou helped organize the staff letter and spoke with media outlets about the community's concerns.
Johnson has yet to respond in a way that shows he understands his employee's concerns, while Rommelmann has turned to her web series, dubbed "#MeNeither," to eviscerate the complaints.
Rommelmann calls the public criticism of her show an anti-feminist attempt to get a husband to silence his wife for speaking out. It's an easy excuse to avoid addressing the actual concern at the heart of this response: That a local business leader does not take allegations of sexual abuse seriously.
Ristretto Roasters echoed Rommelmann's misguided interpretation of the public blowback via its Monday tweetstorm. It's unclear who authored the tweets, but they're The tweets, which we now know were penned by Rommelmann herself, show a short-sighted understanding of the real issue that's inspired Portlanders to boycott the business.

The tweets clumsily mocked Coddou for going to an all-woman's college (Smith), for wearing a Halloween costume that criticized the patriarchy, and for wanting Ristretto to host an event that supported people of color. Ristretto also minimized the public pushback to these videos as "outrage culture."



It's a cringe-inducing, unorganized attempt to smear the former employee for... being a woman who's concerned for survivors of sexual assault working under someone who doubts rape allegations?
But, according to Ristretto's tweets, her former employer just thinks she's "trying to destroy a man's business because her wife speaks her mind."
"Nice feminism there, ladies!" the patronizing Twitter storm concludes. By morning, the tweets were deleted.
UPDATE: Rommelmann reached out to the Mercury Tuesday and confessed to being the author of last night's tweets. "I was het up last night and stupidly (obviously) asked for the RR Twitter password. Believe me, our media guy is not happy," writes Rommelmann in an email to the Mercury.
She went on: "To be clear, my husband owns the business. It's a very small business, I helped him open it, and sat in on meetings, but I don't anymore, geez, I was on book tour most of last year. I used to know everybody at RR but know very few now, which is why I think this was all able to make people fearful. They don't know me, not more than the boss's wife who sometimes comes in and grabs coffee. They hear these awful things, they have no real experience with me, and it's off to the races."