Twelve years.
That's how long we have until the devastating effects of climate change become irreversible, according to the fourth National Climate Assessment released in November. It isn't a lot of time, especially when viewed through the lens of politics and bureaucracy. Especially when the political party that controls most of D.C. remains willfully ignorant to the threats climate change poses.
Sponsored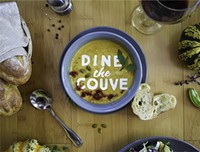 Experience the bounty of northwest flavor with special menus at Clark County restaurants all month.
"That was an alarm," Rep Suzanne Bonamici, who represents Oregon's Washington County in the US House of Representatives, said about the assessment. "It was more than a wake-up call."
But there's a ray of hope in the House, where Democrats recently regained control after nearly a decade of Republican rule. When the GOP took over the House in 2011, it gutted the United States House Select Committee on Energy Independence and Global Warming, and since then the House hasn't had a committee specifically focused on curbing climate change—until now.
Last week, Speaker Nancy Pelosi appointed nine Democrats to serve on the newly formed House Select Committee on the Climate Crisis. Bonamici was among them.
"It's a real honor to be selected," said Bonamici, who has served on the House Science, Space, and Technology Committee for most of her time in Congress—always under a Republican majority, until recently. "We've been playing a lot of defense, so to be able to do something proactive, I'm really excited about it."
Democratic Rep Kathy Castor of Florida will chair the committee; Republicans will also serve on it, though they have yet to be appointed.
Among its first tasks, Bonamici said, will be to "go out into the communities and look at where there are examples of where they're moving toward zero emissions, or where there are great investments in renewables, or where there is research being used, and get all those ideas and bring them back, and explore what we need to do."
She expects to find some of those ideas right here in Oregon. For example, researchers on the Oregon coast are studying whether wave energy might be a viable form of renewable energy in the future.
"There's a tremendous potential for wave energy, and I want to highlight that to my colleagues as well," Bonamici said. "That's something where Oregon is showing some leadership."
Bonamici is a co-sponsor of Rep Alexandria Ocasio-Cortez's newly released Green New Deal Legislation. She said she's happy to see the energy that the freshman lawmaker has brought to the issue of climate change, and that her bill would create new green jobs.
"This is really about taking bold action to address climate change, but also creating and making sure that there are good-paying jobs for people as we transition to a clean energy economy," she said. "I'm excited to see people paying attention."
Bonamici noted that with the recent change of power in the House, "we have leadership now that actually believes the science" on climate change. But with a Republican majority in the Senate and Donald Trump in the White House, can we expect the new committee to get any meaningful legislation passed?
Her strategy, she said, will be to champion strong, progressive legislation aimed at lowering greenhouse gas emissions—and then "work with the Senate to see what we can get done."
Beyond passing legislation, a major goal of the committee will be to increase public awareness about climate change, and to dispel the myth that it doesn't exist from the American psyche once and for all.
"Now that Democrats are in the majority, we're starting to hold really productive hearings on climate change, where we're going to talk about what we need to do and why we need to do it," Bonamici said. "That's been a big change."
Sponsored
This 9th floor patio boasts stunning views of the city, three mountains, and Portland's West Hills.