In February, an
alarming swell in alleged assaults
against LGBTQ Portlanders rattled the city's queer community.
Yet one issue kept these allegations, all made public through social media posts penned by victims or their friends, from attracting a meaningful response from law enforcement, public officials, or even LGBTQ advocacy groups: None of the incidents were reported to the police.
Sponsored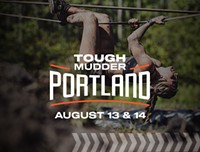 Lock in your summer adventure, Portland. Join us for world famous obstacles over a 5K or 10K distance.
"People are afraid to report these crimes... afraid that they aren't going to be taken seriously," said Nancy Haque, Director of Basic Rights Oregon, speaking before the state's Senate Judiciary Committee Tuesday.
This shouldn't come as a surprise. In recent years, Portlanders who do report an alleged hate crime rarely have their case investigated, let alone see their perpetrator face significant charges. More often than not, people who've felt targeted because of their identity are left with little resolution or recourse—other than to fearfully cut themselves off from society.
A new bill, propelled through the state legislature by Oregon Attorney General Ellen Rosenblum, hopes to change that.
"The truth is we don't know as much as we should be able to about hate and bias crimes," said Rosenblum, presenting Senate Bill 577 before the Senate Judiciary Committee on Tuesday. "The only thing we do know is that they're consistently underreported."
SB 577, a bill informed by a series of listening sessions Rosenblum held across Oregon last year, would strengthen the state's outdated response to hate crimes both inside the justice system and out.
Most significantly, it would overhaul the state's current hate crimes law—called a crime of "intimidation" in the statute—to reflect modern-day Oregon.
The state's intimidation statute was penned in 1981, partially in response to a growing number of skinhead attacks on minorities in Oregon. To address this uptick in organized hate crimes, lawmakers passed legislation that brought harsher penalties when "two or more persons [are] acting together."
This means that, regardless of the severity of the hate crime, suspects acting together face felony charges while a suspect acting alone will only be charged with a misdemeanor.
Here's how Rosenblum explained it Tuesday: "Two defendants spraying racist graffiti on wall might reasonably expect to be punished more harshly that one individual who physically attacks someone because the color of their skin."
The proposed bill would remove language that sticks higher penalties on groups of people. Criminal charges would instead be measured by the severity of the hate crime. SB 577 also updates the statute's language, substituting "intimidation crime" with "bias crime" and adding "gender identity" to the list of classes of people protected under this law.
---
"I hope that this legislation sends a message to marginalized people throughout Oregon that we hear you, we care about you, and change is coming."
---
In her testimony before the senate committee, bill co-sponsor Rep. Karin Power mentioned Gigi Pierce, a 28-year-old transgender woman who was fatally shot in Portland last year. While police didn't have enough evidence to show that Pierce's death was motivated by bias towards her gender identity, Power noted that Pierce wouldn't have been protected by Oregon's current laws.
"For too many of our citizens, Oregon is an unwelcoming and sometimes dangerous place," said Power, whose bill to scrape transphobic language from state law passed a House vote Wednesday afternoon. "The prevalence of hate crimes means that for marginalized individuals, each aspect of their daily lives is dictated by reality that they could be a target because of their identity."
This reality, however, isn't backed up by any reliable data—another problem that's slowed law enforcement's reaction to hate crimes. Rosenblum pointed to FBI data from 2017 that reflected wildly disparate amounts of reported hate crimes depending on the reporting jurisdiction (Eugene reported 72 while Bend, Medford, Grants Pass, and many others all reported zero).
SB 577 requires all law enforcement agencies send quarterly hate crime reports to the state that includes as much detail as possible to better track trends and problem areas. District attorneys are also tasked with keeping consistent data on cases that might include any bias-related crimes.
Yet, this data will remain flawed if victims are still hesitant to report hate crimes to law enforcement.
Members of the public used personal stories to underscore this hesitation during the Tuesday hearing, including Demetria Hester, a woman who was verbally attacked because of her race on a MAX train in 2017. Her attacker, self-described neo-Nazi Jeremy Christian, went on to fatally stab two men—who were defending two Black women from his racist slurs—the very next day.
According to Hester, Christian yelled racial epithets at her while she was riding the MAX in May 2017, and later threw a Gatorade bottle at her face when she tried to exit.
"I told TriMet and the police and they did nothing," Hester said. "Who am I paying to protect me? Where do I go to for protection?"
In past interviews, Hester said she felt like the perpetrator, not the victim when she was questioned by Portland police.
"I am still being victimized," she said Tuesday, noting the physical and mental trauma that resulted from the incident. "I don't know who I should go to to help with my trauma. No one is there to help."
The new bias bill might not change the way police treat victims of hate crimes, but it might improve officers' ability to connect victims with resources after an incident like Hester's.
---
"In many cases, traumatizing verbal attacks are dismissed as just [free] speech, leaving the community impacted without help besides, 'toughen up.'"
---
SB 577 requires law enforcement agencies to refer victims of an alleged hate crime—regardless of if it can be prosecuted as such—to a new state hotline designated for bias crime victims. Hotline operators, staffed by the Oregon Department of Justice, would be tasked with connecting callers to local mental health services, advocacy groups, and other useful resources for crime victims.
"In many cases, traumatizing verbal attacks are dismissed as just [free] speech, leaving the community impacted without help besides, 'toughen up,'" said Rosenblum. "Senate Bill 577 extends hand of assistance to the victims of hate and bias crimes."
Rosenblum and fellow state attorneys acknowledged Tuesday that SB 577 will still leave many victims of hate crimes unable to prosecute people who've threatened them. But it's a start.
Rep. Power closed her testimony Tuesday with a message to all Oregonians impacted by bias crimes.
"I know for many people, the capitol feels far away," Power said. "But I hope that this legislation sends a message to marginalized people throughout Oregon that we hear you, we care about you, and change is coming."